We believe Cavtat is a spectacular travel destination in Croatia, deserving of a visit, whether for a weekend getaway or a more extended holiday. That's precisely why we've put together an updated Cavtat travel guide to one of our top favorite places.
Where is Cavtat?
Cavtat is a small town/village in the South Dalmatia part of Croatia. It is located 18 km southeast of Dubrovnik. Cavtat is the administrative center of Konavle municipality.
Cavtat lies on the Rat Peninsula, on the coast of the Župa Bay, along the Adriatic coast highway, only 5 kilometers from the airport in Čilipi. It is also very close to Montenegro (just 22 km from the border).
What is Cavtat like?
Cavtat is quite small—only 2189 inhabitants (2021). It is spread on and around the hill of the forest covered Rat peninsula. The peninsula is overgrown with Mediterranean evergreen pines, cypresses, studded palms, and agaves.
The long promenade followers the contours of the peninsula, embraced by the sea and dotted with tiny pebble beaches.
Tips: Be sure to check out our page on the best Cavtat beaches for more information on where to soak up the sun and enjoy the crystal-clear waters of the Adriatic Sea!
The bays of Cavtat, created by the two peninsulas, face west. The Cavtat promenade that goes around the bays get the most captivating sunset views you can imagine.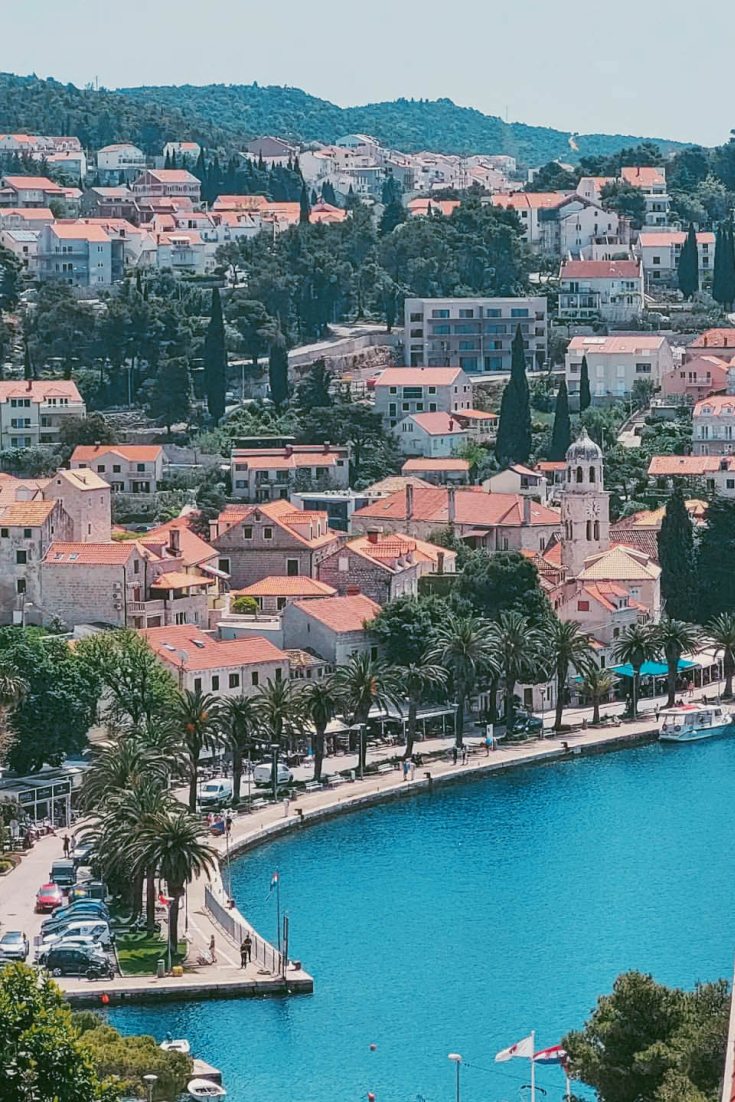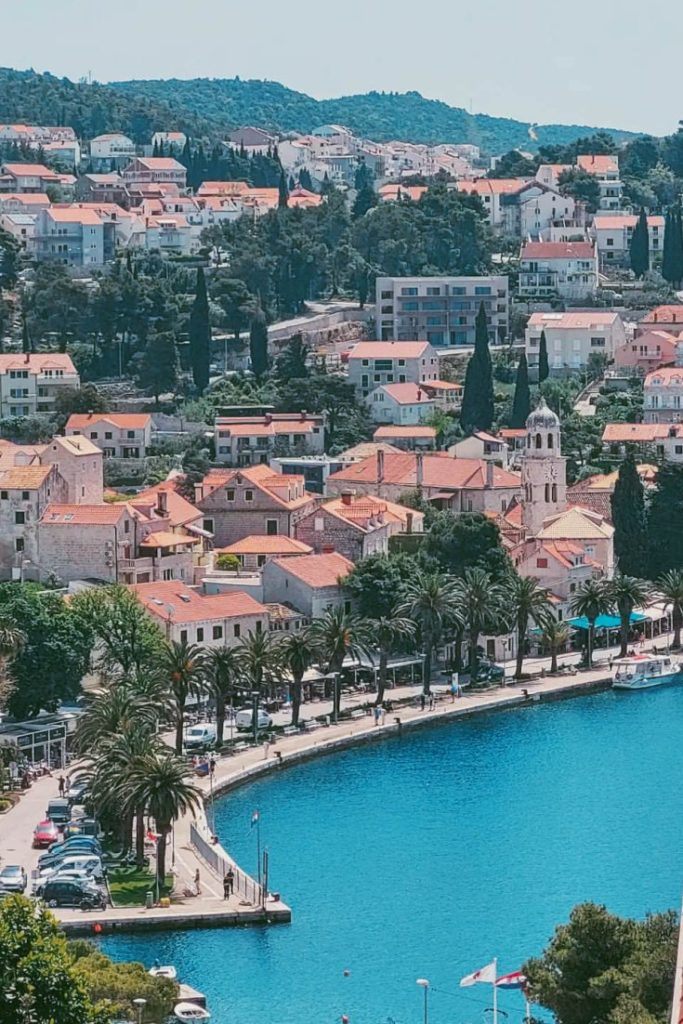 Small red-roofed stone houses and narrow streets give out that typical Mediterranean town feels. Cultural monuments and archeological traces of history dating back several thousand years contribute to Cavtat's magical summer atmosphere.
View: The exquisite seafront of Cavtat, adorned with lush palm trees, has often been aptly compared to the picturesque famous Saint Tropez. But still, Cavtat is quiet, unpretentious, and untouched. Cavtat Port bay divides Rat and Sustjepan peninsulas and is a popular dock for large, luxurious yachts contributing to the French riviera-like appearance.
The Islet of Supetar and the cliff of Šuperka nearby Cavtat stick out from the sea, getting in the way of the view of Dubrovnik and its walls in the distance.
Cavtat is attractive for its slow leisurely pace of life, imbued with a sense of tranquility and serenity.
Who is Cavtat for?
Cavtat is a travel destination for travelers seeking culture and recreation. Typical travelers who stay in Cavtat want to experience Dubrovnik but avoid staying in its summer hubbub.
Tips: For example, say you want to walk the Walls of Dubrovnik but also have a relaxed vacation enjoying secluded beaches close to your hotel. Then, Cavtat would be a great candidate destination since it is well connected to Dubrovnik by taxi, boat, and bus.
But Cavtat is not only great as a base for seeing sights in Dubrovnik. It's, above all, a place for unwinding by the sea and sampling local cuisine at the promenade restaurants.
The people who stay at Cavtat are mainly couples and small groups of older people. You will also find some younger couples and families with babies or toddlers here and there. You won't see large groups of younger partygoers in Cavtat. There are better destinations for those searching for nightclubs and parties than Cavtat.
Tips: Fortunately, if you crave a more vibrant nightlife than bars available in Cavtat, you can pop by Dubrovnik for the evening. By staying in Cavtat, you can experience the best of both worlds.
To put it briefly, Cavtat is an ideal destination for travelers who seek an authentic atmosphere that can keep them entertained yet also crave some privacy and tranquility.
If you read the reviews of the Old Town Cavtat or any Cavtat attraction on placees like TripAdvisor, you will see pretty much all 5-star review comments from people who've stayed there.
Why visit Cavtat?
You should consider visiting and staying in Cavtat as a traveler for a few reasons.
Gorgeous Scenery - Cavtat is very picturesque. Leafy hills surround its bay, and its clean and inviting sea makes it a perfect place for nature lovers.
Proximity to Dubrovnik - Cavtat is just a short distance from Dubrovnik, one of the most popular tourist destinations in Croatia, but it is quieter and cheaper in comparison.
Rich Cultural Heritage - The town is steeped in history, with numerous ancient ruins, churches, and museums to explore, including the Mausoleum of the Račić Family and the Baltazar Bogišić Collection.
Delicious Cuisine - Croatian food is a delightful blend of Mediterranean, Central European, and Turkish influences. The menus in Cavtat's restaurants authentically offer traditional Croatian cuisine, including a wide variety of local seafood dishes and quality regional wines.
Relaxing Atmosphere - Cavtat has several beautiful beaches where you can relax, soak up the sun, and swim in the translucent Adriatic Sea.
Tourist Amenities - Cavtat offers necessary comforts a visitor might need in comfortable accommodation, convenient eateries, many beaches, and numerous sports, recreation, and entertainment opportunities while retaining that genuine local feel of a small Mediterranean town.
What is the best time to visit Cavtat?
The best time to visit Cavtat, Croatia, is during the months of May to September. Like the rest of the Croatian coast, Cavtat's climate has warm and dry summers and cool, rainy winters with no snow.
Tips: If you want to have the highest probability of great weather during your stay, you will want to visit Cavtat in the months of June, July, or August. During this period, the weather is warm and sunny; the average temperature is around 25°C (77°F), a daily maximum of 31°C and an average low of 23°C.
Typically ideal months with the weather for exploring the town's outdoor attractions, beaches, and activities. Sea temperature at that point reaches a comfortable 26°C.
Additionally, most of the restaurants, bars, and other tourist amenities are available in June to August period, making it a lively and bustling place to visit. However, note that July and August are the peak tourist season, which means the town can get busier and accommodation prices higher.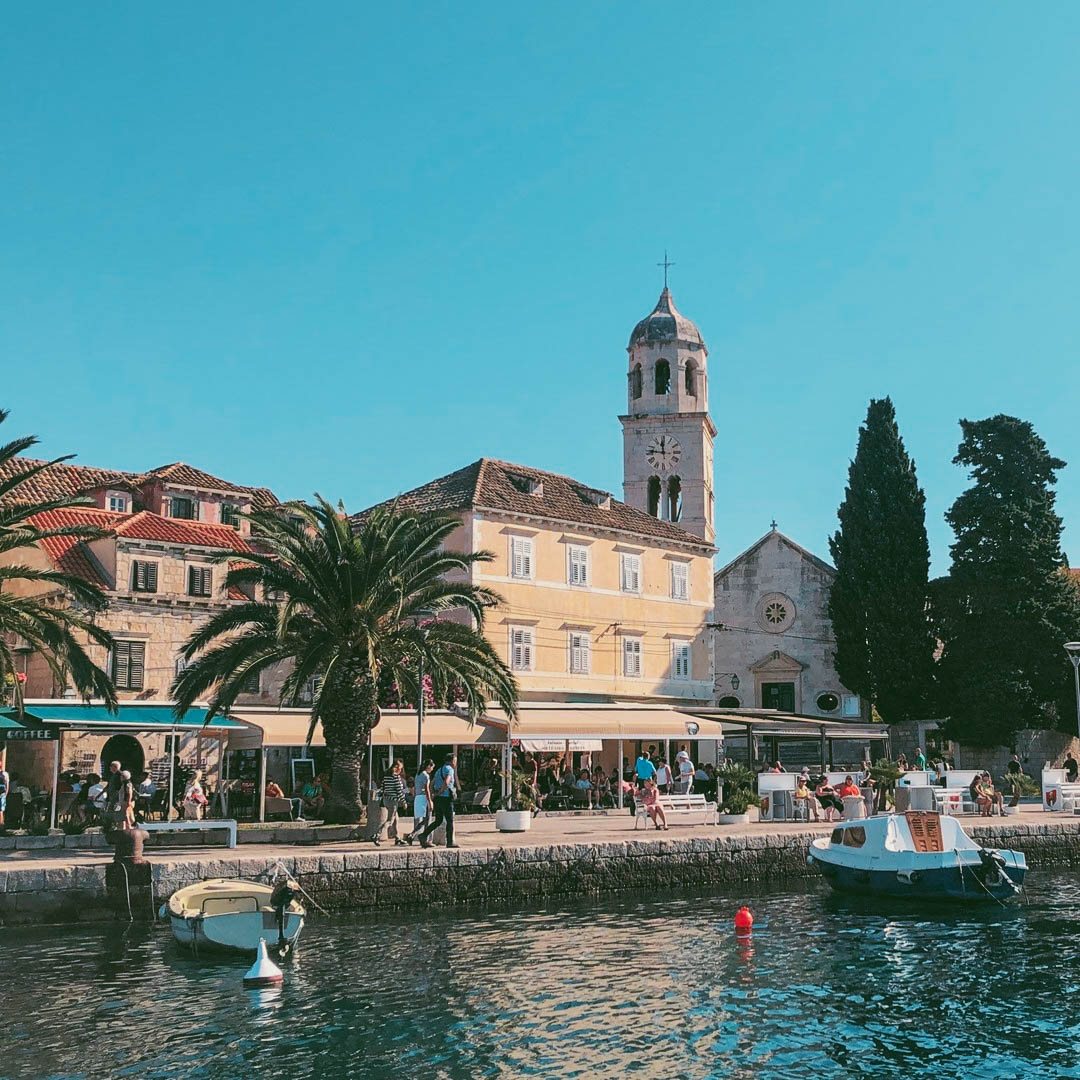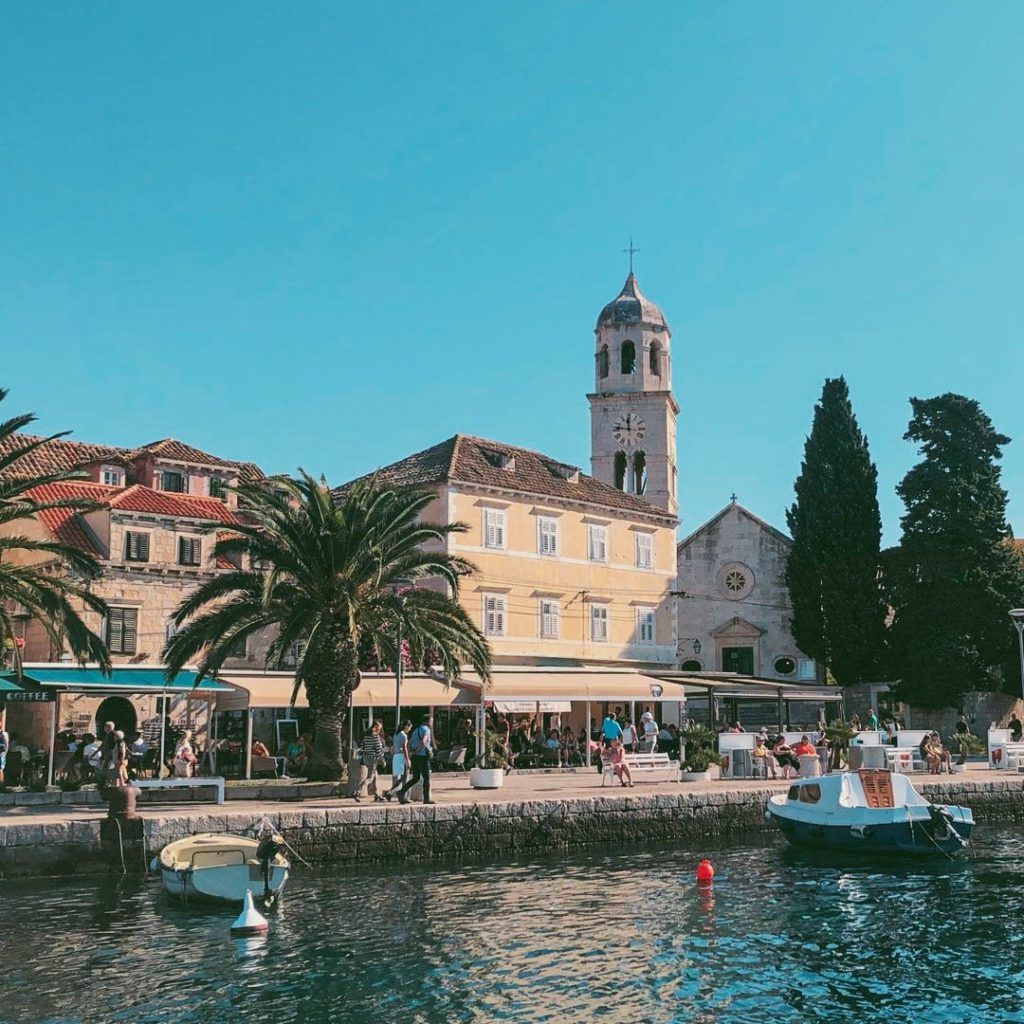 Consider visiting in May or September if you prefer fewer crowds and cheaper rates. September is often recommended as the best month to visit Cavtat for travelers who want to avoid the hot summer.
In September the daily temperatures fall, the sea remains warm for comfortable swimming, the city crowds decrease, and the accommodations rates drop.
How did Cavtat get its name?
The name of today's Cavtat comes from the Croatized word Civitas vetus. That's what the refugees of that time called their native place - Epidaurus.
As is customary even today, residents of a city will not always repeat its name in a conversation, but it is enough to say—the city, as we know which city it refers to. It is likely that the inhabitants of the then-city Epidaurus, which stood on the site of Cavtat, simply called their city civitas.
How do you pronounce Cavtat?
Cavtat is pronounced 'Tsavtat' [t͡sǎʋtat]. Following standard English pronunciation rules, you usually would say the first letter C as hard as K, as in Kaftat.
Tips: To pronounce it the local Croatian way, you want to tell the first letter C of Cavtat—'ts', as in cats.
Even though the locals are used to visitors mispronouncing the town's name, you might want to say it right to prevent miscommunication.
How to get to Cavtat?
How does someone get to this dreamy place? What's the best way to get to Cavtat?
Most people visiting Cavtat get there by plane, landing at the Dubrovnik Airport. The airport is located just 5 km east of Cavtat.
Tips: The best way to reach Cavtat from the airport is by taxi. It's a short ride, so it's not expensive, and you'll be dropped off at your hotel.
The other direction people usually arrive in Cavtat is from Dubrovnik. Dubrovnik is the regional bus and ferry transport hub so you might have reached Dubrovnik by bus or boat from someplace else in Croatia.
It is a breeze getting from Dubrovnik to Cavtat. The bus line number 10 runs between the two towns approximately every half hour. And obviously you have taxi and Uber drivers at your disposal.
What to see in Cavtat?
If, as a tourist, you head down brightly decorated waterfront, the promenade, and the Rector's Palace through the old streets and stairs to the top of the Rat peninsula you will encouter plenty interesting things to see along the way.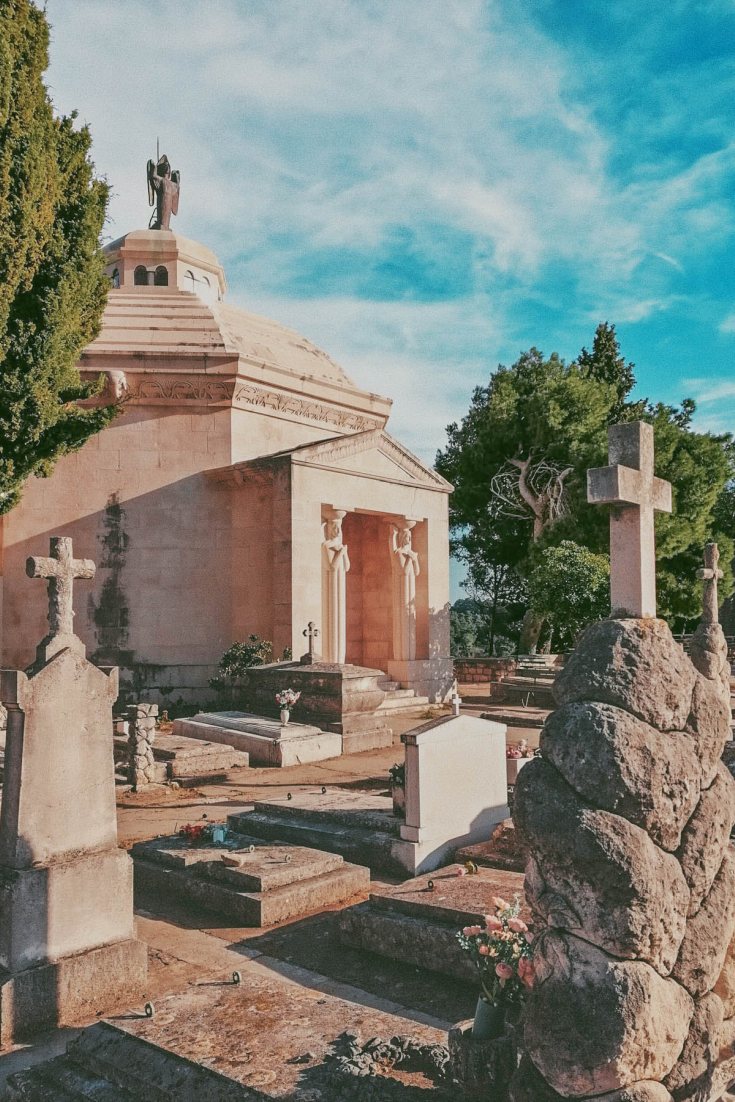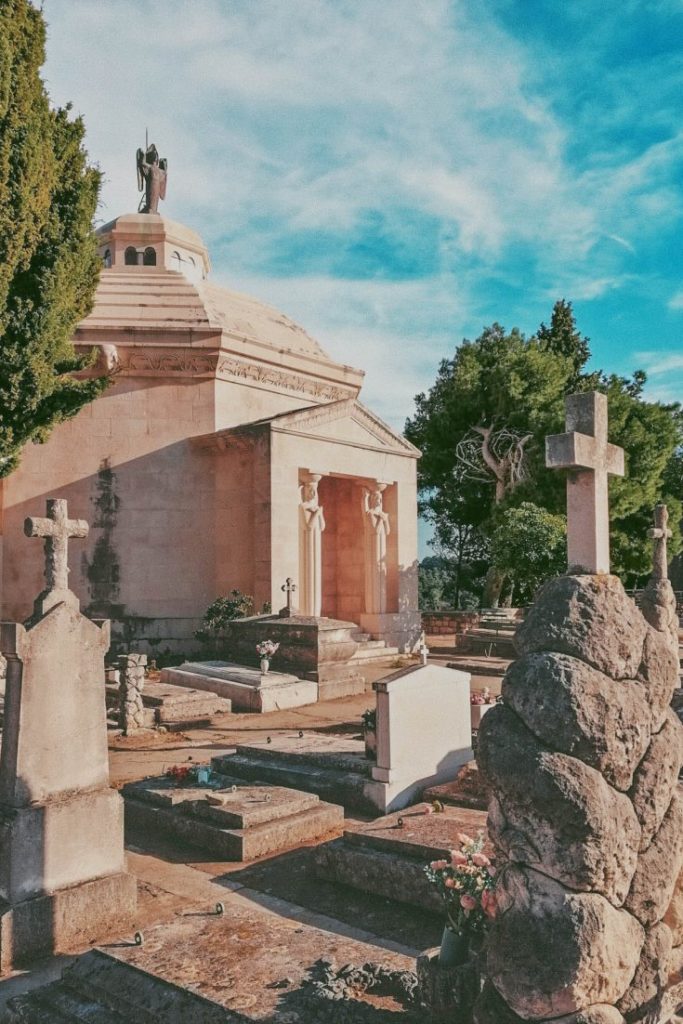 Baltazar Bogišić Collection - Housed within the 16th-century Renaissance Rector's Palace, the collection includes over 35.000 different items. It showcases drawings by Croatian and foreign artists. You can see a lapidarium with Roman stone pieces from the first century AD, a numismatic collection with coins from the Republic of Ragusa, a library of very rare and unique books and an archive of scientific and cultural works.
Vlaho Bukovac House and Gallery - Bukovac House is the birthplace and museum of Vlaho Bukovac (Cavtat, 1855 - Prague, 1922), one of the most important Croatian painters and the founder of modern Croatian painting. The permanent collection comprises Bukovac's works from all the phases of his oeuvre. A selection of furniture and personal objects are dispersed throughout the house.
Račić Mausoleum - Ivan Meštrović was the sole architect, sculptor, and decorator of the impressive Račić mausoleum, which sits atop the hill rising above Cavtat. It was built in 1922 in a place of the 15th ct. Church after the Bishop of Dubrovnik allowed for it to be demolished and the new mausoleum built. The sarcophagi contain four of the wealthy ship-owning Račić family members.
Our Lady of the Snows - The monastery was founded in 1481, while the church, which occupies the eastern wing, was built in 1493. Over the centuries, the church has been demolished and rebuilt several times. They host numerous masterpieces well worth seeing.
Baroque Church St. Nicholas - A 15th-century edifice. Its baroque interior offers a site well worth a brief visit. Adjacent to the church is a small art gallery hosting masterpieces painted from the 15 ct. on. The pinacotheca houses a valuable art collection comprising seventy exhibits, primarily consisting of religious paintings. All the artworks on display were created during the 15th to 20th centuries.
Glossus Humanus Shell Museum - The St. Nicholas church gallery is enhanced by a permanent display of seashells sourced from oceans across the globe. The collection comprises 3,000 species and is one of the largest collections in Europe.
What else is there to explore in the Cavtat area?
You can venture out from Cavtat to the rest of the Konavle area to visit different villages and other points of interest.
Konavle County Museum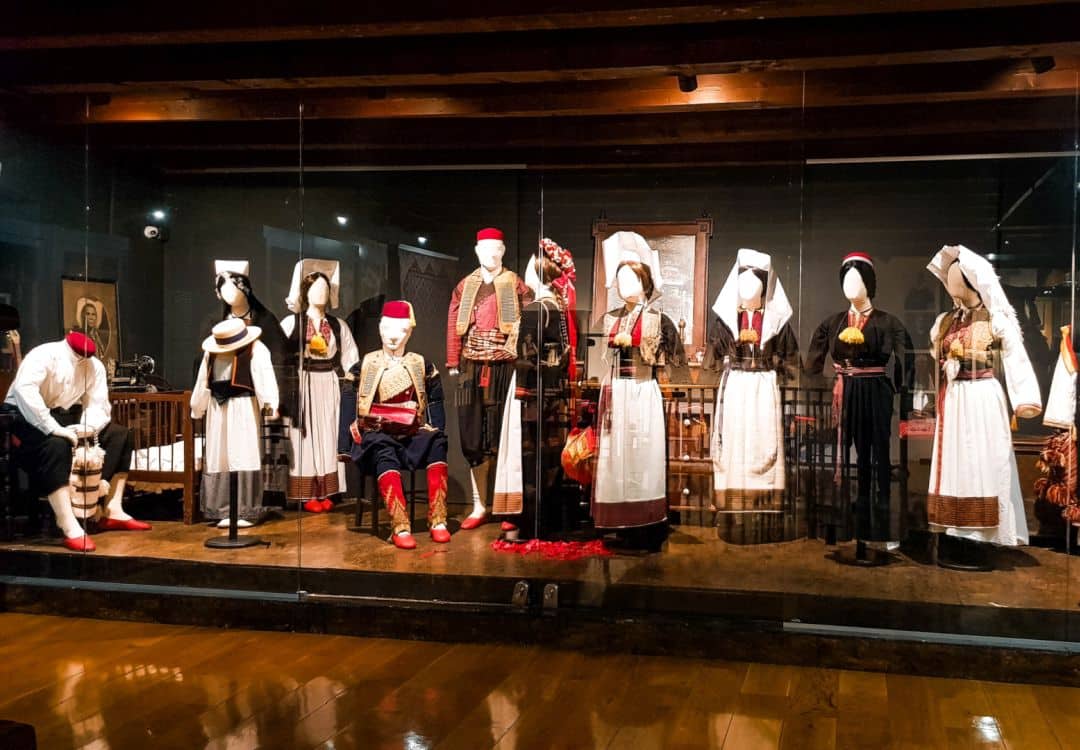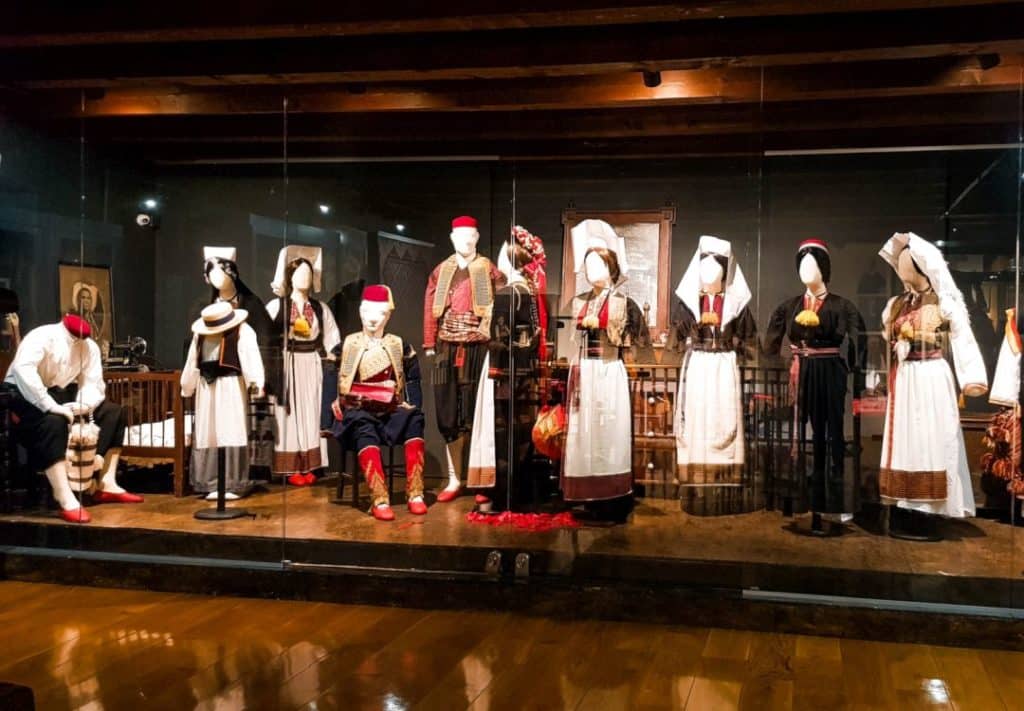 A small museum in the lovely town of Čilipi exhibits the ethnological fortune of the Konavle, displayed in the ambiance of a typical Konavle house—a great collection of traditional clothing, tools, and traditions.
Franciscan Monastery Pridvorje
The Franciscan monastery of St. Blaise in Pridvorje significantly influenced Konavle throughout its almost 600 years of existence. It was designed as a central religious building from which evangelization would spread, and along with the Rector's Palace, it became the most important social center in Konavle.
Watermills on River Ljuta
The river Ljuta features a comprehensive and intricate system of watermills and stamp mills, consisting of not just one or two but a total of eight flour mills, in addition to two mills specially designed for extracting oil and three stamp mills.
Sokol Grad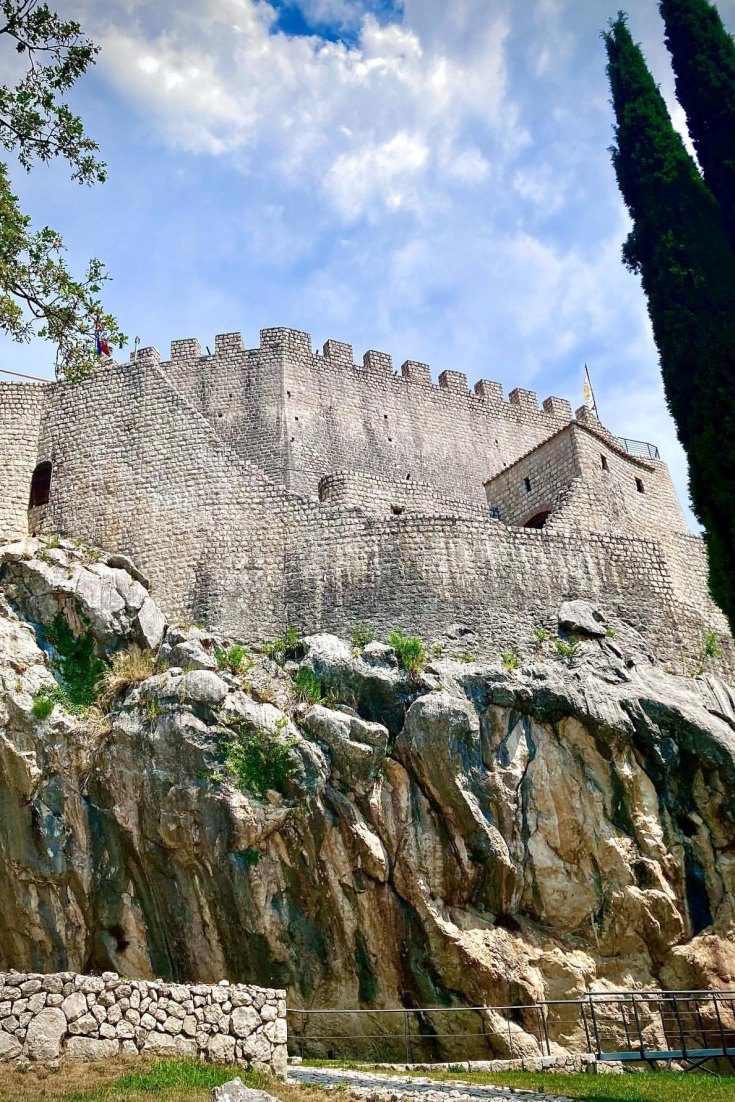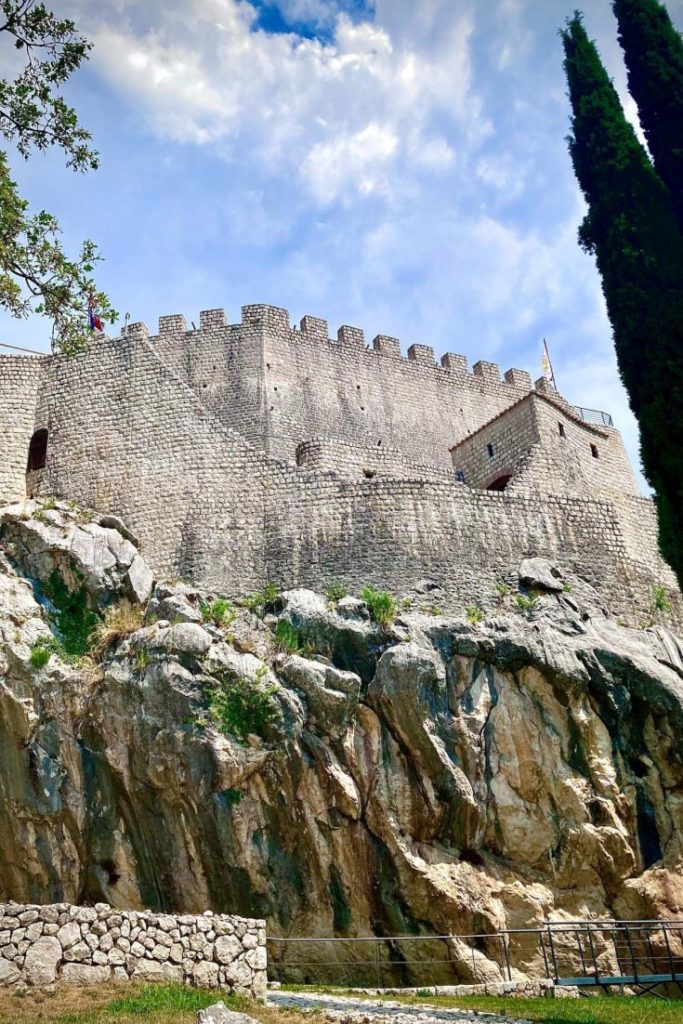 Sokol Grad, also known as Sokol Kula, is the most prominent fortification from the Dubrovnik Republic era in Konavle. It had exceptional historical importance due to its strategic location on a mountain pass leading to the Bosnian hinterland.
Ronald Brown Pathway
Ronald Brown Pathway is a 6.1-mile hiking trail starting in Obod, near Cavtat. The path is typically regarded as moderately demanding. This trail was a former Austrian Military road renamed in honor of Ron Brown. Once you hile to the top of the trail, you can relish in the stunning vista of Cavtat, Konavle, Župa Bay, and Dubrovnik.
What are the events happening in Cavtat?
Several cultural events are organized in Cavtat for its visitors by Konavle Tourist Board and associated organizations. You might want to book your stay during one of these happenings for a more interesting vacation.
Cavtat Music Evenings
Cavtat's Musical Evenings, a series of eight chamber music concerts, is arranged by the Konavle Art Association and takes place from June until August. The concerts are held at various venues in Cavtat, including the Pinakothek and the Church of Our Lady of the Snow.
Epidaurus Festival
The Epidaurus Festival is a music festival in Cavtat organized in September. Despite its name, it features other artistic disciplines such as literature, drama, folklore workshops, and educational events. You can attend many concerts featuring globally acclaimed musicians and young, emerging artists on the Epidaurus festival.
Cavtat Summer
The yearly occurrence of cultural and amusement events known as the "Cavtat Summer" lasts from late June to early September. This festival of culture and amusement programs includes performances of dance and music shows, street entertainment, classical music concerts, and more.
Unseen Film Festival
A film festival in July screened in open areas along the Cavtat waterfront, showcasing short films and artistic works by emerging Croatian cinematography.
Čilipi Folklore
Every Sunday from July to the end of October, you can witness the vibrant folklore events in Čilipi. Following the Sunday Mass at the local square in front of St. Nicholas' Church in Čilipi, you can catch the local folklore ensemble performing the customs and traditions of Konavle in a lively.
Where to eat and drink in Cavtat?
Cavtat's restaurants and taverns focus on Dalmatian and Mediterranean cuisines. They feature dishes that incorporate fish, vegetables, and olive oil.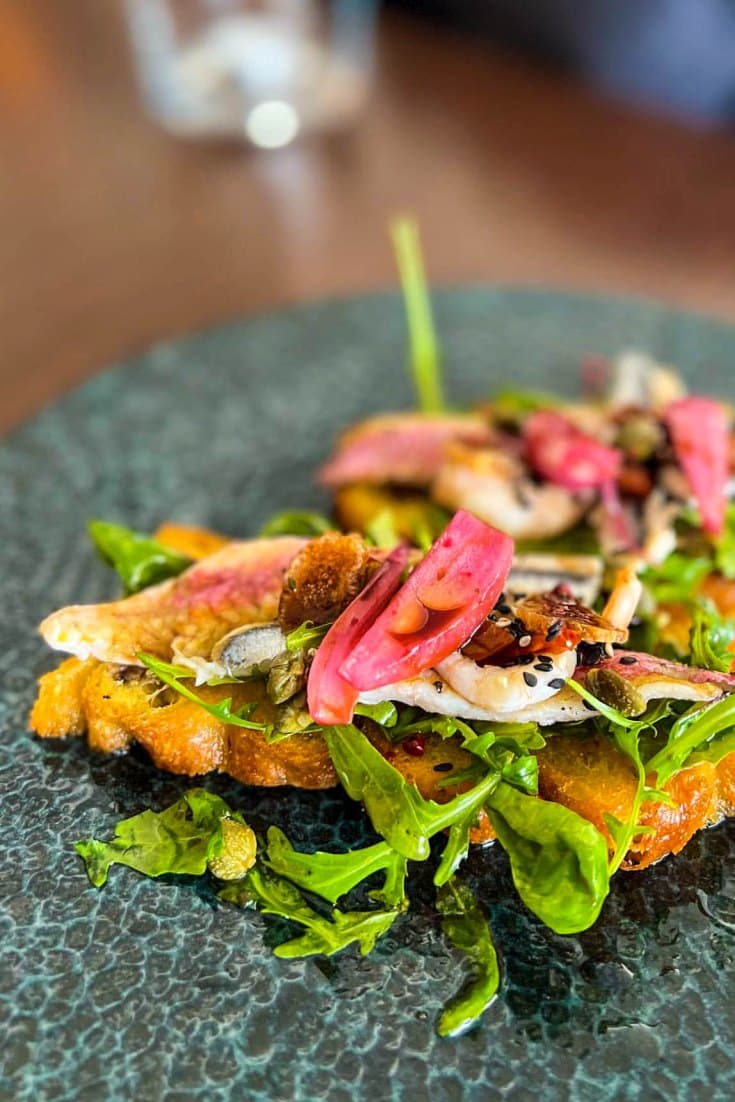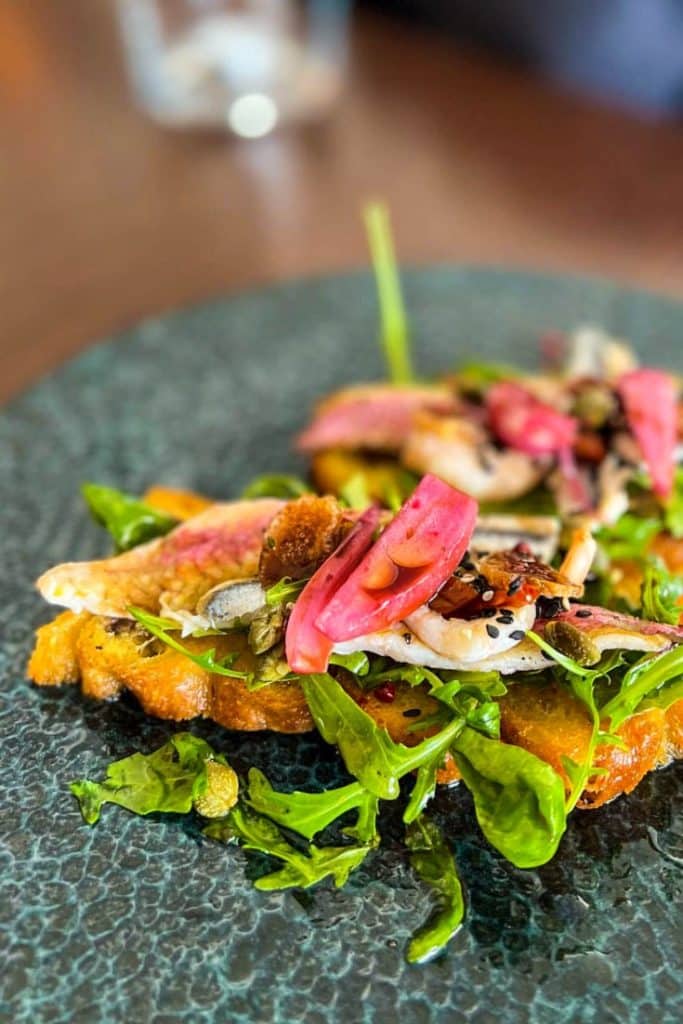 Although the cuisine primarily centers around fish, various meat dishes cooked in a stone oven, homemade smoked ham and cheese in oil, green pasta, and other domestic specialties complement Dalmatian fish cuisine. The restaurants in Cavtat usually also offer standard menu items like pizzas and pasta for those who only like to eat familiar food.
Prices: In Cavtat, it is effortless to locate a restaurant to eat at, as they are close to each other with terraces all along the seafront. It is worth noting that the food prices in Cavtat are very similar to those in Dubrovnik, on the higher side compared to other places in Croatia.
There are plenty of restaurants in Cavtat whose food we can recommend:
Where to stay in Cavtat?
This village all the different types of accommodation options for visitors, including hotels, resorts, camps, apartments, and guesthouses.
If you want a luxury stay, the best hotels with five stars in Cavtat are Hotel Croatia and Hotel Supetar. Hotel Croatia is a large 500-room resort with multiple restaurants, pools, wellness, and anything else a traveler might need for a vacation in Cavtat.
Supetar is the other 5-star hotel housed in a hundred-year-old villa with only 16 rooms on the Cavtat promenade.
The Remisens Hotel Albatros is a four-star beachfront hotel perfect for families seeking a peaceful yet entertaining seaside vacation. Other smaller four-star boutique hotels are Hotel Seventh and Hotel Villa Pattiera.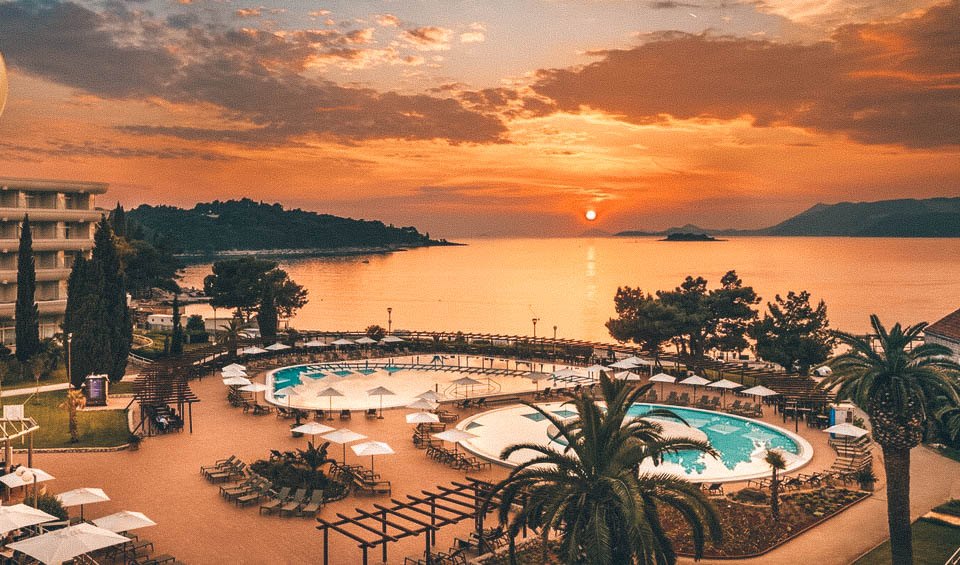 For those seeking a more budget-friendly option, two three-star hotels offer excellent facilities, beautiful views of the sea, and a range of amenities to make your stay comfortable and enjoyable at a more affordable rate; Hotel Cavtat and Remisens Hotel Epidaurus.
There are also many guesthouses and apartments available for rent throughout Cavtat. Some popular options include Villa Adria, Villa Anka, and Villa Fontana.
No matter where you choose to stay in Cavtat, you will be surrounded by beautiful scenery and have easy access to the town's many attractions, restaurants, and beaches.