Cavtat is a stunning coastal town close to Dubrovnik in the southeast part of Croatia. Its remote location in the European continent and Croatia's country shape make it the easiest way to get to the destination by air.
To help you plan your journey, we've compiled all the information you need to know about how to get to Cavtat, Croatia. Check out our full travel guide for Cavtat.
By Air
The best and most convenient way to get to Cavtat is by plane. Dubrovnik International Airport (DBV) is located very close to Cavtat—just 4 kilometers. Dubrovnik Airport is one of the busiest international airports in Croatia and is extremely well connected with the rest of Europe.
Traveling from the U.S.
One airline offers non-stop flights between the USA and Cavtat; however, many offer one or two stopover flights.
United Airlines offers direct flights from New York/Newark, NJ, US to DBV four times a week during peak season (from May to September).
Many other airlines operate regular flights to Dubrovnik with stopovers in major European air travel hubs, including London, Paris, Rome, Madrid, and Frankfurt.
Traveling from the UK
Numerous airlines provide direct flights to Dubrovnik Airport from various cities in the United Kingdom:
Traveling from Europe
As the Dubrovnik area has experienced a considerable increase in the number of tourists in recent years, there are abundant non-stop direct flights to DBV and Cavtat from every major European city, such as London, Paris, Rome, Madrid, and Frankfurt.
The main companies offering flights to Cavtat are Ryanair, Vueling, Iberia, British Airways, Turkish Airlines, and Lufthansa.
Once you have booked your flight, you will want to know the best ways to get from Dubrovnik Airport to central Cavtat.
How to get from Dubrovnik Airport to Cavtat?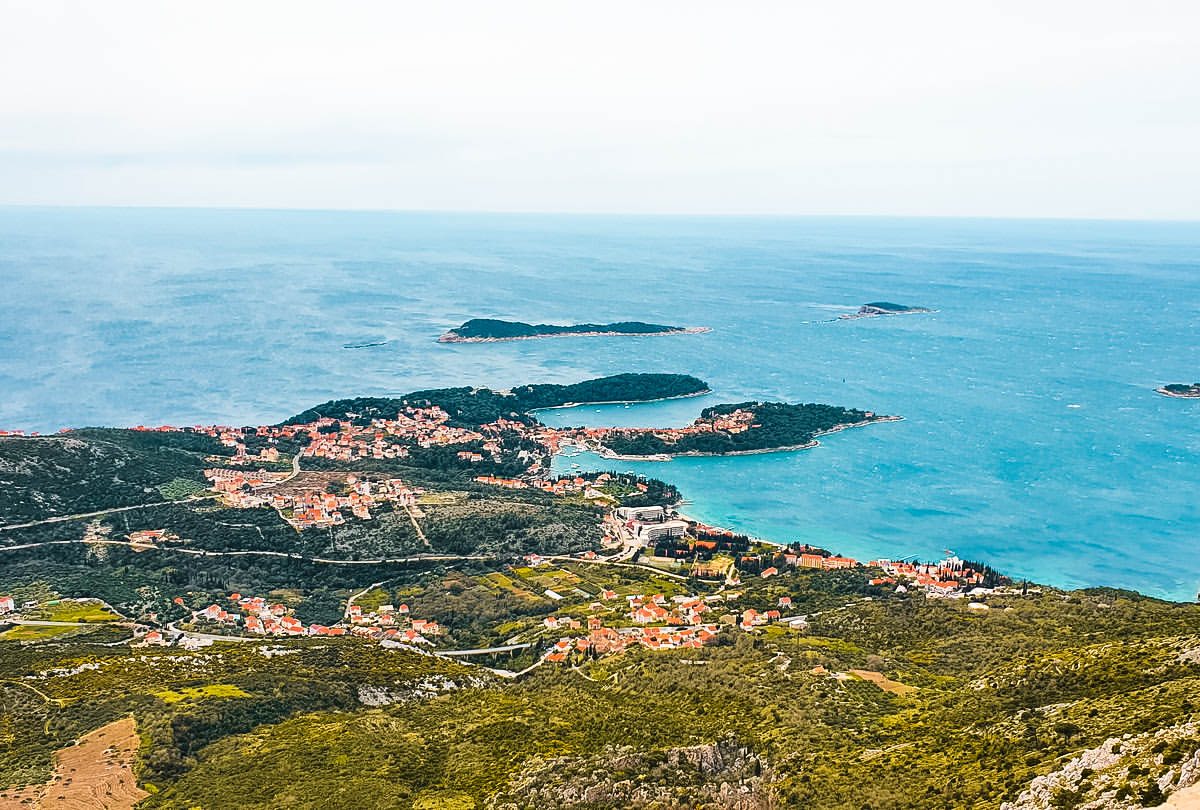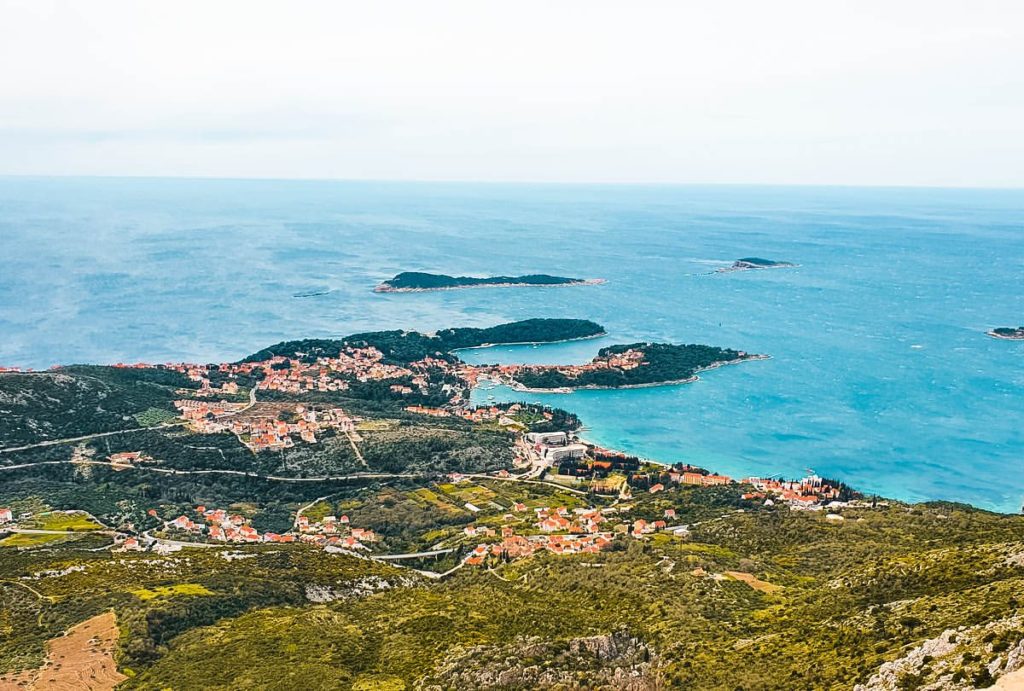 The only practical transportation method from the Dubrovnik airport to Cavtat is by taxi/car transfer. The trip with a taxi usually takes around 5 to 10 minutes and costs around €15. You can hop on a licensed taxi outside the arrivals gate at the airport. Or you can have a private transfer driver waiting for you specifically at the gate at the same price.
Tips: An even more affordable alternative to taxis is to use a ride-hailing service like Uber or Bolt. The last time I checked pricing from my Uber application, the ride between Dubrovnik airport and Cavtat cost €8.
There is no Dubrovnik Airport to Cavtat direct bus line. Because of this, you would need to get on the bus shuttle to Dubrovnik and take bus number 10, which goes to Cavtat at the central bus station. Completing this route would take at least 2 hours, considering the bus ride times and layovers.
If you compare this to a 5 to 10 minutes taxi ride from the airport to Cavtat, you can conclude using a bus is not worth it. Using buses to get to Cavtat would not save money, as combined bus tickets would cost over €13.
By Car
If you're driving to Cavtat, the town is easily accessible by road. The A1 highway connects Dubrovnik county to other major cities in Croatia, including Split and Zagreb. You can use the A1 highway as far as the Pelješac bridge.
From there, you can take the Adriatic Highway (D8 State Road) to get to Dubrovnik and reach Cavtat. Adriatic Highway is a scenic drive that takes you along the coast, passing through several charming towns and villages.
Parking in Cavtat
You might want to book accommodation with included parking. This way, you would avoid paying large parking fees in the parking lot next to Cavtat Old Town. Similarly to Dubrovnik, Cavtat has issues with lacking enough parking spots to accommodate its visitors in the summer.
Tips: If you are staying in an apartment in Cavtat Old Town, your host can submit your reservation to the parking authorities so you can get a special daily parking rate of €20. Even if you are not in Old Town proper, staying somewhere out of the center, you can get a similar parking fee discount.
By Bus
Cavtat is well-connected with the rest of Croatia and Europe by the Dubrovnik bus transportation hub. If you get to the Dubrovnik area by an intercity bus from somewhere else in Croatia, you will reach the Dubrovnik Central bus station.
Daily intercity bus lines run from over 20 cities in Croatia to this Dubrovnik region. It is a breeze to get from the main terminal to Cavtat.
By Train
Unfortunately, there are no direct train services to Cavtat. The closest train station is in Ploče, located around 70 km from Cavtat. If you want to use the train, you can get to Ploče from Split by train. And then, from Ploče, you can take a bus or a taxi to Cavtat.
By Sea
Getting to Cavtat by Ferry
If you're traveling from Italy to Cavtat, Croatia, you can take a ferry from Bari to Dubrovnik. Once arriving in Dubrovnik, you can take a taxi or bus to Cavtat. The journey by ferry takes around 9 hours, and the ferry operates twice a week during the peak season.
A frequent intercity sea line Cavtat visitors use is the pleasant ferry trip from Split to Dubrovnik. It stops at many islands and ports and takes about 4 hours.
Cruises from various parts of Europe
Travelers to Europe love cruising around the Mediterranean in the summer. Dubrovnik is the port of call for some of the largest cruise ships. If the cruise ship stays in the port for more than a day, its guests frequently go out of Dubrovnik to visit Cavtat.
To mention a few companies offering cruises that stop in Dubrovnik:
Viking Ocean Cruises has a 12-night cruise departing from Barcelone to Venice. A stop along the way is Dubrovnik.
Norwegian Cruise Line departs from Venice during a nine-night tour of Croatia and the Greek Islands towards Istanbul and stops on one of the days in Dubrovnik.
Celebrity Cruises departs from Ravenna (Bologna) and tours the best destinations of Croatia and Italy, with a stop in Dubrovnik.
How to get to Cavtat from Dubrovnik
Despite being a small coastal village, there are several ways to get to Cavtat from Dubrovnik.
By bus
Despite being a small coastal village, there are several ways to get to Cavtat from Dubrovnik.
The cheapest way to go between these two places is by bus—a ticket is just €4. This connection is bus line no.10. Journey time is around 30 to 40 minutes. The last stop of the line is Cavtat. Read more about the bus line here.
If you arrive in Dubrovnik by boat or intercity bus, you can catch bus 10 at the Dubrovnik central bus station next to the Gruž port.
By water taxi/ferry boat
The second option is taking a ferry from Dubrovnik to Cavtat during the summer. This ferry service runs regularly and allows you to enjoy scenic views of the Adriatic coast, the sea, and several islands on your way to Cavtat.
This way of transportation is a great way to add an extra adventure and unique experience to your trip. The one-way ticket costs around €14, while the return ticket costs €20. Under-5s travel free, and children 5-12s get 50% off. Based on the company you choose, the ride typically lasts between 45 and 60 minutes.
By Taxi/Uber
If you don't want to squeeze in the bus and it's bad weather to take the ferry, you will want to take a taxi ride. A journey by taxi or uber is the quickest, most convenient way but the most expensive. An average taxi ride should cost about €40.
A taxi from Dubrovnik to Cavtat will take around 20 minutes if there is no significant traffic on the Adriatic highway.
Tips: For an amazing view of the Dubrovnik Old Town walls and port, you can ask the driver to stop at the viewpoint near Park Orsula on your way to Cavtat. It's the best place to take photos of Dubrovnik from higher up.
Alternatively, you can take an Uber taxi for approximately €27, less expensive than a standard taxi in Dubrovnik.