Where is Croatia on the World Map?
On the world map, Croatia is located on the continent of Europe. Croatia is situated on the northwestern part of the Balkan Peninsula. It is considered to be a part of Central Europe and Southeast Europe.
How large is Croatia?
In terms of land area size, it is the 127th largest country in the world, covering 56,594 square kilometres (21,851 square miles). 99% of which is land and 1% inland water.
The Croatia's surface area is divided:
Forests and bushes cover 46.8%
Agricultural lands 40.4%
Inland waters make up 1.0%
Marshes 0.4%
Croatia has large territorial waters that span 18,981 square kilometres (7.329 square miles) in a 12 nautical miles (22 kilometres; 14 miles) radius, while its internal waters cover an extra 12,498 square kilometres (4,826 square miles).
What are the coordinates of Croatia?
Croatia is at a latitude of 45.1° N and longitude of 15.2° E. It belongs to Europe and the northern hemisphere.
What is Croatia shaped like?
Croatia is a small yet very geographically diverse country, shaped in the form of a crescent or a boomerang. Others can see a dragon in the shape of Croatia.
The upper part of Croatia's crescent shape is bordered on the east by Serbia, on the north by Hungary, and to northwest Slovenia. The main body of the crescent is the long coast of the Adriatic Sea across which is Italy. The southern thinnest point touches with the country of Montenegro.
Bosnia and Herzegovina borders Croatia inside the crescent's long inner edge. Croatia's southern region is divided from the rest of the country by a narrow corridor that gives Bosnia and Herzegovina access to the Adriatic Sea.
Why is Croatia such a weird funny shape?
If you see Croatia on a map, you'll notice its unique shape. It resembles a boomerang or croissant or horseshoe or crescent moon. Croatia looks weird because of a straightforward reason: war.
As early as the middle ages, The Kingdom of Croatia spaned larger territories than today, including Bosnia & Herzegovina and parts of Serbia. After a series of wars in the 10th century, they lost the duchy of Bosnia to the Byzantine Empire. Following a period of a succession crisis, the kingdom lost full sovereignty in 1102 under a personal union with the Kingdom of Hungary.
Croatia's current shape can be credited to the Ottoman conquest of the Balkans, and the Ottoman-Habsburg wars. In these wars, the Ottomans conquered territories of modern-day Greece, Albania, Serbia, Bulgaria, Romania, Hungary, Croatia, Montenegro, North Macedonia and importantly, Bosnia-Herzegovina. The outline of Bosnia on the map of Europe appears to be shaped like an arrow wedged into Croatia.
Historically Croatia was positioned between competing kingdoms, empires, and republics for millennia. Croatia today is a product of fragmentations, wars, reconquests, religious influences, subjugations, and treaties.
What are the geographical regions of Croatia?
Croatia is divided into three major landform geographical and geomorphological regions:
Pannonian Basin - Lowland plains of the Pannonian Basin make up over 50% of Croatia. The plains stretch down the north to the northeastern region and extend to the coast in the northwest. It includes the Slavonia situated between the Sava and Drava rivers, the Zagreb capital area, and the Zagorje area of northern Croatia. Alluvial soils from the Sava, Drava, and Danube rivers enrich the Pannonian Plains making it the most fertile agricultural region. These lowlands are dotted with horst and graben structures, which may have been islands in the time of Pliocene when the Pannonian Sea covered this area.
Dinaric Alps - predominantly karst mountain region of Gorski Kotar and Lika separates the coastal Adriaticareas from the continental Peripannonian-Pannonian interior. Croatia's highest mountain Dinara 1,831-metre (6,007 ft), is located in this central mountain belt. All Croatian mountains higher than 1,500 meters (4,900 ft) are part of the Dinaric Alps. 
Adriatic Basin - Croatia's Littoral mainland coast is the territory along the Adriatic Sea. The Adriatic Basin is defined by rugged, barren karst highlands and mountains. The islands, islets, and rocks of all sizes make up much of the coastline. The region includes the Istrian Peninsula in the north and the Dalmatian Coast in the south.
What does relief look like in Croatia?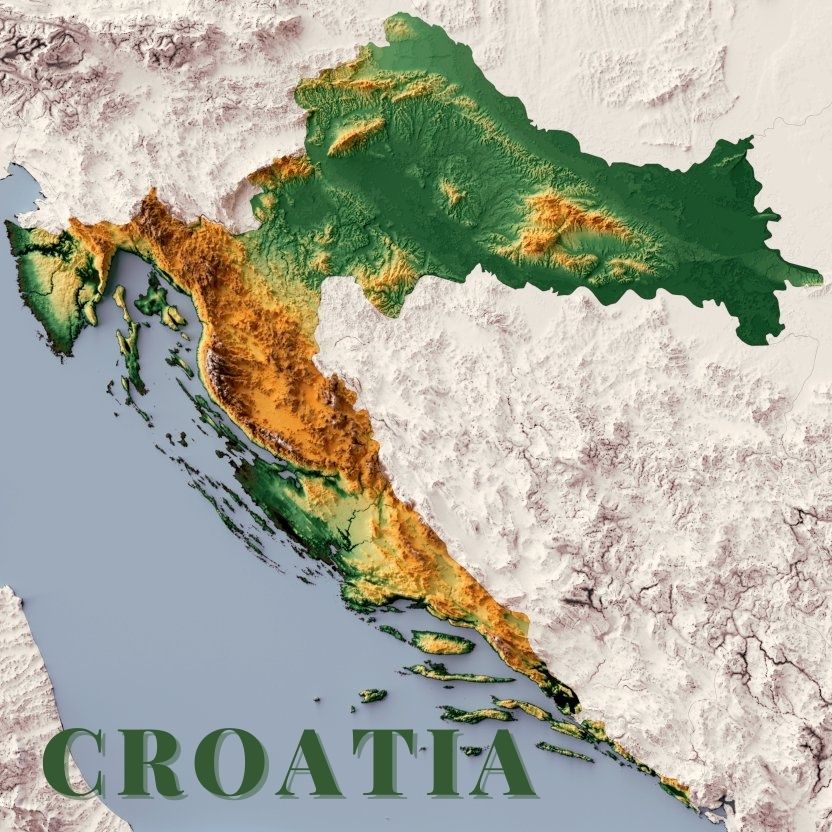 Croatia is a predominantly lowland country. The horseshoe-shaped shape of the territory indicates the importance of the Pannonian and coastal units, interconnected mainly by karst mountain regions.
Lowlands (below 200 m absolute height) 53.4%,
Hills (200 to 500 m absolute height) 25.6%,
Mountains (above 500 m absolute height) 21.0%
What is the geological map of Croatia?
Most of the territory of Croatia is built of sedimentary rocks. The most common carbonate rocks present are limestone and dolomite. Clastic deposits are also present to a considerable extent: clay shales, marls, sandstones, conglomerates, and breccias.
There are some eruptive rocks, and they are represented by intrusives (granite, gabbro, diorite), effusives (diabase, melaphyre, rhyolite, trachyte, dacite, andesite, basalt), and to a lesser extent pegmatite veins and peridot.
There are also mixed sedimentary-eruptive rocks (tuffs, barites, etc.) and metamorphic rocks(gneisses, mica shales, serpentines, quartzites, phyllites, marbles, etc.).
What Are the neighbouring countries of Croatia?
Croatia borders five countries:
Montenegro to the southeast
Bosnia and Herzegovina to the southeast
Serbia to the east
Hungary to the northeast
Slovenia to the northwest
South of Croatia is the Adriatic Sea, across which is Italy.
Croatia's extreme south, around Dubrovnik, is a practical exclave. It is connected to the Croatian mainland by territorial waters and Pelješac Bridge but separated on land by a short Neum coastline of Bosnia and Herzegovina.
What are Croatia's Borders and Border Lengths?
Length of land borders of Croatia (including rivers):
|  Country | Length |
| --- | --- |
| Montenegro | 19 km (12 mi)   |
| Bosnia–Herzegovina | 956 km (594 mi) |
| Serbia | 314 km (195 mi)  |
| Hungary | 348 km (216 mi)  |
| Slovenia | 600 km (370 mi) |
| Total | 2,237 km (1,390 mi) |
What are Croatia's extreme most points?
Geographical coordinates of the end points:
northernmost Žabnik - 46 ° 33′N and 16 ° 22′E
the southernmost island of Galijula (Palagruža islands) - 42 ° 23′N and 16 ° 21′E
the easternmost Ilok - 45 ° 12′N and 19 ° 27′E
westernmost Cape Lako - 45 ° 29′N and 13 ° 30′E
the southernmost point on the mainland is Cape Oštra - 42 ° 24′N and 18 ° 32′E
Does Croatia Have a coast?
Croatia has a coast on the Adriatic Sea. Croatian Adriatic is the most popular tourist area of Croatia due to its preserved nature and mild climate.
What is Croatia coastline length?
Croatia's coastline is 1,777 km (1,104.4 mi) long and occupies most of the eastern Adriatic shoreline. When counting the island's coast, it amounts to 4,058 kilometres (2,522 mi) of coastline. As the crow flies, the distance between the most northerly and the most southerly point is only 526 km. The shoreline of this region is indented with many islands, bays and coves, which makes it one of the most indented in Europe. Croatia has the third-longest Mediterranean shoreline, following Greece's and Italy's.
What is Croatia Coastal Type?
The rising sea level following the Pleistocene ice age created the shape of Croatia's coast. The submerged valleys formed elongated islands with narrow sea channels between them. This type of coastal formation is unique and is called the Dalmatian type.
What Are Croatia Adriatic Coastal Cities?
Largest and most popular coastal cities are:
Split
Rijeka
Dubrovnik
Šibenik
Hvar
Makarska
Zadar
Trogir
Pula
Opatija
Rovinj
How many islands does Croatia have?
Croatia has a coastline that includes
718 islands and islets
289 rocks
78 reefs
Islands represent 5.8% of the total surface area of the country. Most are limestone, like the coast. The five largest islands are Krk, Cres, Brač, Hvar, and Pag.
What Mountains Are Found in Croatia?
The entire mountain range of Croatia is part of the Dinarides (Dinaric Alps). Karst relief defines the Outer Dinarides (45.5% of Croatia). Karst relief can be found in the area of Gorski Kotar, Lika, Banovina, Kordun, Istria, Dalmatia with Zagora, and on the islands.
This area is mostly built of limestone and dolomite. It is very fragmented and corroded, causing frequent earthquakes.
What is the highest point found in Croatia?
Here is a list of the highest mountains in Croatia. They make up the Dinarides range, also called Dinaric Alps. Dinarides, along with the easternmost parts of the Alps, cover most of the country. The mountains in the Slavonia region of the country, in the Pannonian plain, are much older.
| Mountain | Peak | Height (meters) |
| --- | --- | --- |
| Dinara | Sinjal | 1831 |
| Biokovo | Sveti Jure | 1762 |
| Velebit | Vaganski vrh | 1757 |
| Plješivica | Ozeblin | 1657 |
| Velika | Bjelolasica − Kula | 1533 |
| Risnjak | Risnjak | 1528 |
| Svilaja | Svilaja | 1508 |
| Snježnik | Snježnik | 1506 |
| Kamešnica | | 1500 |
| Viševica | Viševica | 1428 |
| Učka | Vojak | 1396 |
| Mosor | Mosor | 1339 |
| Šibenik | Veliki Šibenik | 1314 |
| Mala Kapela | Seliški vrh | 1279 |
| Ćićarija | Veliki Plamik | 1272 |
| Sniježnica | Sniježnica | 1234 |
| Žumberačka gora | Sveta Gera | 1181 |
| Promina | Promina | 1148 |
| Bitoraj | Bitoraj | 1140 |
| Tuhobić | Tuhobić | 1106 |
| Ivanšćica | Ivanšćica | 1059 |
| Medvednica | Sljeme | 1035 |
| Psunj | Brezovo polje | 984 |
| Papuk | Papuk | 953 |
List of 25 highest mountains in Croatia, with height and peak names.
What Are the Rivers Found in Croatia?
Croatian rivers belong to the Black (62%) and Adriatic (38%) seas drainage basins. Almost all longer rivers (Sava, Danube, Drava, Kupa, Una, Bosut, Korana) belong to the Black Sea basin. They have high water levels in winter and low in summer; the exceptions are the Drava and Mura, with high water levels in summer and low in winter.
The Mirna, Zrmanja, Krka, Cetina and Neretva rivers flow towards the Adriatic Sea, along a number of smaller rivers (Dragonja, Raša, Rječina, Dubračina, Guduča, Jadro, Ljuta) as well as most karst sinkholes. The rivers of the Adriatic basin are significantly shorter than the rivers of the Black Sea basin. Navigable are: Sava, Drava, Danube, Neretva, Zrmanja and Kupa.
What is the longest river in Croatia?
The longest river in Croatia is Sava, with 562 meters
Here is a list of rivers with longest parts flowing through the Republic of Croatia.
| River | Length (kilometers) in Croatia | Empties in |
| --- | --- | --- |
| Sava | 562 | Danube |
| Drava | 505 | Danube |
| Mura | 438 | Drava |
| Kupa | 296 | Sava |
| Danube | 188 | Black Sea |
| Bosut | 151 | Sava |
| Korana | 134 | Kupa |
| Bednja | 133 | Drava |
| Lonja − Trebeš | 133 | Sava |
| Česma | 124 | Lonja |
| Vuka | 112 | Danube |
| Dobra | 104 | Kupa |
| Cetina | 101 | Adriatic Sea |
| Glina | 100 | Kupa |
List of 15 longest rivers according to length (kilometers) in Croatia
What are the largest Croatian lakes?
Natural lakes lie mainly in the coastal area of Croatia. The largest Croatian lakes are:
Vrana Lake (30.7 km²) near Biograd na Moru,
Lake (30.23 km²) near Metković,
Prukljansko (11.1 km²) near Šibenik,
Vransko (5.8 km²) on the island of Cres,
Nadinsko blato 4.88 km²) near Benkovac,
Baćina Lakes (1.9 km²) near Ploče,
Veliko Blato (1.3 km²) on the island of Pag
The most famous is Plitvice Lakes (1.98 km²; National Park since 1949). The Dinaric karst lakes (Imotski lakes, etc.) are particularly significant as natural phenomena attracting tourists. Artificial lakes were built mainly on rivers (Drava, Cetina, Lika, Ličanka, Lokvarka) for the needs of hydroelectric power plants.
Where are the Croatian plains?
In Croatia, lowland plains make up 54% of the total area (up to 200 m). Croatia's plains lie in the lowland Pannonian and hilly Peripannonian regions. Other low-lying Croatia areas are found in karst plateaus and flysch valleys in Istria, Ravni Kotar, and the islands.
What is Croatia's biodiversity?
Because of their unique climate and geography there are four biogeographical regions of Croatia:
Mediterranean region along the coast and in its immediate hinterland
Alpine region in most of Lika and Gorski Kotar
Pannonian region along the Drava and Danube
Continental region.
Flora or flower Biological diversity and richness of Croatian flora is shown by a comparison of the number of species of ferns, gymnosperms and angiosperms in Croatia and in some other countries.
In Croatia there are about 4,000 species. This is even more pronounced if the number of species per 100 km² is calculated where in Croatia it is 7.1. Another important feature of the Croatian flora is its plant-geographical peculiarity.
It is expressed by the number of endemics. Almost 300 endemic species and subspecies grow in Croatia.
Legislation protects 1,131 endemic species, especially in the Velebit and Biokovo mountains, Adriatic islands and karst rivers.
Croatia has 38,226 known taxa. Protected species composition by taxa:
Birds - 48.25%
Fishes - 17.12%
Invertebrates - 13.23%
Mammals - 7.78%
Flowering Plants - 6.61%
Does Croatia have protected nature areas?
Croatia has 444 protected areas, covering 8.5% of its land. 78 percent of the total protected area is covered
8 national parks
2 strict reserves,
11 nature parks.
The combined area of all national parks in the country is 994 square kilometers (384 square miles), of which 235 square kilometers (91 square miles) are sea.
UNESCO's World Heritage Site Plitvice Lakes National Park is Croatia's most famous protected area and its oldest national park.
National and nature parks and strict and special reserves are managed and protected by the central government. The rest of the protected areas are managed by counties.
What Are the Soil Types Found in Croatia?
Soil composition found in Croatia is as follows:
56.6% are automorphic soils,
29% hydromorphic soils
0.01% halomorphic soils
Croatia is home to 4,300 plant species and 278 species of trees and shrubs. Mountains in Croatia are particularly rich in vegetation.
What are the natural resources found in Croatia?
Oil
Coal
Bauxite
Low-grade iron ore
Calcium
Gypsum
Natural asphalt
Silica
Mica
Clays
Salt
Hydropower
What Are the Regions of Croatia?
Various natural, socio-geographical characteristics of some of its subregions are the reason for the old divisions of Croatia into several contemporary regions:
Central Croatia
Eastern Croatia (Slavonia and Baranja)
Northern Littoral Croatia (Istria and Kvarner with islands)
Mountainous Highland Croatia (Gorski Kotar and Lika)
Southern Littoral Croatia (Dalmatia)
The latest European NUTS-2 classification breaks Croatia into four modern European regions of the second level (size between 0.8 and 3.0 million inhabitants):
Pannonian Croatia
North Croatia,
Adriatic Croatia
City of Zagreb
What are the natural regions of Croatia?
Croatia consists of three basic natural geographical units that complement each other.
Lowland or Pannonian natural region (covers 55% of the territory and 66% of the population)
Coastal or Adriatic natural region (covers 31% of the territory and 31% of the population)
Mountain or Dinaric natural region (covers 14% of the territory and 3% of the population)
Newer classification standards classify the lowland or Pannonian-Peripannonian region as Continental Croatia. The coastal Adriatic and mountainous regions combine into Adriatic Croatia.
What are the historical regions of Croatia?
There are a number of historical regions in modern-day Croatia, each with its own history. This reflects the political division of Croatia throughout history.
The main reason for Croatia's divisions is its position at the meeting-point of several large empires.
Croatia's historical regions are:
Croatia Proper - The central part of the Republic of Croatia that also holds the capital Zagreb.
Dalmatia - This area covers the majority of the coastline of south Croatia, extending from Rab island in the north to the Bay of Kotor in the south.
Slavonia - This region encompasses a significant part of eastern Croatia and was once its own kingdom.
Istria - Historical region of Istria is primarily comprised of the peninsula of Istria. Croatian Istria's largest city, Pula, sits at the southern tip of the peninsula.
The main 4 Historical regions of Croatia include smaller historical regions:
Banovina
Baranja
Croatian Littoral (Hrvatsko primorje)
Gorski Kotar
Konavle
Kordun
Lika
Međimurje
Moslavina
Podravina
Podunavlje
Posavina
Prigorje
Syrmia (or Srijem)
Turopolje
Hrvatsko Zagorje
Dalmatinska Zagora (Dalmatian Hinterland)
What are the macro-regions of Croatia?
The geographical location of cities of Zagreb, Rijeka, Split, and Osijek, their size and centralized institutions, are the basis for the regionalization of Croatia into 4 macroregions:
Zagreb macro-region - 19,403 km2 and 2,066,956 inhabitants
Split macro-region - 12,951 km2 and 856,758 inhabitants
Osijek macro-region - 12,486 km2 and 805,998 inhabitants
Rijeka macro-region - 11,754 km2 and 555,177 inhabitants
What are the administrative regions of Croatia?
Administratively Croatia is subdivided into 20 counties (županije). A county is a unit of regional self-government unity and, as a rule, itself subdivides into cities, towns, and municipalities.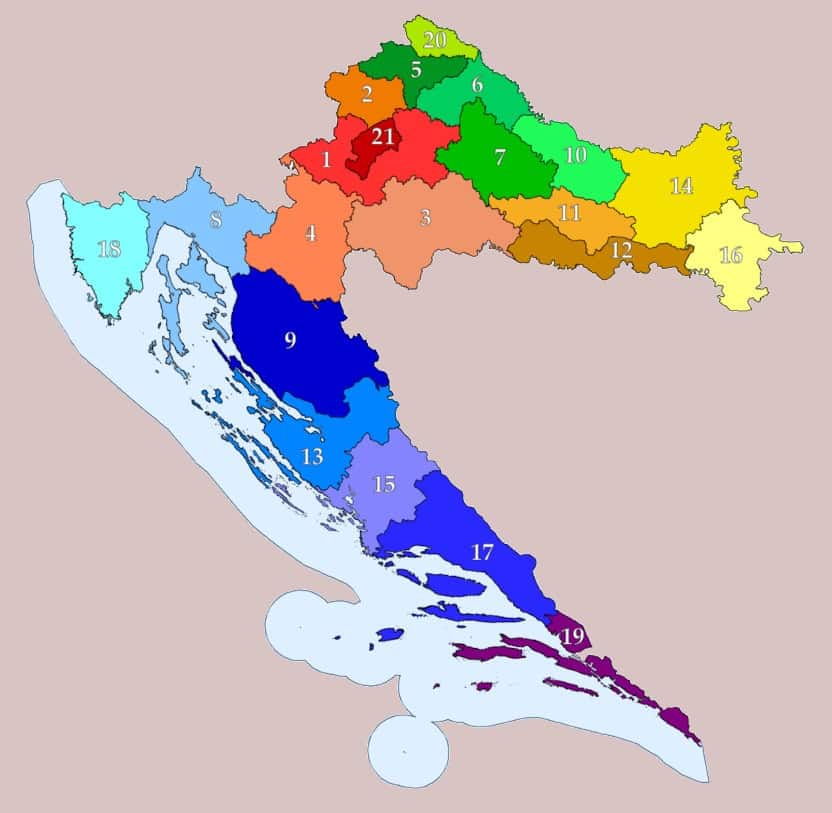 The territorial division into counties is one of the historical remnants of Croatia's history. According to some sources, Croatian counties were mentioned for the first time in the 10th century.
The establishment of modern counties has been based on Croatia's Constitution of 22 December 1990 reinstated county-based territorial divisions.
After being established in 1992, the current administrative-territorial division of the country was introduced in 1997.
| County | Centre: | Inhabitants | Area in km² |
| --- | --- | --- | --- |
| Zagreb County | Zagreb | 317,606 | 3,060 |
| Krapina-Zagorje County | Krapina | 132,892 | 1,229 |
| Sisak-Moslavina County | Sisak | 172,439 | 4,468 |
| Karlovac County | Karlovac | 128,899 | 3,626 |
| Varaždin County | Varaždin | 175,951 | 1,262 |
| Koprivnica-Križevci County | Koprivnica | 115,584 | 1,748 |
| Bjelovar-Bilogora County | Bjelovar | 119,764 | 2,640 |
| Primorje-Gorski Kotar County | Rijeka | 296,195 | 3,588 |
| Lika-Senj County | Gospić | 50,927 | 5,353 |
| Virovitica-Podravina County | Virovitica | 84,836 | 2,024 |
| Požega-Slavonia County | Požega | 78,034 | 1,823 |
| Brod-Posavina County | Slavonski Brod | 158,575 | 2,030 |
| Zadar County | Zadar | 170,017 | 3,646 |
| Osijek-Baranja County | Osijek | 305,032 | 4,155 |
| Šibenik-Knin County | Šibenik | 109,375 | 2,984 |
| Vukovar-Srijem County | Vukovar | 179,521 | 2,454 |
| Split-Dalmatia County | Split | 454,798 | 4,540 |
| Istra County | Pazin | 208,055 | 2,813 |
| Dubrovnik-Neretva County | Dubrovnik | 122,568 | 1,781 |
| Međimurje County | Čakovec | 113,804 | 729 |
| The City of Zagreb | Zagreb | 790,017 | 641 |
According to the latest data, Croatia's 20 counties have:
127 towns/cities
428 municipalities
6757 settlements
What is the Capital of Croatia?
The capital city of the Republic of Croatia is Zagreb.
What Are the Names of Important Cities in Croatia?
The important cities of Croatia are listed below.
Zagreb – Zagreb is the capital and the largest city in Croatia. It is the administrative, economic and cultural center of the country. It lies at the crossroads of Mediterranean and Central European cultures.
Split - Split is the second-largest city of Croatia and the largest city on the coast. It is a major transport hub and a popular tourist destination along the Adriatic Sea and the Apennines. In the third century, Roman emperor Diocletian built a palace on the location of today's Split, thus establishing the city.
Rijeka - is the main seaport and the third-largest city in Croatia with a population of 108,622 inhabitants. Because of its location in Kvarner Bay, Rijeka is a crossroads of land and sea routes connected with the rest of Croatia by frequent transport lines.
Osijek - Osijek is the economic and cultural capital of Slavonia, eastern Croatia. It is the fourth largest city with about 115,000 inhabitants. A wealth of Austro-Hungarian period monuments, Gothic museums, galleries, churches, and green gardens lay around the city. The city of Osijek is also a river port; it lies on the right bank of the Drava River, upstream from the Danube River.
Zadar - Zadar is a city on the northern part of Croatia's Dalmatian coast. It is the fifth-largest city in the country. Zadar's Old Town is a popular tourist attraction, known for the Roman and Venetian ruins.
Pula - Pula is the largest city in Istria, northwest Croatia, with about 60,000 residents. Roman in origin, it is renowned for its impressively well-preserved arena. Location of historical sites from Roman temples, Byzantine churches, Venetian forts, to the Austro-Hungarian naval base. It is an important Croatian port and an industrial center.
Dubrovnik - Dubrovnik is the most southern city in Croatia. The city is prominent for its unique Old Town. A well-preserved city center encircled with centuries-old massive stone walls. Its historical attractions include baroque churches, renaissance palaces, and gothic history museums. Its most famous limestone paved Stradun street.