Dubrovnik is primarily a cultural destination, but it can also be an adventure paradise if you choose so. There are plenty of adventurous activities to do here that will get your heart to skip a beat; parasailing, kayaking, bungee jumping, buggy offroading.
Spend a day in Dubrovnik cliff jumping
The cliffs and beaches along the steep Dubrovnik coast make the perfect spot for some rock diving. After all, what could be better on a scorching summer day?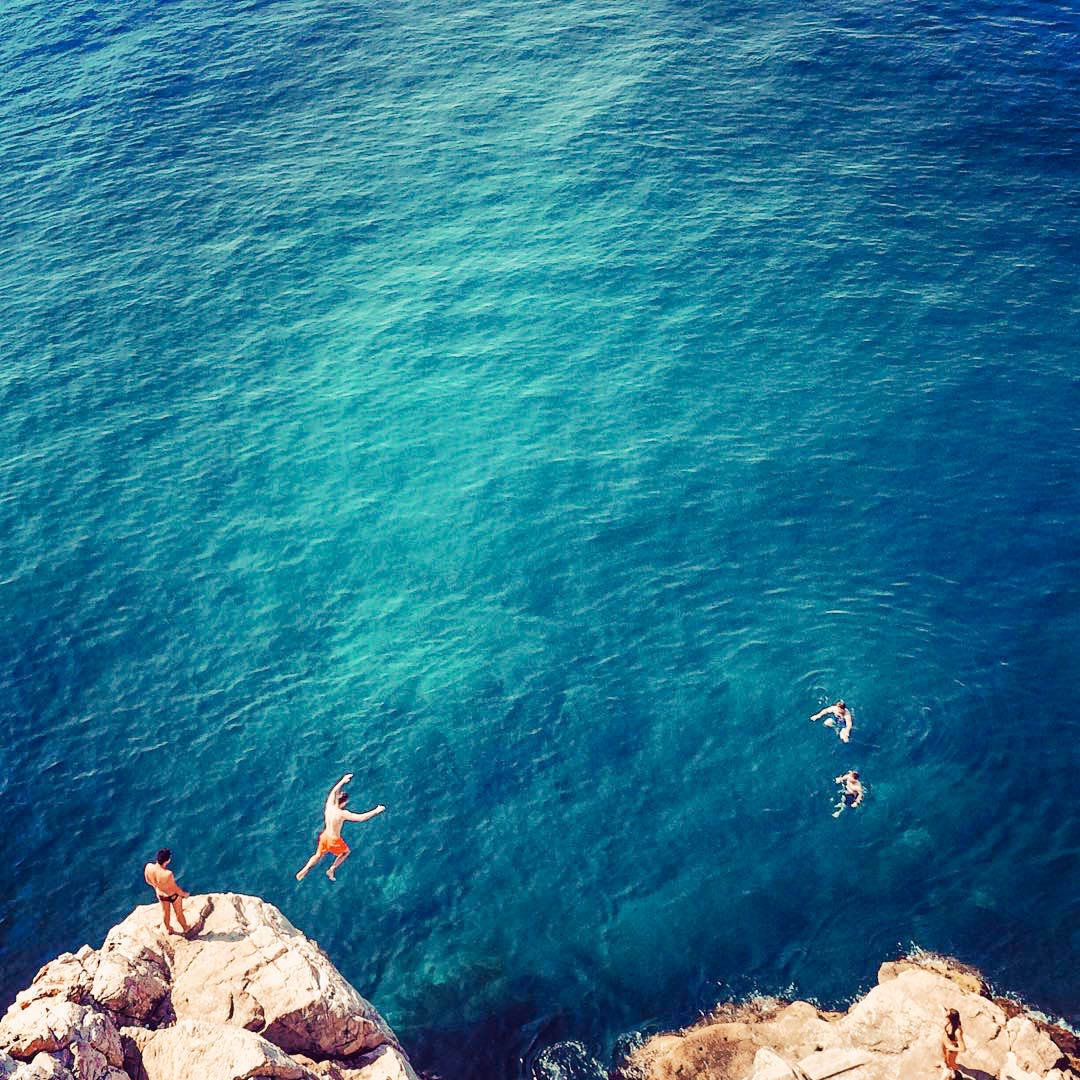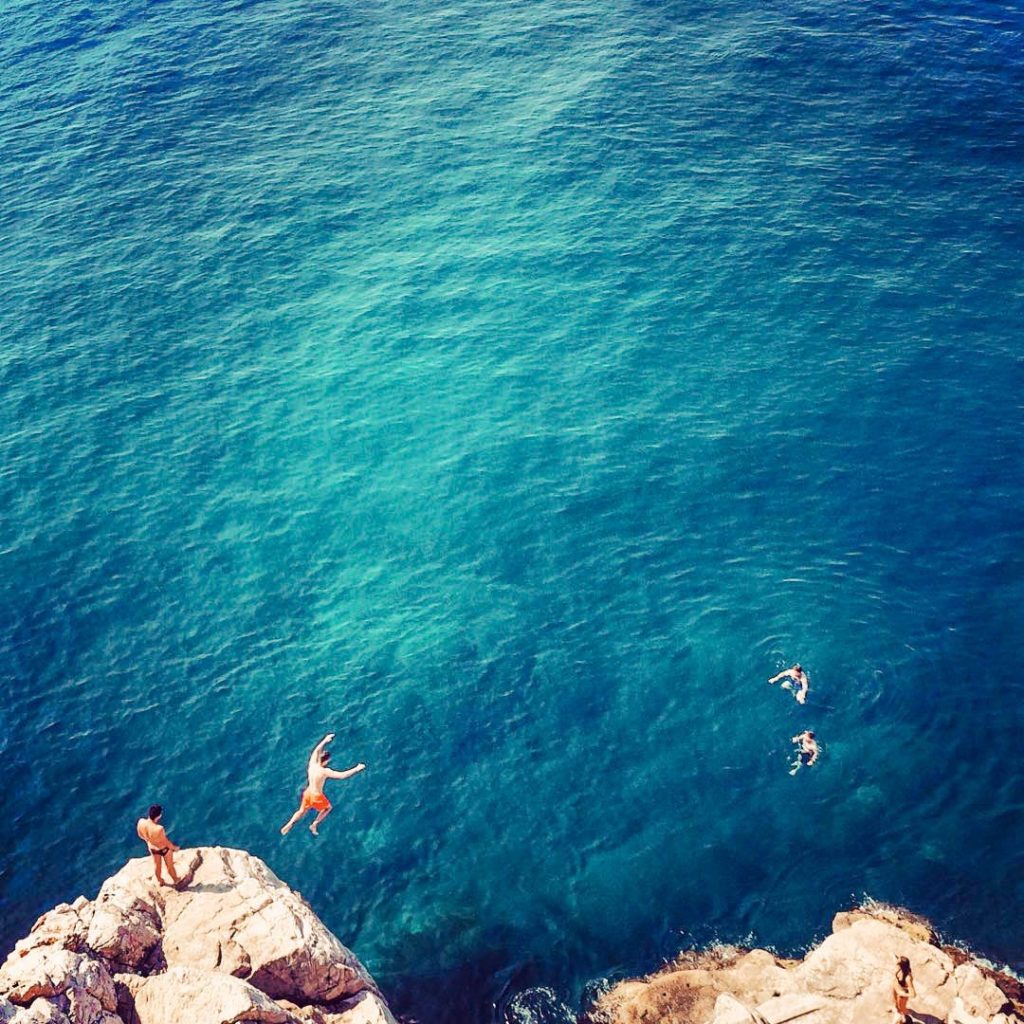 Cliff jumping is one of the most popular beach pastimes among locals. With luck, you will run into one of the more experienced local jumpers whose graceful mid-air acrobatic maneuvers will make the hairs on your back stand up.
Interesting: Red Bull Diving World Series competition was held in Dubrovnik in 2009. Professional divers plunged a 27-meter high jump from the iconic Lovrijenac fortress. Surviving a leap from these heights requires a lot of knowledge, preparation, and concentration.
Now, imagine being mesmerized by the sun reflection of the inviting cool water from a rock. Then, hurling yourself into the deep blue and finally surfacing, floating on your back while enjoying the beauty of Croatia.
OK, you up for it?
Then here. My list of 7 best places to do some rock diving in Dubrovnik:
Buža Beach Old Town
Danče Beach
Dead Sea Lokrum Island
Pigeon Cave Lokrum Island
Betina Cave Beach
Bellevue Beach
Boninovo Cliffs
1. Cliff Jumping at Buža Beach Bar
The first thing most people do when they get to Dubrovnik is a tour of the city walls. While walking along the walls, marveling at the wonderous view you get to the southern side facing the sea. Immediately below, you notice hanging cliffs over which walls rise. For most of the stretch of the walls, the cliffs are not accessible.
But. There is a hole in the wall.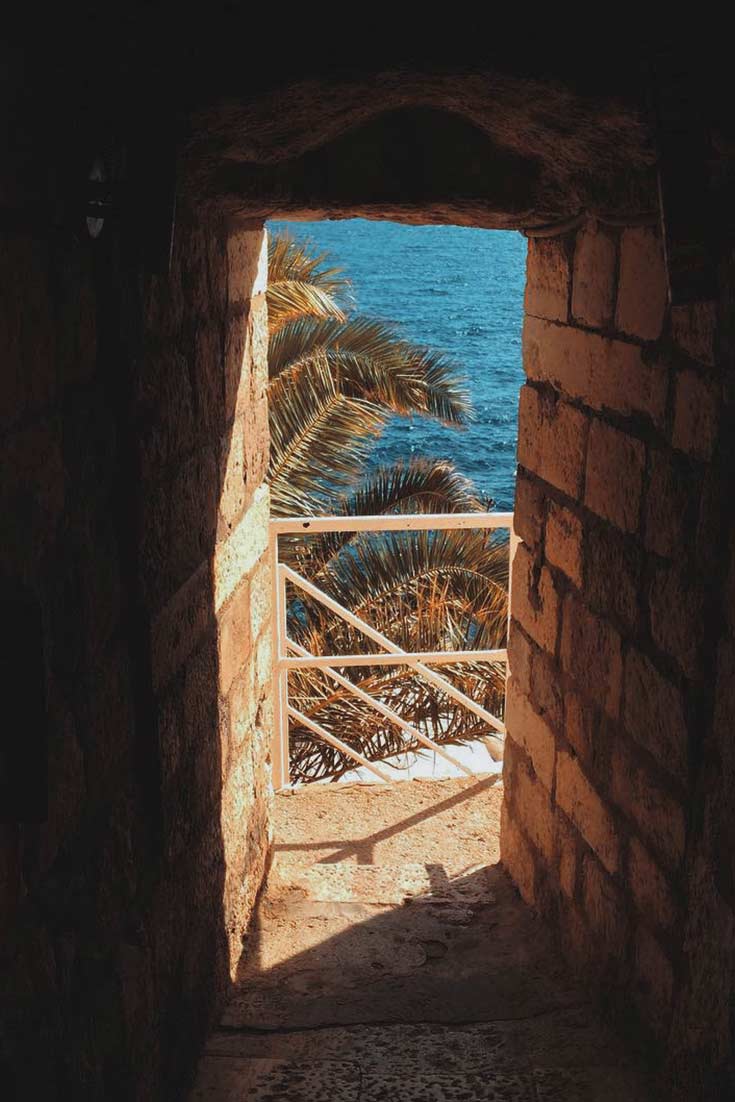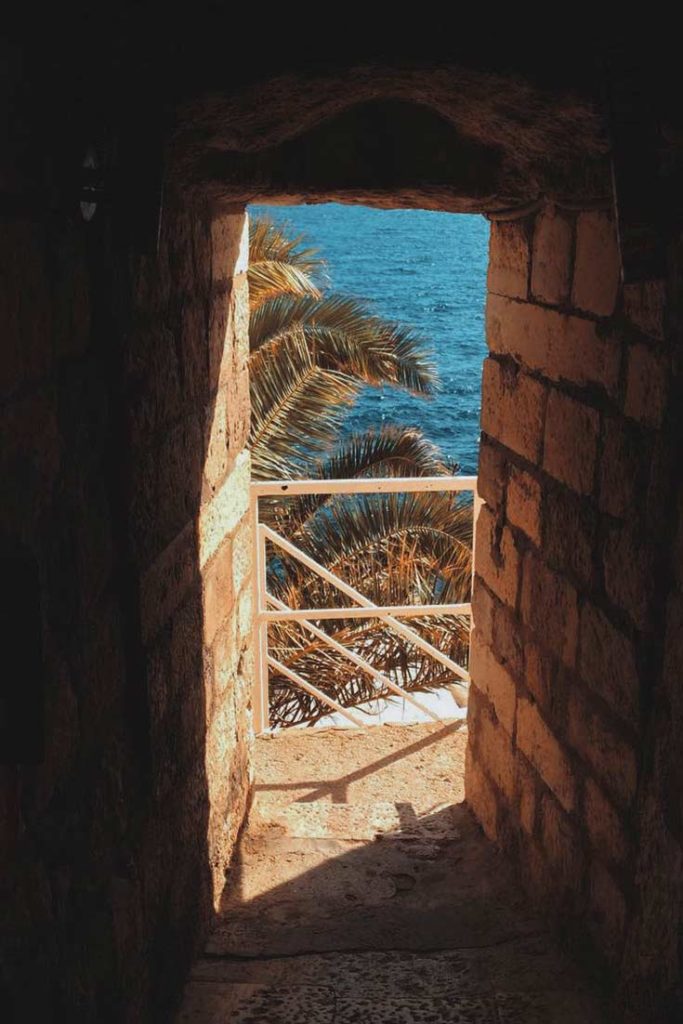 Through the hole, a small passageway will take you through the Dubrovnik city walls, and on the other side, you will find Buža Beach. Right there is Buža Bar, a perfect spot for a chill-out session with great music and cold cocktails between your jumps.
In fact, Buza bar has two locations, the main bar which you pass and get to the small Bar Mala Buža. Both bars are free to enter, and jumping from the rocks does not cost a penny.
When you get to the sea, you will notice there are a lot of different heights to jump from. Start small and work your way up to higher rocks. Most diving heights require you to climb, but there is an easy jump-off spot from a concrete terrace.
Seeing as a stream of people line up to jump, you'll know the best places to jump.
Those feeling extra courageous can scale the rocks until they reach the point where cliffs and city walls meet.
The biggest cliff jumping points go past 20 meters. That is a long way down. The adrenaline rush during a 3-second free fall will make it seem like an eternity.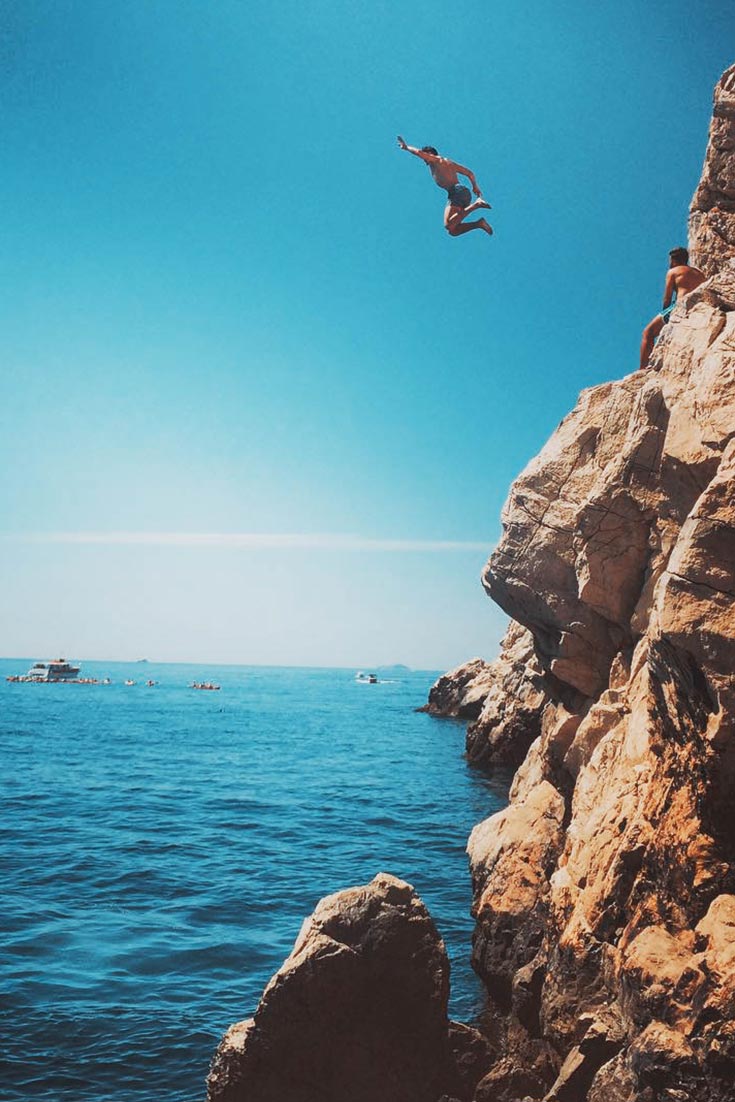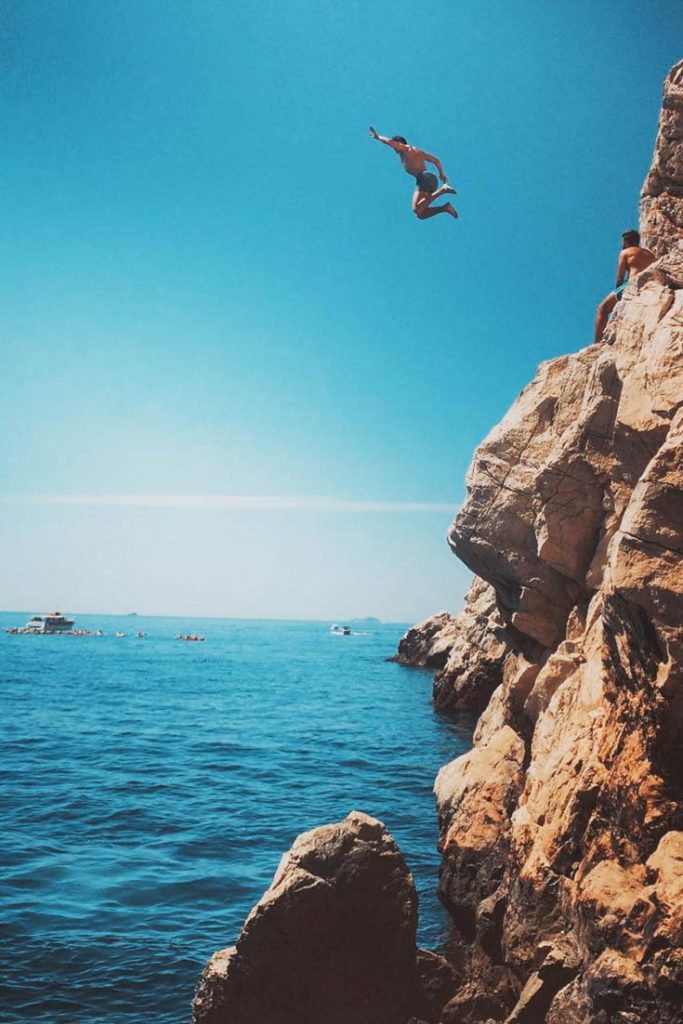 Tip: Make sure you slowly work your way up to building up your courage. Getting your landing wrong at those heights could result in some serious injuries, cutting your Dubrovnik vacation short.
Going for the high jumps might not be your thing. You can always try to make the crowd go wild with your acrobatic flips and tricks. The water is crystal clear and very deep, nothing to worry about there.
If cliff jumping is not your style, you can take a dip and then a sip of your cocktail in the sun while watching others jump.
2. Climbing the rocks of Danče beach
Next up, we have Danče. A rocky beach you can find beneath Gradac Park, close to Old Town. It's not as attractive as, say, Banje Beach, so most people there will be locals rather than tourists.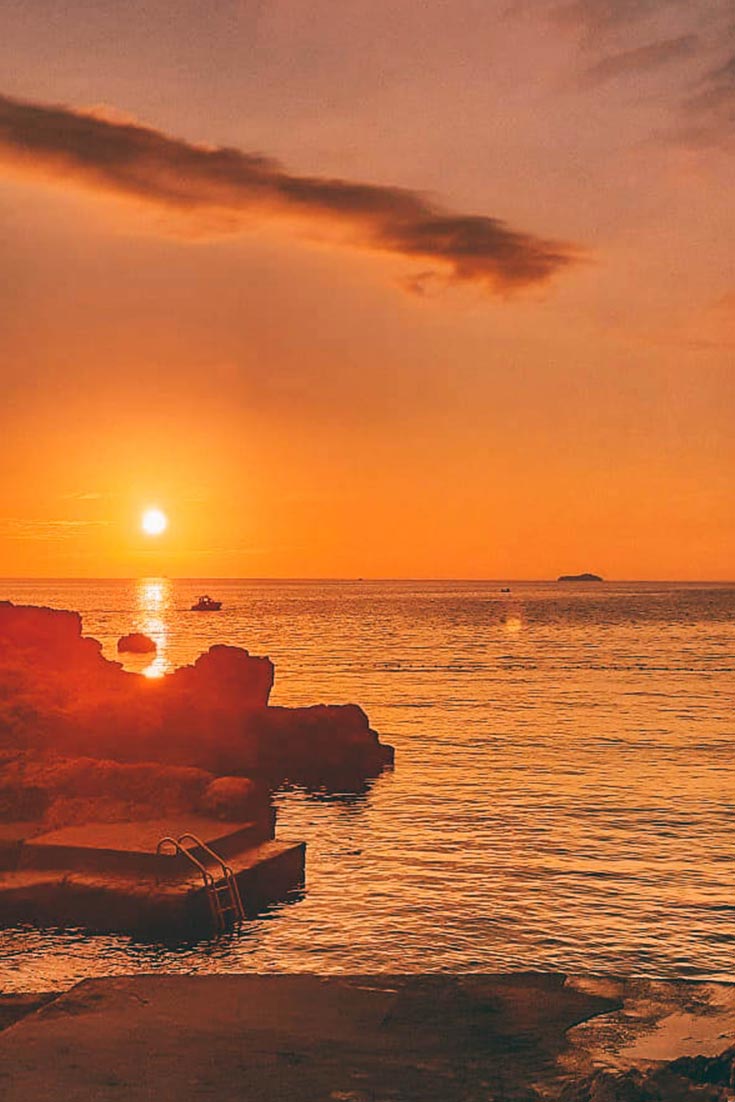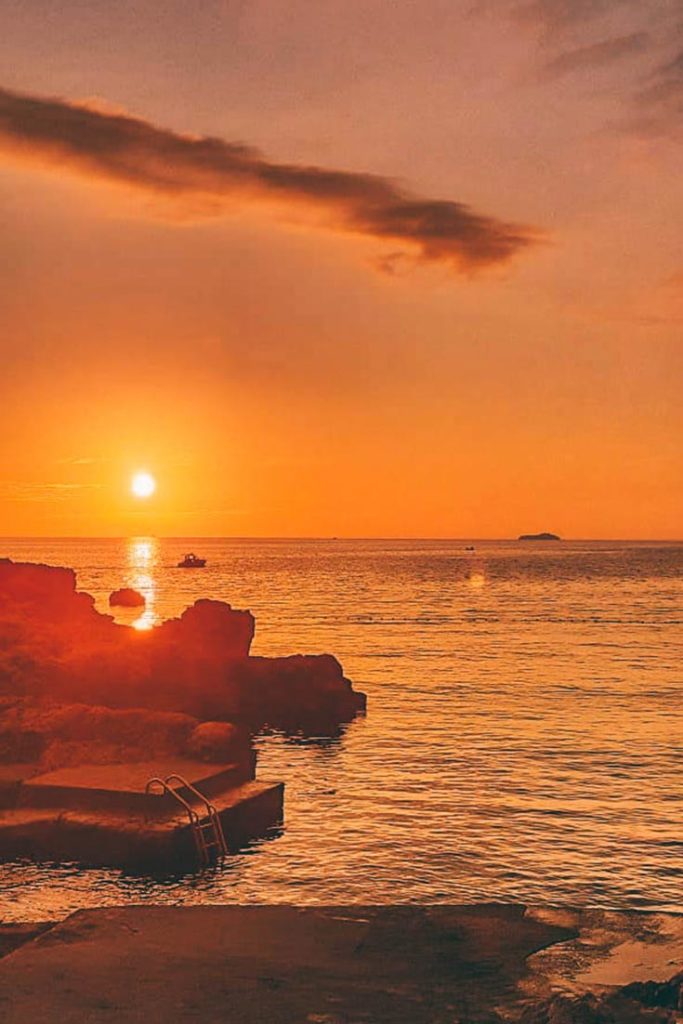 On the south side of the beach, high cliffs gradually rise from the sea up to 30-40 meters high. So naturally, these cliffs that oversee Lokrum Island offer great spots for some cliff diving.
It is, therefore, suitable for daredevils of all experience levels. The more jumps you make, the more comfortable you will become, and you might even be able to move up to the highest ones.
Tip: Danče beach stretches towards the open sea. It is not sheltered from the waves on windy days when the Jugo south wind and the Maestral southwest wind are blowing, so inexperienced swimmers should be careful.
People interested in experiencing the authentic summer way of life of Dubrovnik locals will find Danče beach ideal.
3. Jumping into the Dead Sea, a lake on Lokrum Island
The Dead Sea is a relatively shallow salt lake (with a maximum depth of 10 m) in the Adriatic on the island of Lokrum, southeast of Dubrovnik. A 15-minute boat ride away from Old Town.
A pebbly beach on the Dead Sea - on the one hand, gently sloping, on the other, closed by rocks 10 meters high. Surely, one of the unique places to do some acrobatic jumping.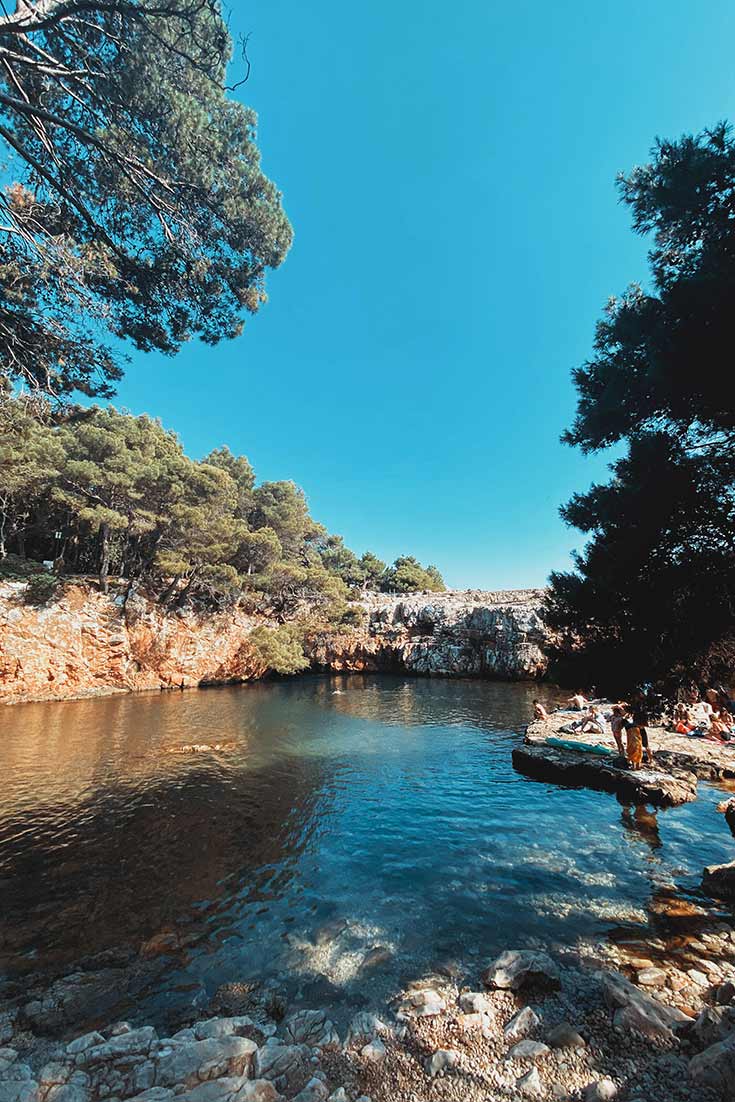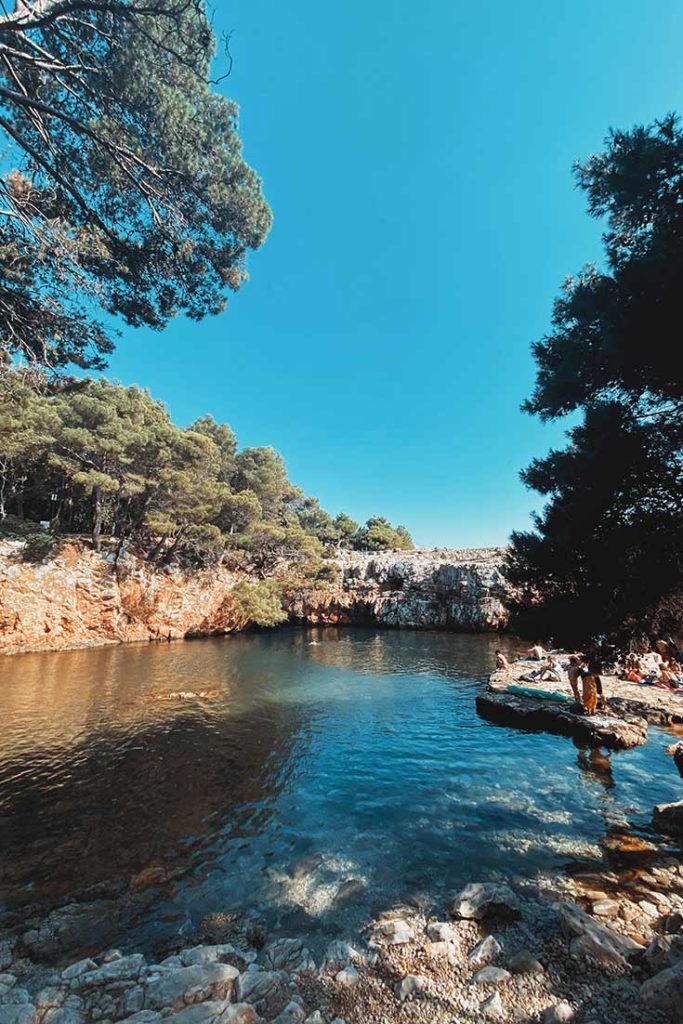 Skillful swimmers jump from high rocks into the salty lake connected to the open sea by an underground channel through which a diver occasionally appears.
Photo tip: Near the Dead Sea is a natural rock bridge in a shape of a huge blue eye. Carved out by relentless sea and wind. Beneath this unusual arch, saltwater collects in a stone pool, creating a spectacular sight.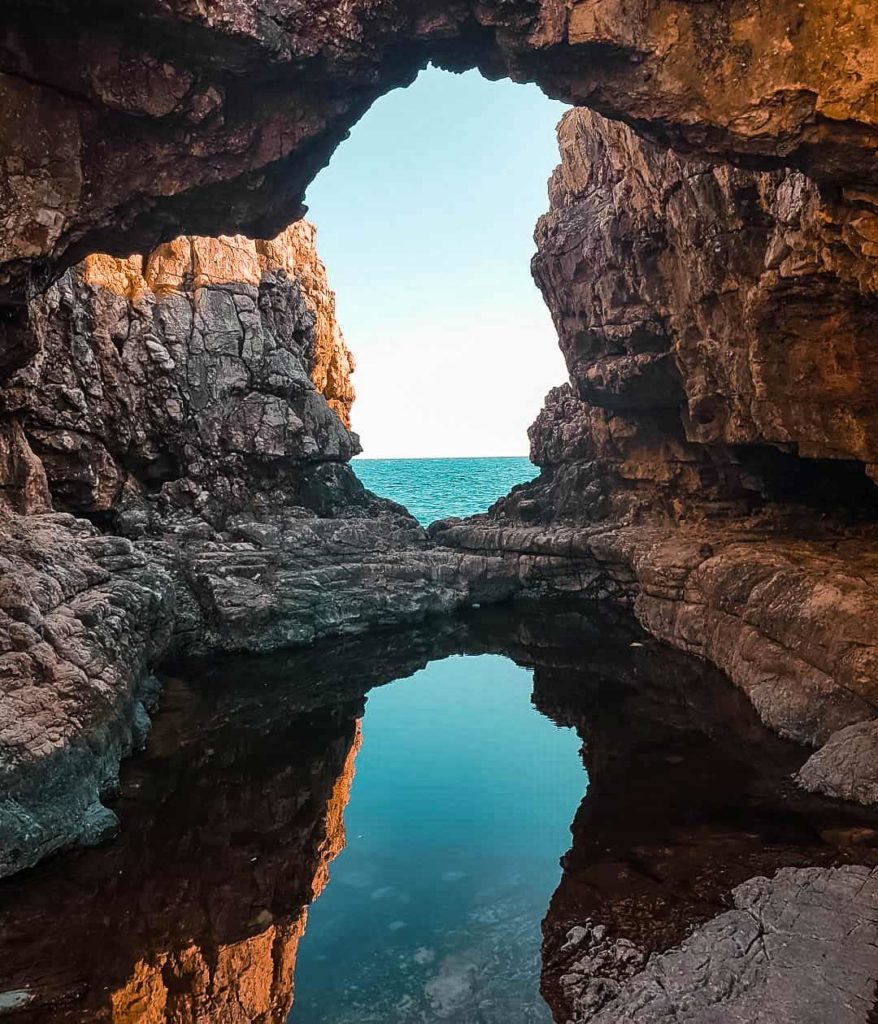 If you want to enjoy the view of this phenomenon without tourists gathering, it is best to arrive as early as possible to have the time to set up your Instagram-worthy photo.
4. Pidgeon Cave Cliffs
If the rocks above the deep end of the Dead Sea are too small for you, just turn around towards the sea. High cliffs extend all along the south coast of Lokrum Island.
But the most exciting spot to do some acrobatics on that stretch is above the Pidgeon Cave. It's located west of the cliffs of the Lokrum nudist beach.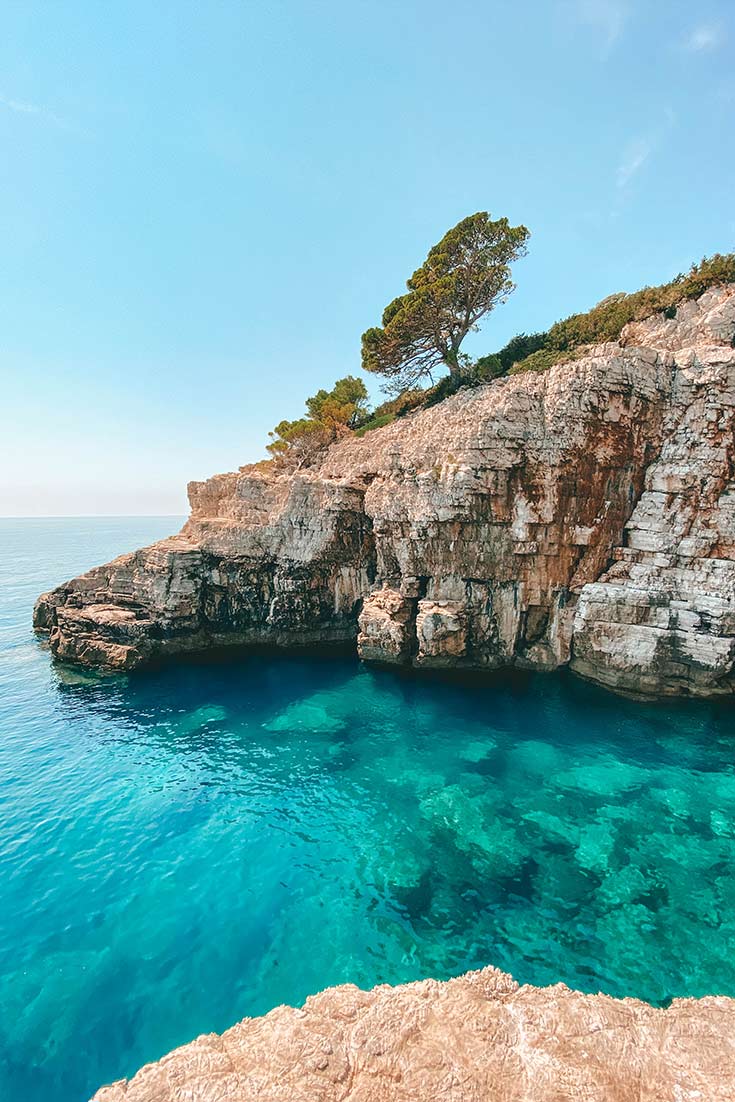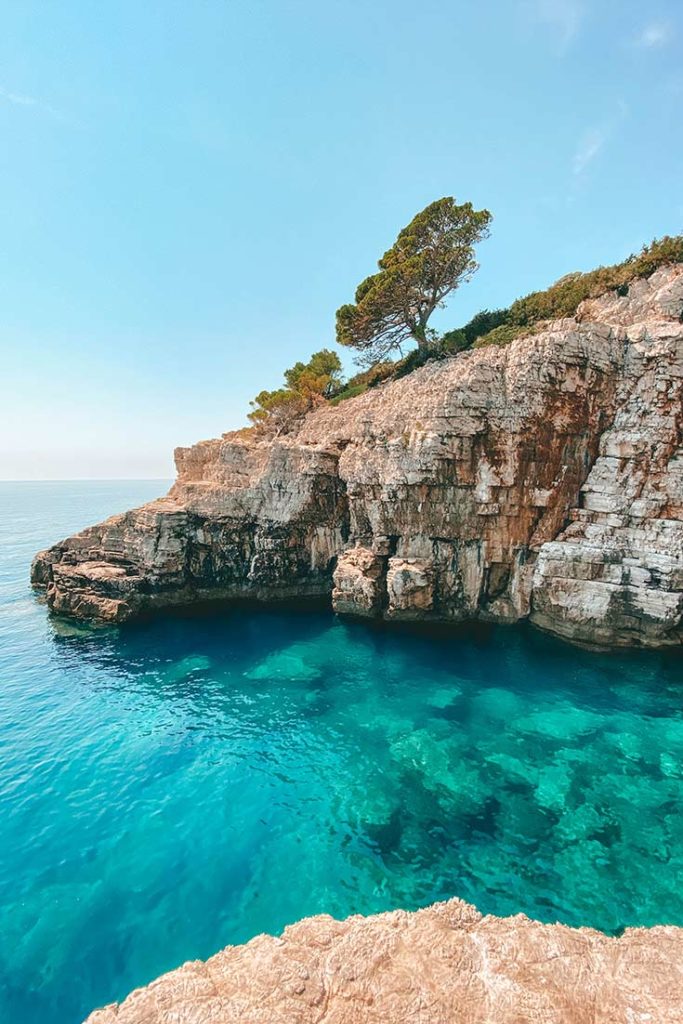 One of Dubrovnik's many hidden gems, the cave is a popular stop on Dubrovnik kayaking tours, but cliff divers will find a lot to love here, too.
The ledges range in height up to 12 meters, with a pristine pool of water waiting to slow a jumper's fall below. Beautiful view up top at the Adriatic and Cavtat in the distance, although the cave itself cannot be seen from the land. You have to swim or kayak in.
Tip: The cave itself is bigger than you would expect. Bring snorkeling equipment since the water is stunningly clear. If you plan to swim, wear water shoes because there are sea urchins on the bottom.
You could also get here by joining a kayak tour or just renting one to get there by yourself and have more time, as it's a short stop at the tour.
5. Betina Cave Beach
Betina Cave is a cute little inlet with a pebble beach sheltered by the shade from the cave. It doesn't have some of the crazy jumping heights like other Dubrovnik cliff jumping spots, but I include it because it can only be reached by water, which makes it so unique.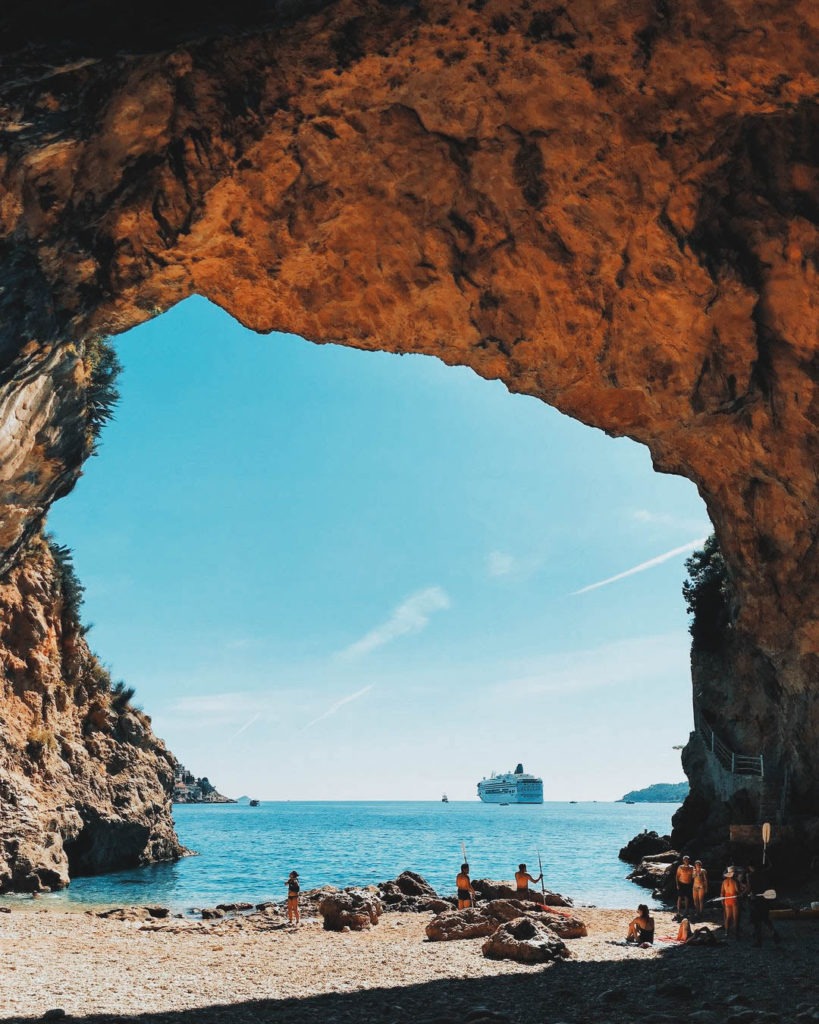 How to get there: Direct access from land is closed, but you can swim from the nearby beach Gjivovići. It's very close, literally 100 meters. Another option to swim from is Banje Beach, a bit further away.
Or take a kayak tour to Betina Cave.
While it's a little secluded cave beach, kayak groups arrive regularly. It's the main stop on their tour. A nice spot to rest and take a break between paddling or rowing. Pretty much on any day with nice weather, there will be kayaking tours coming in and out of this place, and it will be almost impossible to have it to yourself.
It's the inside view that I like best about this place. Staring at the lush pine coast of Lokrum Island while the sun sparkles on the water below. Just mesmerizing.
It's possible to do a little bit of cliff jumping. There are a few rocks that reach an altitude of eight meters, and they are located on the side of the cave looking out at Dubrovnik Old Town.
6. Bellevue Beach Cliffs
Oh, c'mon, just look at the picture, beautiful.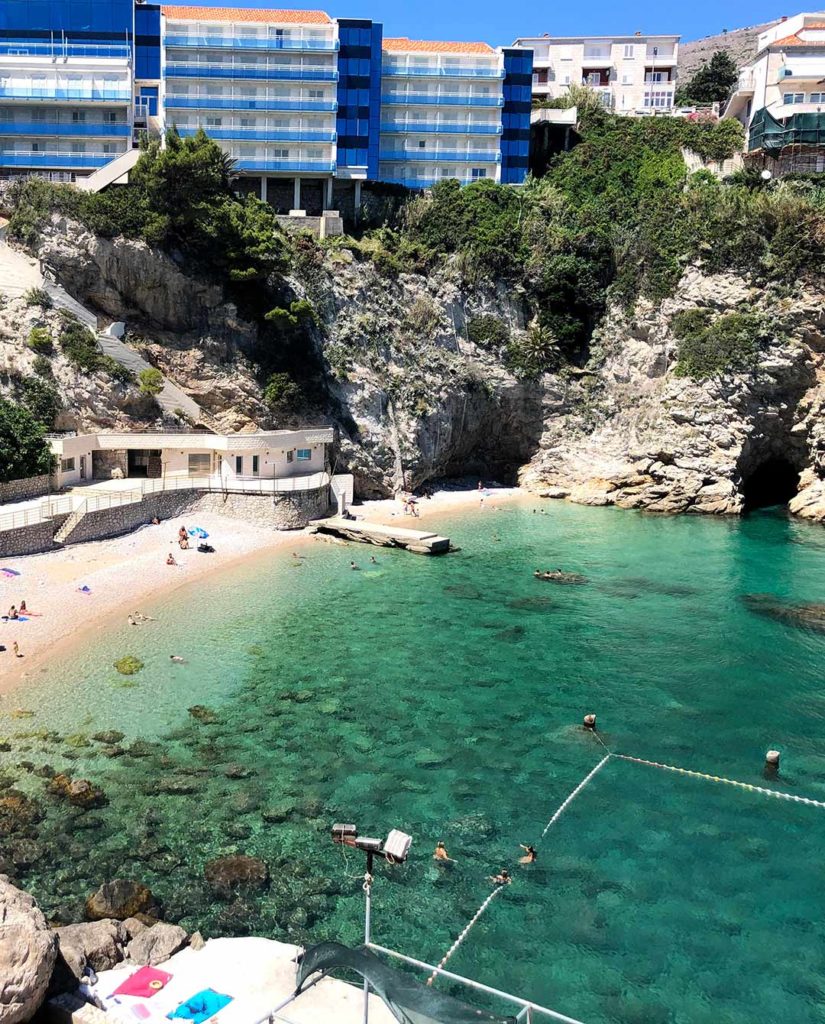 Bellevue is a small pebbly, almost sandy beach in a cliff-surrounded bay. A fabulous place to lounge for the day and soak in the sun. Also, there is a cute little cave you can swim inside. The cave isn't too deep, but you certainly cannot just walk in.
There's always a bunch of people scaling the rocks to jump off. Locals commonly jump here, as there are jumps as high as 20 meters.
There are a few sub 6m jumps, and then some ranging from 12m all the way to 20 meters on both sides of the bay. Just follow any of the locals to get up to them!
If you want to jump, I recommend swimming to the rocks on the right side of the beach, they are further away, but the water underneath is clear and deep.
Location: The beach is a little hard to find but well worth it. Look for the hotel Bellevue on your left and walk down the street Liechtensteinov Put. The stairs to the beach can be found to the left of the Rixos Hotel.
There are quite a few steps to get to it, and climbing back after jumping all day is exhausting, but in a good way. Aside from that, it gets dark early in the afternoon because of the hills that block the sun.
7. Boninovo Cliffs
Halfway between Bellevue and Danče beach is Boninovo. It is a beach that sits at the bottom of spectacular cliffs fifty meters high.
Although, calling it a beach is a stretch. It's a tiny section of interconnecting concrete platforms. Here, you'll mostly find locals playing cards or having barbecues.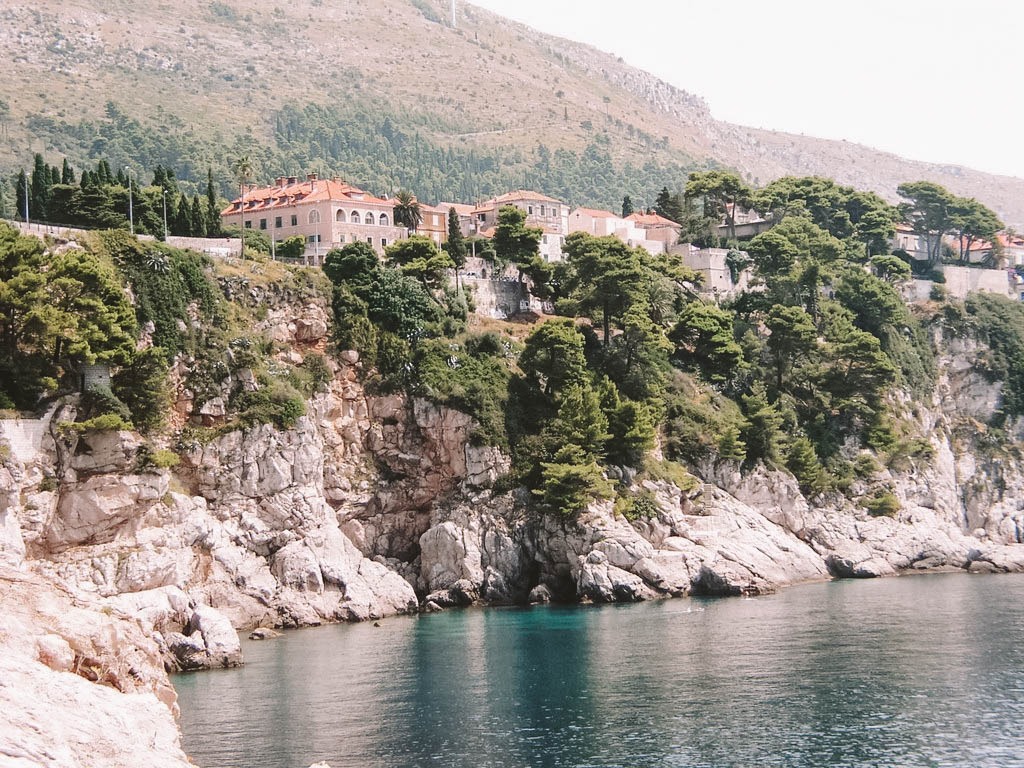 The sea here is deep and crystal clear—plenty of spots for jumping into the sea up to 15 meters high. You can also swim to Bellevue or Danče on the other side from here. It's a long swim, though.
Since there are loads of steps to climb down to Boninovo, it's unsuitable for children or the elderly.
A day of Dubrovnik cliff jumping is an experience you should try if you are feeling adventurous, even if it's just a small jump to begin with. That feeling of overcoming your fears, taking a leap, and free-falling into the water is exhilarating, but at that moment, it's everything.