The Dubrovnik main bus station (terminal) is located in Gruž harbor. It is the main hub for bus transportation going in and out of the city. The bus terminal connects Dubrovnik to major cities in Croatia and neighboring countries.
Know Before You Go - Dubrovnik Main Bus Station
The bus station is easily reachable by car or by public transportation. The station offers information on all the available routes, fares, and timetables of intercity and international buses.
Tips: The main bus station is called Autobusni Kolodvor in the local Croatian language. This might help you get your bearings a bit (it is sometimes labeled that way on Google Maps).
Station Location
The central bus terminal is located 3.3 km from the Old Town center, next to the Gruž ferry and cruise terminal. The drive to Old Town from the main bus station is only about 10 minutes.
Basically, a stone's throw away from all major landmarks. Since Dubrovnik is so small, a drive to any place within the city from the main bus station should last 15 minutes tops.
From here, you can access the city's local public bus routes and the suburb bus lines leaving for the surrounding areas.
Just in front of the Dubrovnik main bus station, across the road, is a bus stop where you can catch buses 1a, 1b, and 3 to go directly to Pile Gate and Old Town. You can board Bus 3 directly at the terminal but will have to circle around and back to get to Old Town.
Other buses that stop at the main bus station are Bus 7 goes to Lapad and Babin Kuk, and Bus 8 to the Ploče area of Dubrovnik. Bus no. 10 line that runs Dubrovnik - Cavtat also starts from the main bus station.
Besides the local buses, there is also a convenient taxi station at the terminal.
Station Facilities
The station itself is functional and easy to get to. The whole terminal area is covered to protect against the sun and rain.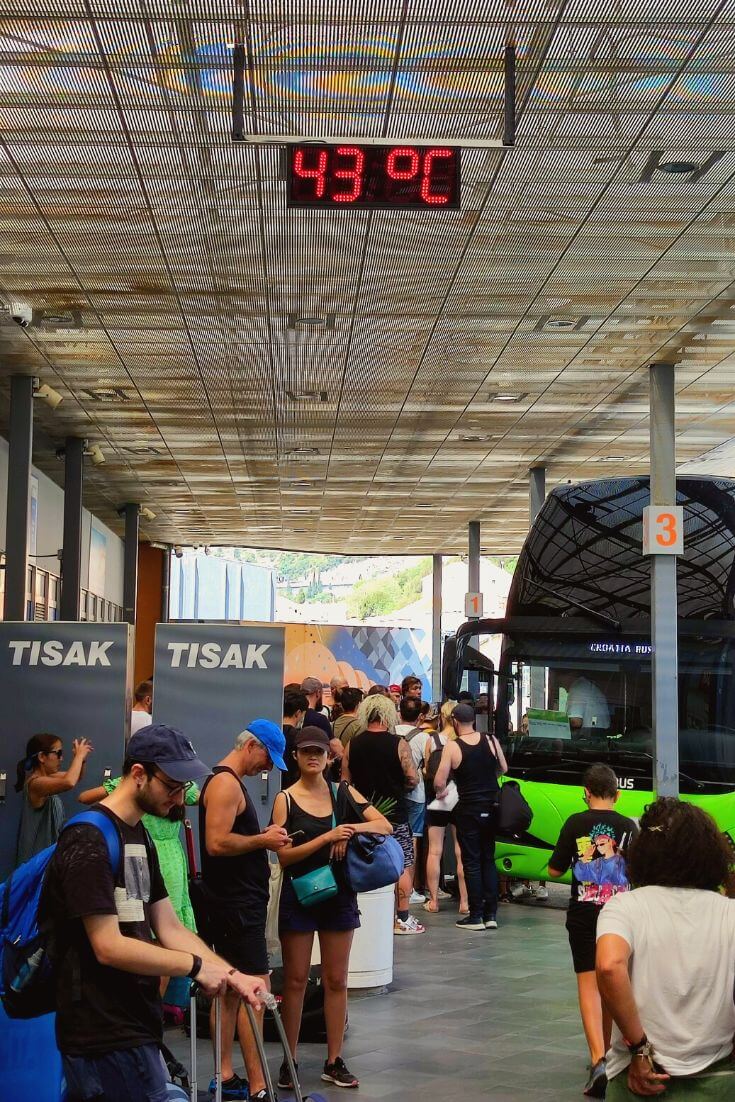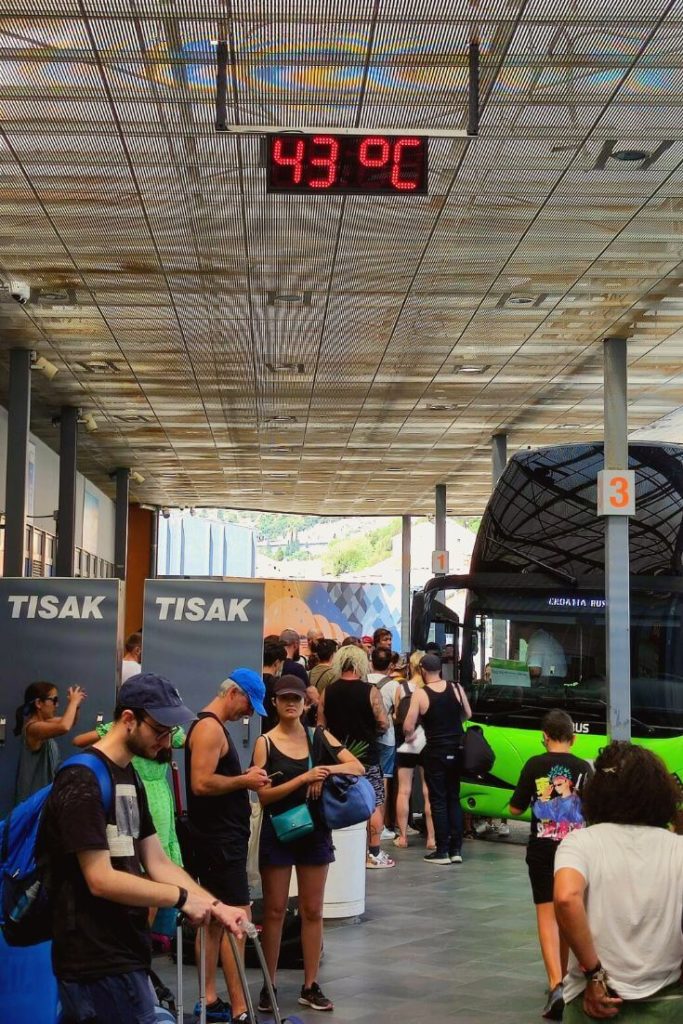 The issue is that the platforms are tiny. They cannot accommodate a large number of tourists that crowd the station in summer. There are very few benches outside.
The bus schedules are on a printed information board. You can also access it online or you can ask the lady at the station's information desk.
Info: There are 2 LCD screens displaying bus times and destionation routes. One is in the waiting room, and the other over the ticket booth. The screens are not too big and it is a bit difficult to see them from the bus terminals to check when and from where buses were due to leave. It ends in you constantly coming over to look at the screen checking for incoming buses!
There is a small indoor waiting area with seats and air conditioning. You can charge your phones and devices inside the waiting area for free. Not many outlets are available, though.
The main bus station has a toilet, but you have to pay to use it. It costs €0.80 (coins only) to use the toilet.
Tips: You can try and use the toilet at the nearby Super Konzum instead of the paid one in the waiting area. Just ask the ladies if you can use it. It will be free of charge. Alternatevly grab a drink at the cafe across the street to use the toilet for free.
There is a fast food food place on the station, but with limited food choice. You can also use vending machines available on site or visit a restaurant across the road.
A common question people ask themselves—Can I store my baggage at the Dubrovnik bus terminal? Yes, there is a luggage storage area at the main bus station. Luggage storage costs €0,66 EUR per item per hour. They accept cash only.
Tips: Instead of leaving your luggage at the bus station, where most people leave their luggage I recommend leaving it at the agency down the street. Book luggage storage online at just €5 per bag for the whole day. You know there is a secure place for your bags waiting for you so you can go and enjoy the nearby cafes without much stress while waiting your bus!
There is free WiFi is available. You will have to ask for a password but the last time I was there the WiFi password was: Libertas.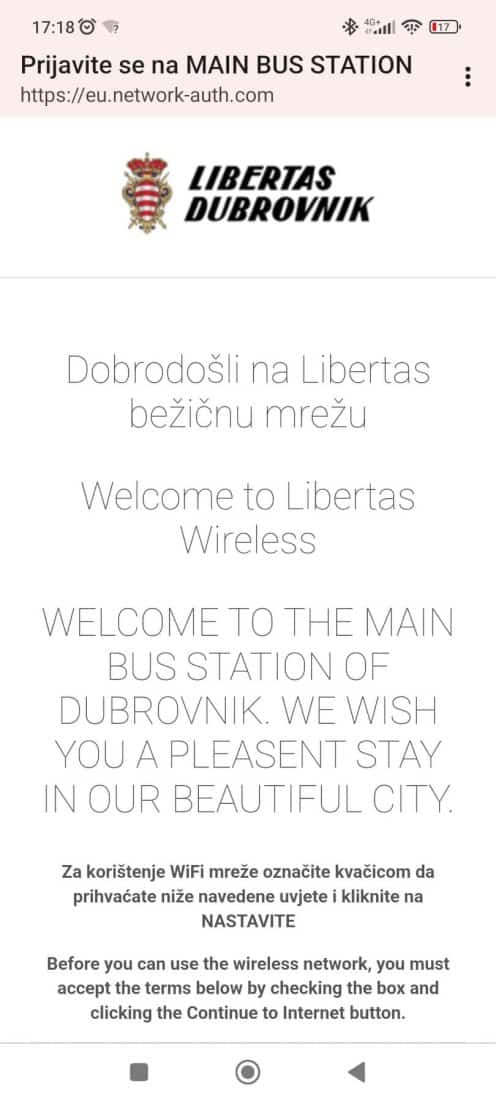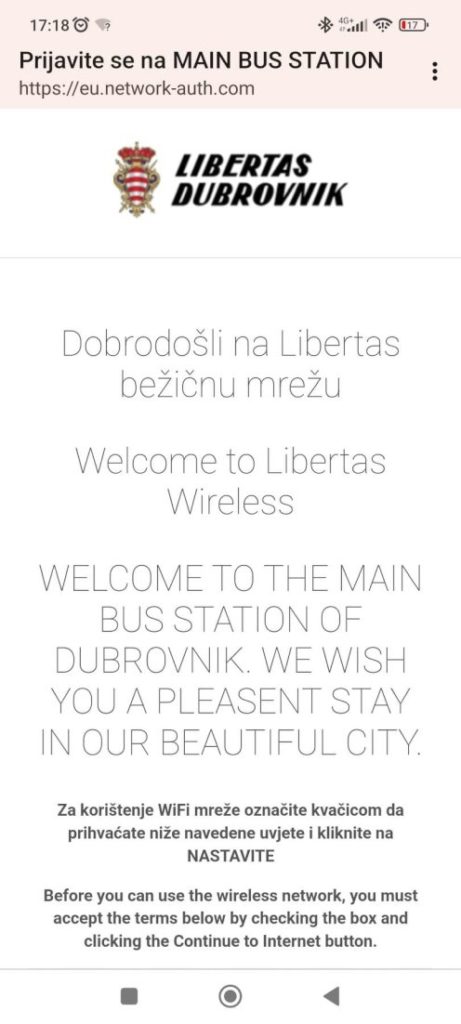 There are public telephones, ATM machines and a newstand kiosk at the bus terminal. Some of the on-site "shops" are not open every day. There is a large Super Konzum store you might want to use just a few hundred meters away.
Popular Routes
The bus station is the departure and arrival point for all buses from and to Dubrovnik. Over 20 cities in Croatia can be reached by bus from the Dubrovnik main bus station.
You can get a bus to Zagreb, Split, Makarska, Brela, Sibenik, Zadar, Trogir, Vinkovci, Korčula, and Metković, among others. More intercity lines are available in the summertime than in winter.
You can also catch an international bus connection to neighboring countries:
Bosnia and Herzegovina (Sarajevo, Mostar, Visoko),
Montenegro (Herceg Novi, Kotor, Tivat, Budva, Ulcinj, Podgorica),
Serbia (Belgrade),
Macedonia (Skoplje)
Albania (Tirana)
They frequently add and remove bus lines, so keep an eye on the international schedule to be up to date on what is available.
Tips: The Shuttle to Dubrovnik Airport starts/departs from the Dubrovnik Central Bus Terminal. If you want to make sure you get a seat on the bus, you might want to hop onto it at the main bus station.
Booking Tickets
It is possible to book bus tickets online. Ticket sales are also available as soon as you arrive in Dubrovnik for departures up to several weeks in advance.
If you know you are leaving Dubrovnik by bus, buying tickets several days in advance is a good idea. You want to avoid unexpectedly getting stranded in Dubrovnik without tickets and no accommodation. Especially in the summer. Last-minute accommodation bookings can be expensive.