The public transportation system in Dubrovnik relies on road traffic—the public buses. The public bus service is operated by Libertas Bus Dubrovnik, a public company owned by the city.
A long time ago, an electric tram was the main way of transportation in Dubrovnik. Today it's just a nostalgic memory, as it was discontinued in 1970. They did look cool in the recognizable orange color, though.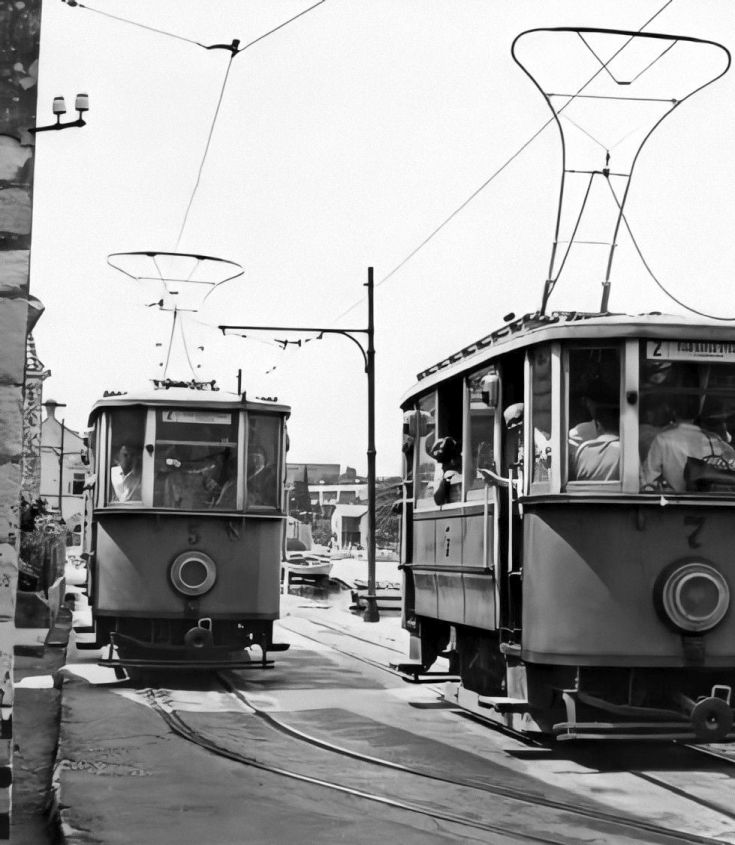 The local buses kept the orange color that the Dubrovnik trams once had. It makes them easy to spot in traffic. Local bus lines are usually efficient and reliable.
The inner city bus service has 14 bus lines connecting all of Dubrovnik's parts. Most of the local bus lines converge at Old Town.
Tips: The entire town of Dubrovnik is no more than 14.5 square kilometers in size. Deceptively though, the distance between some neighborhoods ranges up to twelve kilometers. It's the small bays, the hilly terrain, and the swirling roads that play games with your mind, making everything seem close.
Luckily, these areas are scenic, both on foot and on the bus. Aside from the Old Town, discover some beautiful areas like Lapad, Boninovo, or Ploče.
Still, if you're short on time or don't fancy long walks, getting familiarized with the local public transportation system comes in handy.
Dubrovnik Bus Tickets
Where to buy bus tickets in Dubrovnik?
Local bus tickets are available at many locations. You can buy them at newspaper kiosks, official Libertas stalls at major bus stops, travel agencies, hotel receptions, and in buses.
The official Libertas points of sale are located at the major bus stops:
POS Pile
POS Grawe
POS Lapad
POS Mokošica
Types of Dubrovnik Bus Tickets are:
Single "S" bus tickets
In-bus tickets
Two-ride bus ticket
Daily bus ticket
Three-day bus ticket
Single "S" bus tickets
The newspaper kiosks and other sales points sell single "S" tickets. Single fares are valid for exactly one hour (59 minutes to be exact) from the moment of first use for an unlimited number of rides in all directions. The price of a single bus ticket in Dubrovnik is €1.73.
Tips: So, for example, I remember leaving something in my room and need to go back to my hotel in Babin Kuk from Old Town and back. You can do the two rides with the same S ticket if you manage to get on the bus back within 59 minutes. I did make it in time but it was close.
When you buy your bus tickets at a kiosk, the ticket becomes validated once you stamp in upon entering the bus by the driver. Cheaper and not holding up any queues, the S-ticket allows you to switch bus lines.
In-bus tickets
Let's imagine a scenario when you are walking down the streets of Dubrovnik back to your hotel. You are tired. Then you have a last-second decision to board a bus.
So you wait for the right bus at the station. You see the bus approaching. You do a funny dance to catch the drivers' attention, and finally, you hop on the bus. But you have no bus ticket with you.
Luckily, you can buy bus tickets directly from the bus driver. The price is €1.99, a bit more expensive than the single bus ticket you buy at the kiosks. Not only that, tickets purchased from the driver are valid only for that one ride. It is not valid for one hour.
Remember, you may only purchase the fare on the bus in cash and only in Euros.
Two-ride bus ticket
Recently Libertas, the local bus service, introduced the Two-ride bus ticket. From its name, you can deduce that it is valid for two bus rides. The cost of this ticket is €3,19. 80 euro cents cheaper than buying two single tickets.
But unlike the S tickets, each ride with the two-ride bus fare is valid for half an hour from the individual registration.
Daily bus card
It is also possible to buy a Daily bus card exclusively at Libertas Dubrovnik bus kiosks. A daily bus card gets you unlimited bus rides within 24 hours from when you first stamp it. The price of the Dubrovnik Daily bus pass is €5.31.
You are required to stamp the ticket every time you get on a bus. The card gives you the flexibility to visit more places in a day.
Three-day bus card
Similarly to the Daily bus pass, the three-day one is valid for three days. With it, you can take unlimited rides on local public transit around Dubrovnik for 72 hours. The bus card becomes activated when first used on a bus. This city bus pass costs €11,95.
Children 6 years old and under do not pay for public buses, provided they are accompanied by an adult.
Dubrovnik Pass
Why spend money on buying bus tickets when you can get them for free. They are included in the Dubrovnik Pass. Read my review of the Dubrovnik city Pass here.
Tips: Most likely you are visiting Dubrovnik for the first time and you plan visiting the City Walls. The cost of a Daily City Pass is the same as City Walls tickets, plus you get the Daily Bus ticket that lasts 24 hours for free. Worth it in my book.
The two other Dubrovnik Tourist Pass types are also worth buying if you plan visiting multiple attractions and using busses over several days.
The 3-Day Pass includes the Three-day bus card to match. Similarly getting the Seven-Day Dubrovnik Pass gives unlimited public bus rides for 168 hours
Libertas Bus
The City-owned public bus company Libertas keeps up with trends in public transportation. Most of the buses in Dubrovnik are modern MAN Lion's City low-floor city bus series, with easy entrance and platforms for wheelchair access. They are generally of a pleasant interior, air-conditioned, and with comfortable seats.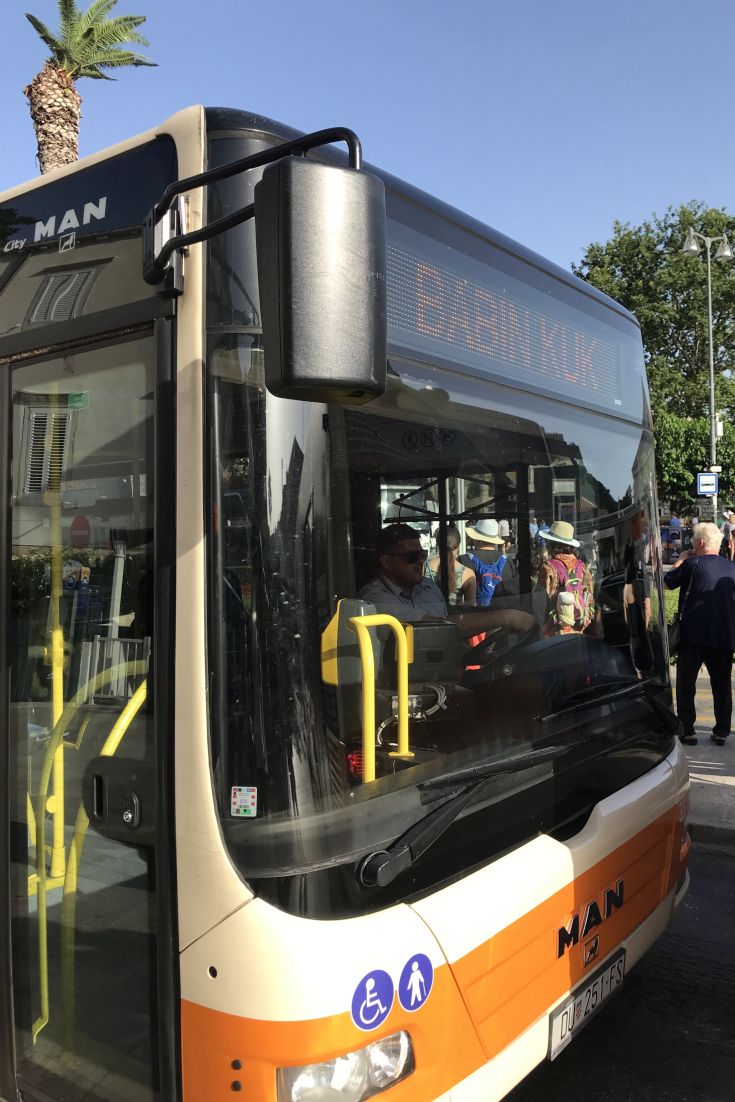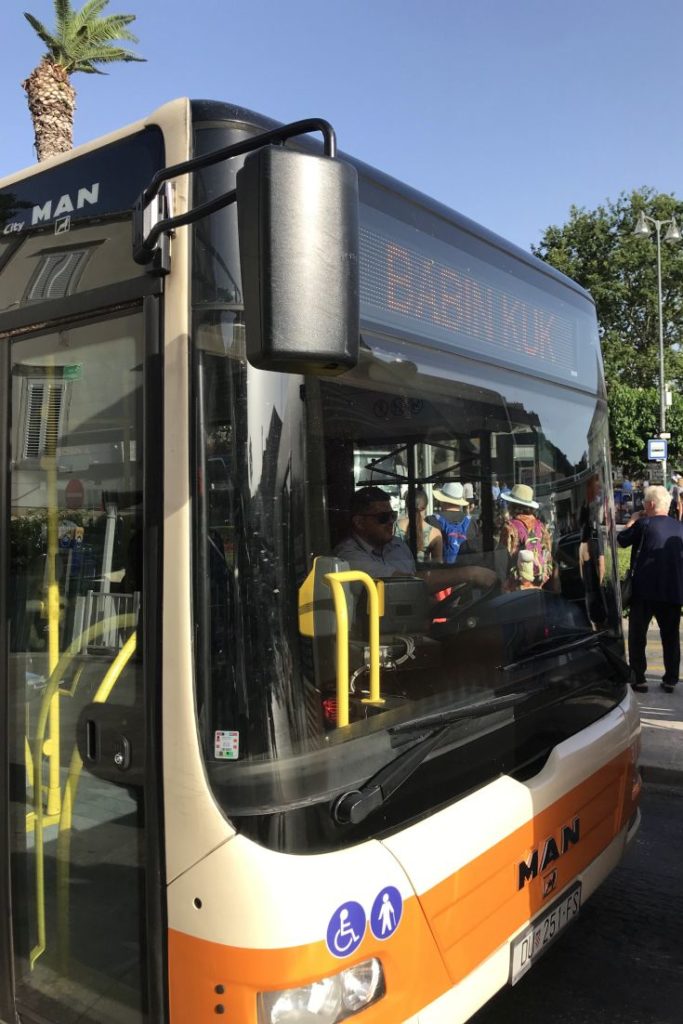 There is a limited number of seats and standing spots on each bus. They tend to get busy in the peak season, especially on more popular bus lines, for example, number 6 to Lapad.
The good news is that most of these distances, although long in Dubrovnik terms, are quite short, barely over 20 minutes. So even if you are stuck in a crowded bus on a steamy summer day, it won't take long to get to where you are headed.
Entering Dubrovnik Public Bus
Unlike in some other cities, you can only enter local buses from the front door. You need to pass by the driver and validate your ticket. Be prepared to have €2 in change if you don't have one. Otherwise, you risk the rage of the ones waiting longer behind you.
While entering the bus, insert the ticket into the ticket machine next to the driver while the pointer is down and the picture is facing you. This way, you will get it on your first try and not look embarrassed like other tourists fumbling with their cards.
City Bus Stops
Bus stops spread out conveniently around Dubrovnik. They are not too far apart—approximately every 500 meters.
Most bus stops look the same so that they will be easily recognizable. They have transparent glass framed bus waiting shelters and an info-board with schedules of the bus lines that stop there. You can also notice them by the big BUS sign drawn on the road in front of the stop.
Important: The timetables displayed on the bus stations provide information on departure times from where the bus line starts. They do not show the arrival times to bus stops in between the line start and finish stops!
LED info displays are available at major bus stops, informing travelers of waiting times for upcoming buses.
The Pile bus station is located at Pile Gate, the historic Old Town Dubrovnik entrance. Pile serves as a major transportation hub for visitors and locals. The Pile area can get very hectic in summer, with cars, local public buses and tour buses coming and going, and thousands of pedestrians.
Ten out of the total fourteen bus lines Dubrovnik ends at Pile bus station. From here, visitors can easily catch local buses and connect to any part of Dubrovnik.
The Gruž Port Bus Station in Dubrovnik is what visitors coming in via ships use to get to the other parts of the city. Gruž Port Bus Station is an alternate name for the main bus station in Dubrovnik.
Located next to the ferry port, this bus station is an easy way for cruise ship passengers to explore Dubrovnik. That is if they already don't have shuttle buses waiting for them next to the cruise ship.
From the station, visitors can catch local buses to the Old Town. It is a short 20-minute ride to the city's famous landmarks and historical sites. If you are a cruise ship passenger, the Gruž Bus station is the one you want to go to if you miss your shuttle bus back and are racing back not to miss the boat.
"Grawe" Bus stop is one of Libertas' official POS in central Dubrovnik.
It's named that way after the large building next to it with a large Grawe insurance company sign on top. The sign makes the stop a bit easier to locate for visitors trying to find their way around.
Grawe Bus station is significant as one of the few stops for the shuttle bus going to the Dubrovnik airport.
Dubrovnik Bus Map
Dubrovnik Bus Map is a handy thing to have if you are planning to use the Dubrovnik public bus. The map shows an overview of the city's public bus system. The map includes all the bus line routes, stops, and interesting points in the city.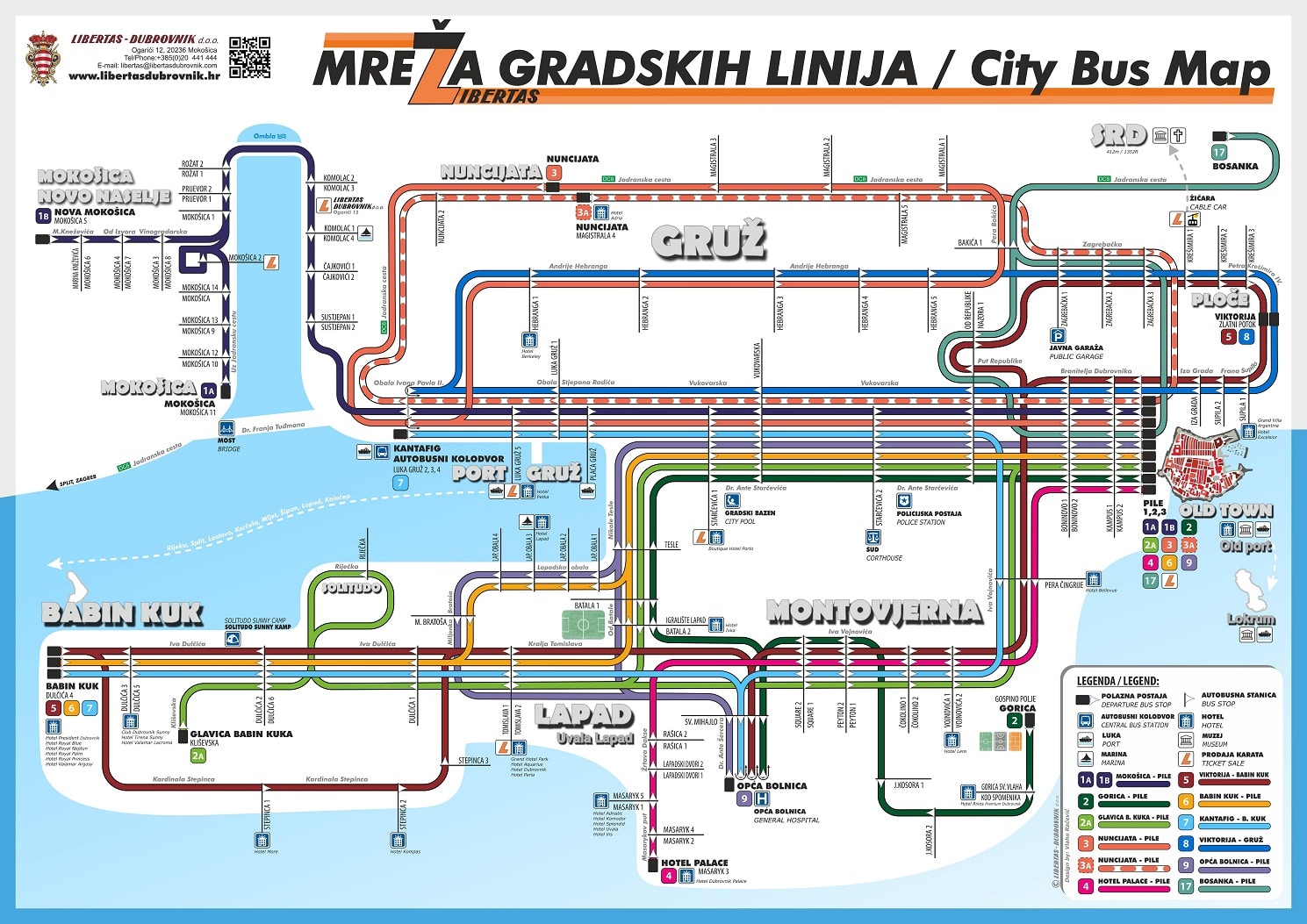 The latest local bus route map design makes it easy to read, with clear information about the bus routes depicted in different colors.
Tips: It is good to use the bus stop map in tandem with Google maps to make sure you are on the right location when trying to get on a specific bus. You don't want to wait half an hour for a bus to Cavtat and realize you are not on bus no. 10 stop.
You don't have to print it out and carry it with you but download the bus map PDF, take a look, and familiarize yourself with it. They are pinned on every bus stop showing where you are on the map.
Libertas Dubrovnik bus timetable
Something you will want to know is that the city bus timetable is quite easy to find. Whether you prefer to plan ahead or go with the flow, you will need to peak at the bus timetable eventually.
The bus timetable is available online on the bus website, at every bus stop, and local tourist information centers.
Bus lines are reasonably well organized. Buses run every 10 to 30 minutes between all neighborhoods in Dubrovnik and the surrounding area.
Checking the up-to-date information on bus departure times, you can time it to be at the stop when it arrives. You'll never have to worry about missing your Old Town restaurant reservation.
Dubrovnik Bus Lines
There are fourteen bus lines connecting all parts of Dubrovnik:
Bus 1A: Route Mokošica - Pile
Bus 1B: Route Mokošica - Pile
Bus 1C: Route Mokošica - Pile
Bus 2: Route Gorica -Pile
Bus 2A: Route Glavica B.K. - Solitudo - Pile
Bus 3: Route Nuncijata - Pile
Bus 3A: Route Nuncijata - Pile
Bus 4: Route Hotel Palace - Pile
Bus 5: Route Viktorija - Babin Kuk
Bus 6: Route Babin Kuk - Pile
Bus 7: Route Kantafig - Babin Kuk
Bus 8: Route Viktorija - Gruž
Bus 9: Route Opća bolnica - Pile
Bus 10: Route Dubrovnik - Cavtat
Bus 17: Route Bosanka - Pile
If you want to travel to the main bus station and/or the port from the Old Town (Pile Gate), you can take lines 1A, 1B, 3, or 8.
There is a high probability you are staying at one of the many hotels and private accommodations located in Lapad and Babin Kuk. The fastest way is by bus number 6, which goes every 15 minutes from Pile station.
Besides line 6, you can take bus routes 2A and 5 between Babin Kuk and the Old Town (Pile Gate) if you stay there.
From Lapad, buses 2, 4, 5, and 9 travel to and from the Old Town (Pile Gate).
Ask at your accommodation (or locals) for the best bus to take around Dubrovnik when you're staying there. They will gladly help.
GOT QUESTIONS?
What is the bus from Mokošica to Dubrovnik?
The buses from Mokošica to Dubrovnik are local bus routes 1A, 1B, and 1C. Residents and visitors traveling from Mokošica, a suburb of Dubrovnik, to the city center can use these frequent buses.
What is the bus from Lapad to Dubrovnik's old town?
Buses 2A, 4, 5, 6 and 9 from Lapad to Dubrovnik Old Town are local bus routes connecting Lapad, a popular tourist area located on the peninsula of the same name, to the heart of Dubrovnik's historic center.
What is the bus from Gruz ferry port to old town Dubrovnik?
The buses that go from Gruz ferry port to Old Town Dubrovnik are very frequent. Travelers arriving in Dubrovnik by ferry can reach the Pile bus station at Old Town with buses 1A, 1B, 3, and 8.
What is the bus to Dubrovnik's Old Town?
Nine bus lines will get you to Old Town. Which one you should take depends on where from you are trying to reach the Pile bus station. Buses 1A, 1B, 2, 2a, 3, 3A, 4, 6, 9, and 17 end their line at Pile Gate.
What is the bus to cable car Dubrovnik?
The bus to cable car Dubrovnik refers to the local bus route in front of Dubrovnik Cable Car lower station. This popular tourist attraction provides stunning views of the city and its surroundings, and the bus provides an easy and convenient way to reach the cable car station. Buses 5, 8, and 10 will stop at the Cable Car.
What is the bus ACI marina Dubrovnik?
The bus to ACI Marina Dubrovnik, a popular marina located in the Komolac area. The marina is on the way from Mokošica to the rest of Dubrovnik. You can board 1A, 1B, and 1C to get to the marina.