Besides just looking like a lot of fun, scooters are probably the best ways to get around Dubrovnik. Dubrovnik roads are quite narrow and often one-way.
The city's roads are crowded with many cars in the summer—too many than they can handle. A great number of tourists arrive in their vehicles. Taxis and Uber drivers tirelessly transport visitors across the city. Dubrovnik locals are trying to get around. Unfortunately, they are all contributing to frequent standstill traffic jams and gridlocks.
Do you know who isn't bothered by traffic jams?
That's right; it's scooters, motorbikes, and mopeds. They simply drive past the cars sitting in traffic. And you will find so many of them zipping on the Dubrovnik roads.
With a scooter, you won't depend on the public bus, which isn't as comfortable in the summer. In short, you won't have to worry about how you're going to get to all the attractions, restaurants, bars, and beaches you want to visit!
Dubrovnik is one of the most popular places in Croatia where driving a scooter feels natural!
There are things to consider before you rent a scooter. In this post, we'll share all my tips for renting and driving one around the city.
Here is all the information and the answers to your questions about the moped, motorbike, or classic Vespa scooter rental in Dubrovnik.
Where can you rent a scooter in Dubrovnik?
Dubrovnik has a dozen or so different local businesses that rent scooters, motorbikes, or Vespa mopeds. You can seek one out when you are already in the city or search online and book before you get there.
Here are the best online options I think you can find to rent scooters in Dubrovnik:
BikesBooking.com - You can find a wide selection of Vespa, scooters, motorcycles, bicycles, and quad bike rentals available on this website. It's super easy and streamlined to book online. Since they guarantee the best prices, you won't get a better price at the rental company's office. Furthermore, if you book in advance, you will be sure to have access to the scooter you want to use to explore Dubrovnik, since otherwise, all vehicles may already be reserved when you arrive at a local rental office.
Vintage Vespa – If you want to rent your scooter quickly and without much hassle, I also found some attractive choices available on Viator. Is there a more authentic way to enjoy your drive to the beach in a Mediterranean city than a vintage Italian icon Vespa scooter you see in those 1950s movies? I think not.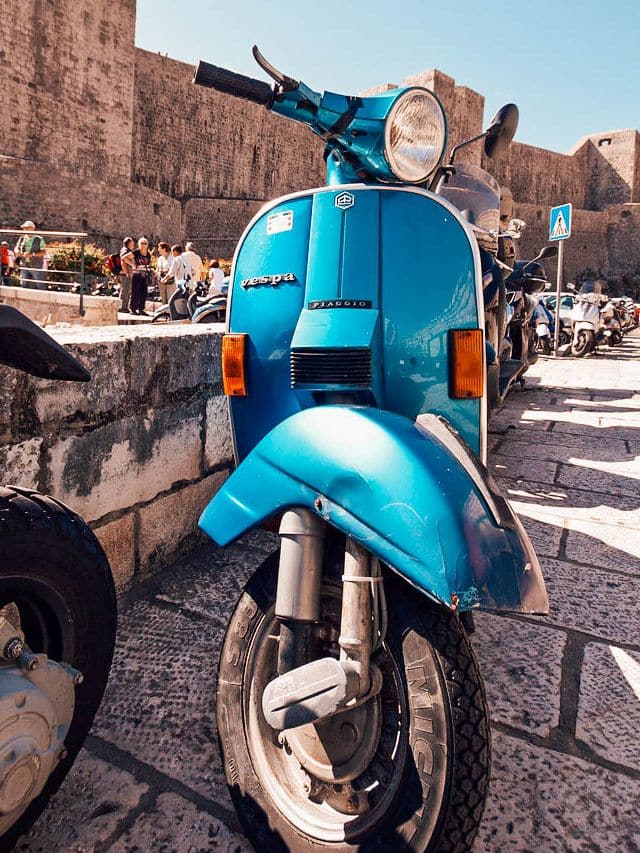 Maybe you are not an experienced scooter driver and not ready to book before arriving in Dubrovnik. Perhaps you want to check how Dubrovnik people drive and if that is something you can handle.
You can always make a last-minute booking at the local Dubrovnik scooter rental company when you feel like it.
Call any of these companies with offices in Dubrovnik to check if they have available mopeds:
To better understand what others have thought of their scooter rental experience, it's a good idea to read online reviews.
What do you need for a scooter rental in Dubrovnik?
In order to rent a scooter, you'll need to bring the following:
a security deposit (credit card or a set amount in cash)
valid driver's license Class A, A1, A2, or B (license for driving cars)
Info: Besides driving licenses, some companies require previous scooter driving experience.
Do I need an international driving permit to rent a scooter?
There is conflicting information found online on whether you need an international driving license. Some say that all non-EU citizens, including citizens of the United States, who plan on renting a car and driving in Croatia must possess an international driving permit.
According to Croatia's Ministry of Internal Affairs, a foreigner staying in the Republic of Croatia with a valid foreign driver's license issued by the responsible authority of the foreign country, with the condition of reciprocity, may drive a motor vehicle on the territory of the Republic of Croatia. In these cases, an international driver's permit is not required.
From my experience, an international driving permit when renting a scooter or a motorcycle in Croatia is not required. However, remember that without a special motorcycle license, you'll be able to rent only a 50cc scooter in Croatia.
A U.S. driver's license may be used for up to three months in Croatia without changing it into an international or a domestic license.
Note: If you are under 18 years of age, you will not be able to rent a scooter or a motorbike even if you have a valid international driver's license.
If you still want an international driving permit, you can apply at your country's national motoring club. If you hold a license in your home country, you can get this permit, recognized in more than 150 countries. Getting an international driver's permit costs around €20, valid for one year.
What should you check for when at the pickup?
When you get to the agency to pick up your rental scooter, the most important thing is that they give you a helmet. You should also ask for another helmet if you have a passenger on, but this is sometimes charged as an extra.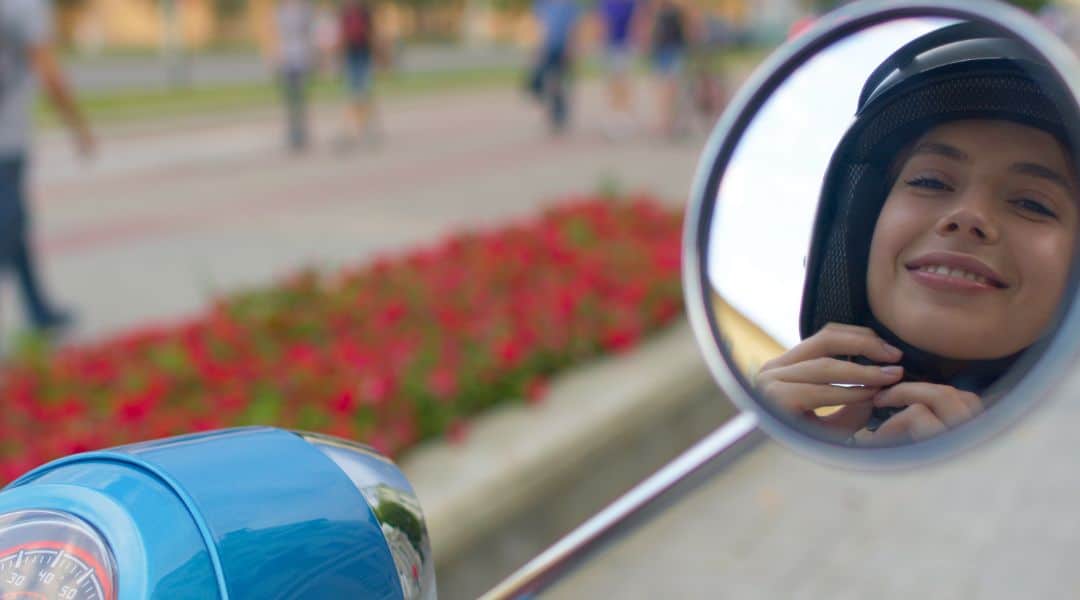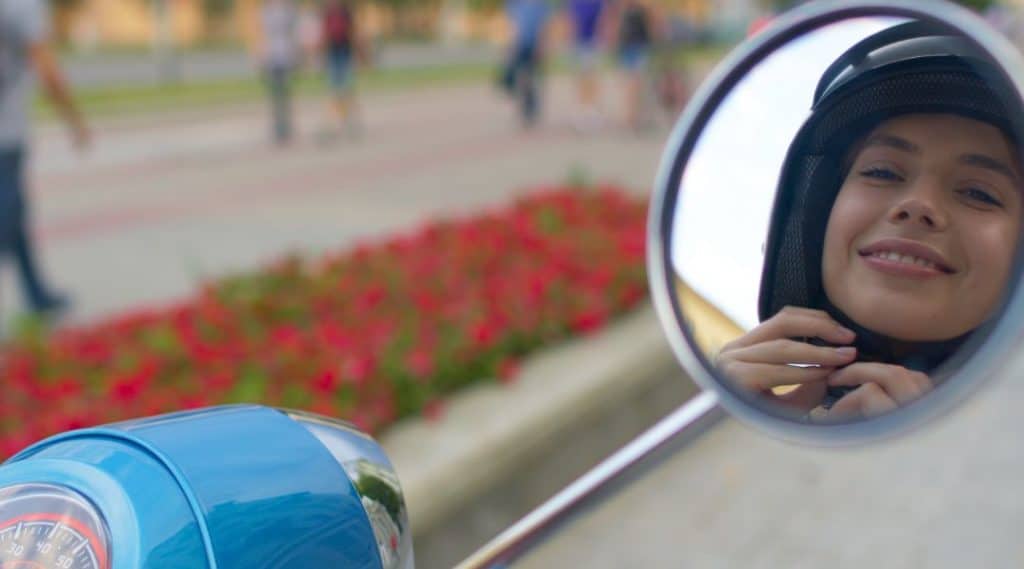 Wearing a helmet is not only very important for your safety, but driving without one is the main thing local police will look to fine you for.
In addition, you should inspect the bike thoroughly for scratches, check both mirrors are there and that there are no major damages on the moped. If you find any damage, ensure the rental agency is aware.
Tip: Whenever I rent a car or scooter, I often take pictures of it from every side to have proof of the condition I got it in. It's just in case the rental agency tries to charge for damages that were there before pickup.
You should also check the gas tank. The standard practice is getting a full gas tank on pickup. Just like with rental cars, the gas isn't included, and you have to refill the tank when you drop it back at the agency. Also, you will want to know what type of gas you need to refuel with.
How much does it cost to rent a scooter in Dubrovnik?
Renting a motor vehicle is priced differently depending on which company you use, what type of vehicle you want, and how powerful it is.
A quad bike, 50cc scooter, Vespa, or moped will usually be cheaper – ranging from €25 to €80 per day;
Renting more powerful scooters and motorcycles gets more expensive – anywhere from €100 for a 560cc Scooter Yamaha TMax to 400€ a day BMW R1250GS motorcycle.
Info: When renting a scooter in Croatia, you will usually find that third-party insurance and unlimited mileage are included. The security deposit for a scooter depends on the company, but it goes around €300.
Taking a deposit is standard practice when renting any vehicle. Typically, the agency places a hold on the amount of the deposit on your credit card (they usually won't take debit card) and then release it back once you turn in the motorbike in the same condition you rented it in. Of course, you can also leave the deposit in cash with them.
Note: Scooter fuel tanks are small, typically 5 liters. Make sure you have 10€ in change to fuel up your scooter.
Are there any important driving rules for scooters in Croatia?
There are no special rules for driving scooters in Dubrovnik. The speed limits within the city are 50 kilometers per hour. However, if you travel outside of Dubrovnik on state roads like Jadranska magistrala, the limit goes up to 90 kilometers per hour. Like everywhere, the speed limits are posted on signs along the road, so keep an eye out.
If you want to overtake another driver, pay attention to the lines. Broken white lines on a two-way road mean passing is permitted when safe, whereas a solid line indicates that overtaking is illegal.
In Dubrovnik, you will see that scooters and motorbikes overtake cars in traffic at every opportunity, solid line or not. Local car drivers are used to sticking to the right side of their lane to let motorcycles coming toward them pass in their lane even though they are not supposed to. A bit dangerous but tolerated by even the police.
Where can you park your scooter?
Besides skipping traffic jams, the most satisfying advantage of driving a scooter is how easy it is to find parking.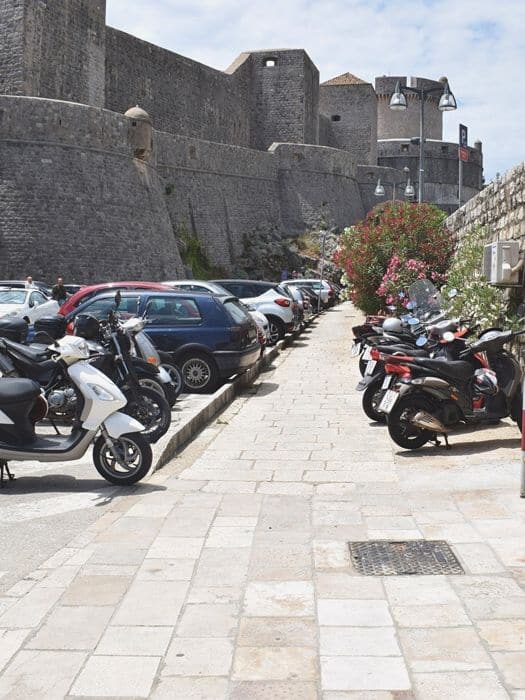 If you have ever tried finding car parking in Dubrovnik during summer, you know what kind of a hair-pulling ordeal that is. There are not enough parking places in the city for how many cars there are.
And don't get me started on parking prices. If you want to park a car next to Old Town, you can expect to pay 7 to 10 EUR per hour.
Scooters are easy to park because they're so small. There are designated bike parking spots marked with smaller rectangles, where you can park your scooter or Vespa.
Important: Most of the time, scooter parking spots are not marked with a line so check where all the other motorbikes are parked and park there. There are also no parking fees for scooters and motorbikes.
If you see other scooters parked on sidewalks, you can also join and park there - but make sure to leave enough space for pedestrians to pass.
You know that saying; when in Rome, do what the Romans do. I would skip parking on sidewalks where there are no other scooters. Locals know best where it is safe to park!
Electric Scooters
If you are in the Dubrovnik for a few days, you might notice mint green colored scooters parked around the city. You can rent these electric scooters by the minute using an app. You don't need to go to an agency, leave deposits or even meet anyone for pickup/drop off. The process is quite simple.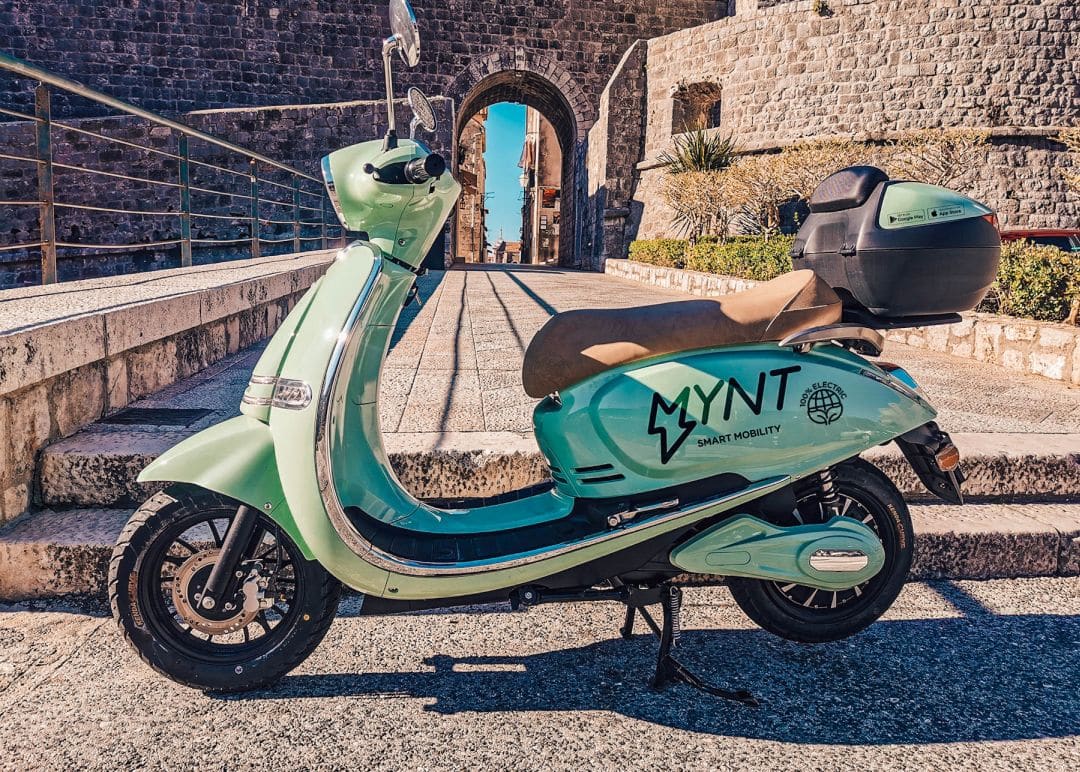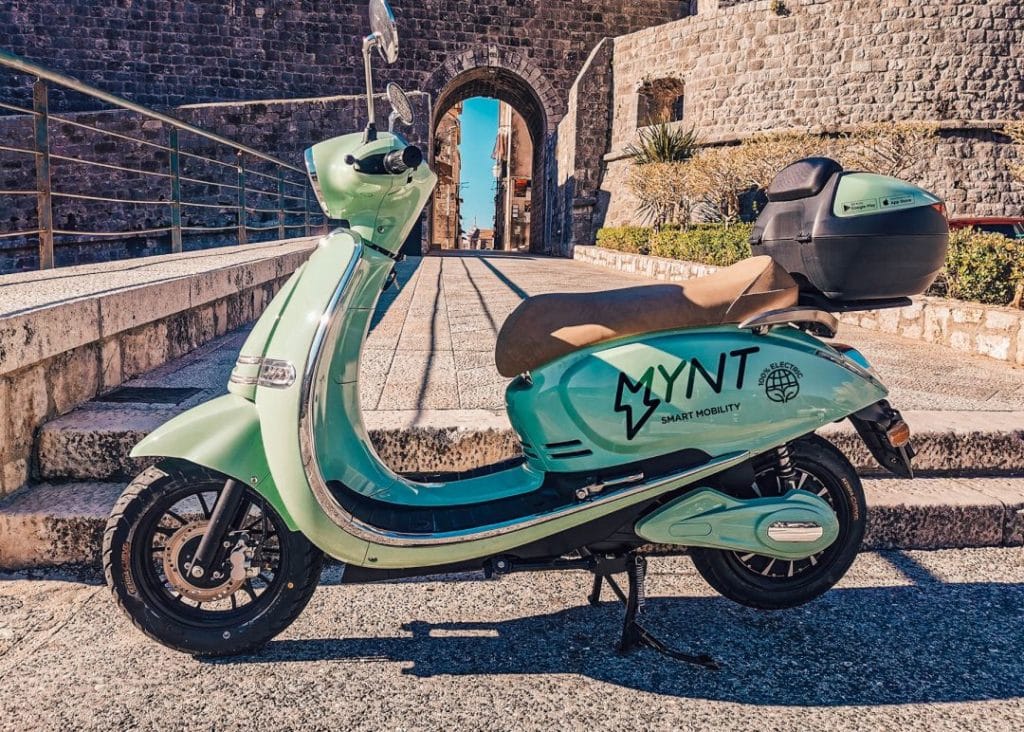 How to rent Mynt Electric Scooters?
Download the app - Download and register with the application. For the registration, you need to fill out the registration form; upload a photograph of your National ID or passport, driving license, and bank card details. You also need to put money into your wallet for the ride. €0,30 per minute is the regular rate, but you get a lower per-minute price if you top off your wallet with more money.
Book your moped - After you have been verified, the next step is to choose the nearest moped from the map to book or check the status. You can reserve a moped for 10 minutes at a time. Then walk to it to give it a whirl. Two helmets are provided for you and your passenger on every moped.
Have fun driving around - When you press the start button, the top case will unlock, and the moped will be ready for use. Don't forget to put on your helmet before you get going!
Park the scooter safely away from traffic - You can ride whenever you want to, but there are allowable parking areas. Make sure you are parking in the right spot by consulting the map. The app may refuse to let you finish your ride if you are outside a designated parking area.
Mynt electric scooters are good for short, fun rides across the city but are a bit more expensive than traditional scooter renting.
Tips: For example, to rent a 50cc scooter for 24 hours, you would usually pay 35EUR. However, that same amount will get you 2 hours of driving around in Mynt scooters (although this counts only pure driving minutes). On the plus side, you don't have to pay for gas on these things.
Is Dubrovnik a good place to drive a scooter or a motorcycle?
It's the perfect place to drive a scooter. It completes that small Mediterranean summer town feeling. Safety-wise, from my experience, everyone in Dubrovnik is paying attention to scooter drivers in traffic, which isn't surprising since there are so many of them.
Getting a rental scooter can also save you money. You can use it to get to places like mount Srđ viewpoints, a great alternative to the somewhat pricey Cable Car.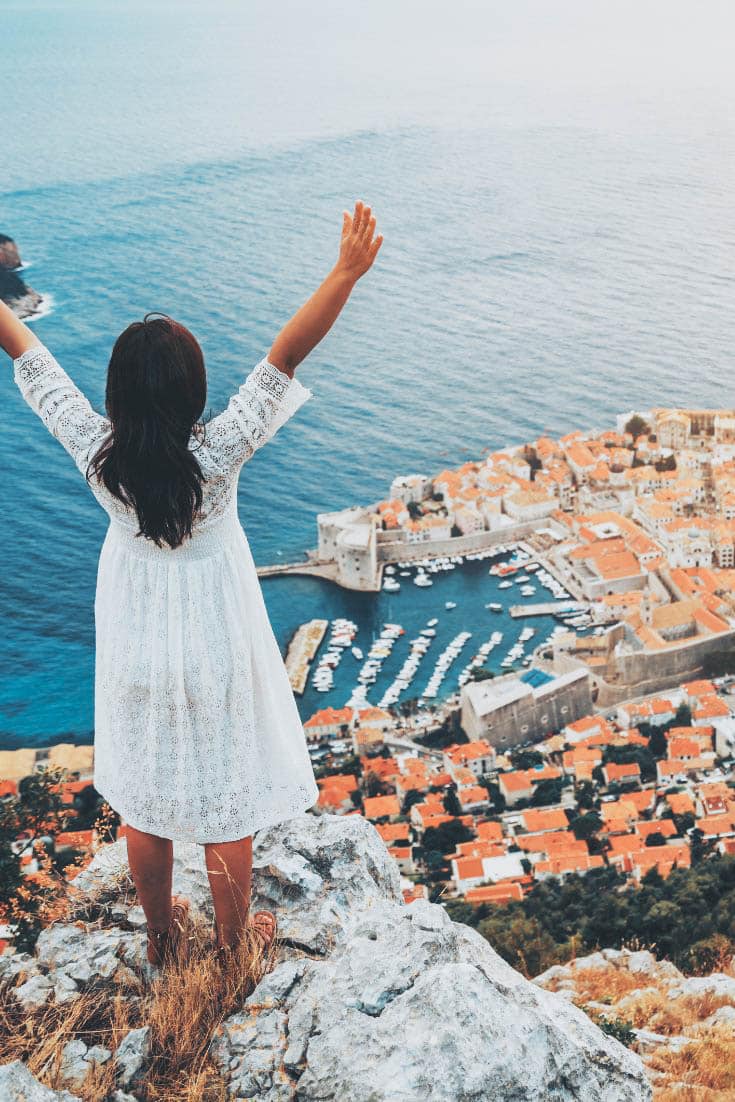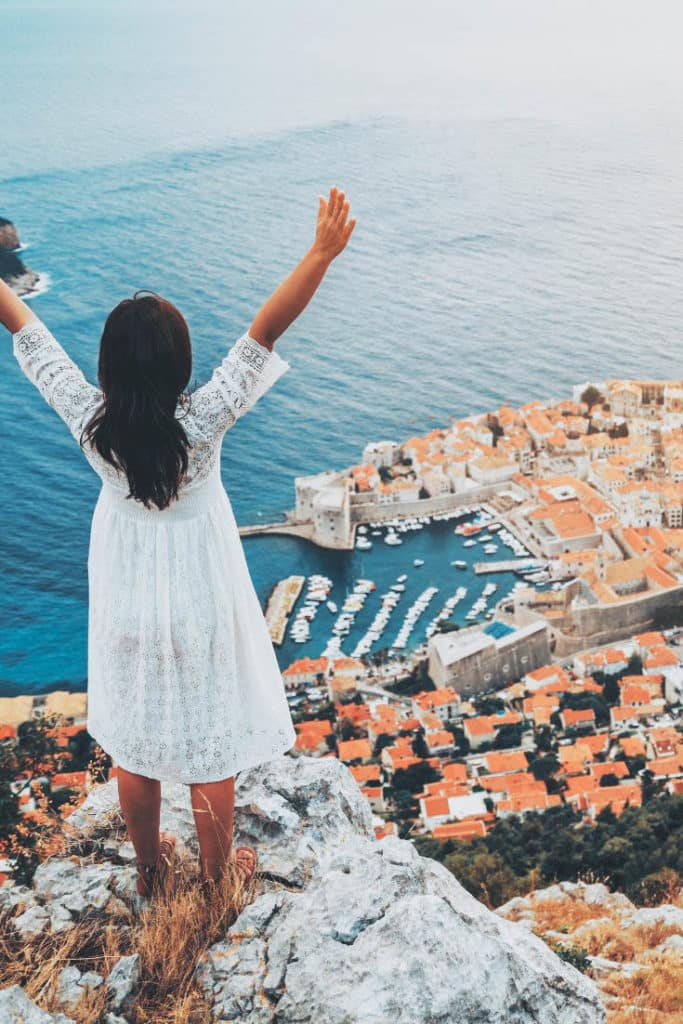 If you've already driven scooters before, you will find that navigating Dubrovnik will be super easy! But, considering how very busy the city is for its size, it might not be the best place to learn how to ride a motorcycle.
Dubrovnik has many motorbikes on its streets, but the city is not designed for so much traffic. There aren't any designated scooter lanes on the roads, so you'll have to be careful as you weave and bob your way around the cars.
Tips: The motorbike drivers in Dubrovnik are known for disregarding some traffic rules, mostly when overtaking, but the police usually tolerate this behavior. Rather than following their example, I recommend respecting all the driving rules, regardless of what other moped drivers do.
Alternatives: Join a Scooter Tour
If you are interested in renting a scooter, Dubrovnik is a great place, but if you don't like the idea of driving one alone, consider joining a scooter sightseeing tour!
Vespa Self-Driven Tour: This tour lasts approximately two hours and takes you to places you wouldn't be able to reach by sightseeing bus. You'll drive your Vespa scooter but follow your guide to some of Dubrovnik's most stunning spots, which you might otherwise have missed if exploring on your own, like Park Orsula viewpoint and Mount Srđ summit. Also, following someone with local knowledge means you won't have to worry about following a map.
E-scooter Tour: If you are not keen on going into traffic with a moped/scooter, you can hop onto an e-scooter and discover the highlights of Dubrovnik. E-scooters allow you to see more than you would on foot and get you to areas where cars can't go—a fun way to explore the city. Plus, you don't need a driver's license to drive these.
Is this for you?
I hope that this article has covered all the most important things you need to know when you want to rent a scooter or Vespa in Dubrovnik.
I loved renting a scooter in Dubrovnik. It gave me a sense of freedom. Something a crowded bus system in Dubrovnik can't match. You also avoid the hassle of finding a parking space with a car. Our stay in Dubrovnik was flexible, and we could go anywhere and anytime we wanted!
Dubrovnik is yours to discover however you like. However, there's no doubt this city is one of the best places to ride a scooter if you've always wanted to!
GOT QUESTIONS?
How much does it cost to rent a scooter in Dubrovnik?
Renting a 50cc scooter in Dubrovnik will cost you about €25 - €35 per day. 125cc scooters are available for around €40 - €60 per day, but you'll have to pay more for a more powerful model.
Can I hire a scooter at Dubrovnik Airport?
If you plan on flying into Dubrovnik Airport, also known as Ćilipi Airport, there are a couple of rental agencies just at the arrival terminal that have scooters. So, yes, you can rent a scooter at the airport.
However, I wouldn't advise it if you are staying in Dubrovnik proper as it is a bit far off for a small scooter. Also, you won't have a way to take your luggage.
Do you need a license to rent a moped in Croatia?
Yes, you need atleast a Class B license for 50cc scooter. To rent motorcycles over 125 cc you need a Class A, A1 or A2 motorcycle licenses.
How old do you have to be to rent a Vespa in Croatia?
You must be at least 18 years old and have a valid driver's license to rent a scooter in Croatia.
Do you have to wear a helmet on a scooter in Croatia?
Motorcycle or moped riders must wear a helmet. Helmets must be European-type-approved and must be worn correctly at all times. FINE for non-compliance is around €130.
Can you drive a scooter in Old Town?
Driving any type of vehicle including scooters inside Dubrovnik Old Town is strictly forbiden without a special permit from the city officials.