Cavtat has a beach for every taste, depending on the sun's location, shade, and time of day. There are beaches for families with kids, beach bar fanciers, and even naturists.
Some beaches are rocks, some concrete platforms, and others are sand and pebbles. But the best thing is, the clear turquoise sea is at each one.
Some Cavtat beaches are for relaxation; others are great for more active pastimes. Since Cavtat is small, you can simply change beaches and views by walking short distances.
| | |
| --- | --- |
| 👨‍👩‍👧‍👦 Best for Families | Žal |
| 🏖️ Best for Sunbathing | Južna |
| 🌅 Best Sunsets | Kamen Mali |
| 🌊 Most Attractive | Pasjača |
Beaches in Cavtat
In this guide, we'll explore some of the best beaches and swimming areas in Cavtat and what they have to offer.
Žal 📍
Žal is Cavtat's largest beach. Since it is located in front of Remisens Hotel Albatros resort, it is often called Albatros Beach. Žal is about 1 kilometer from the Old Town center.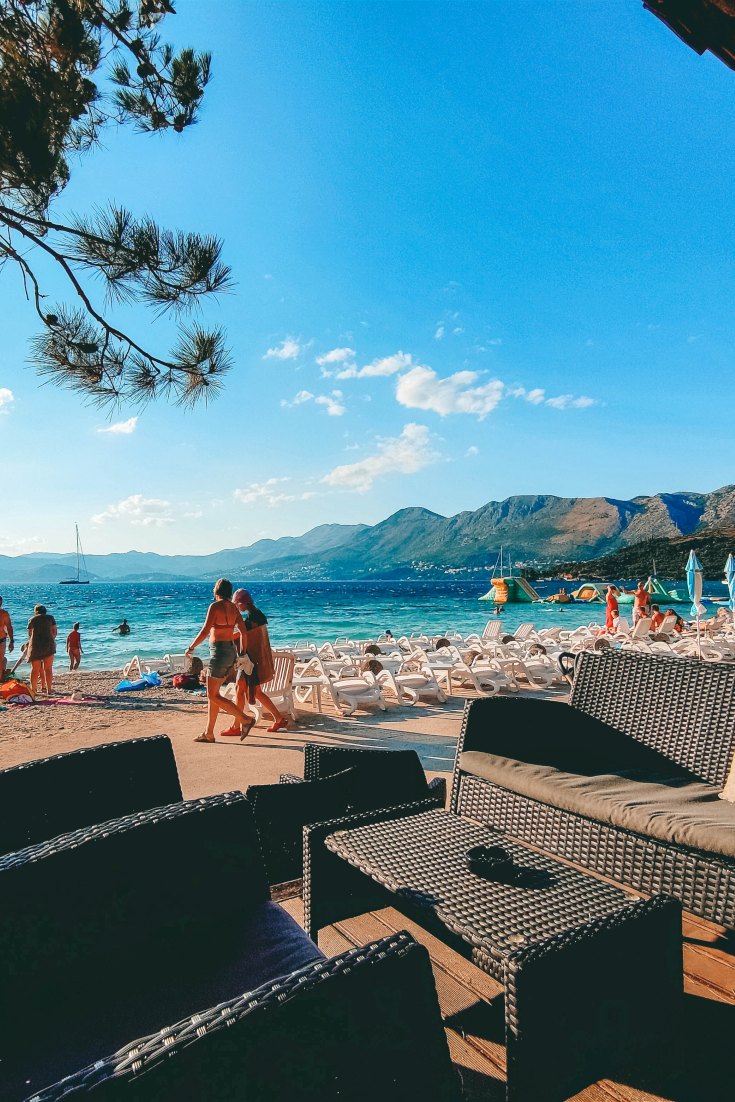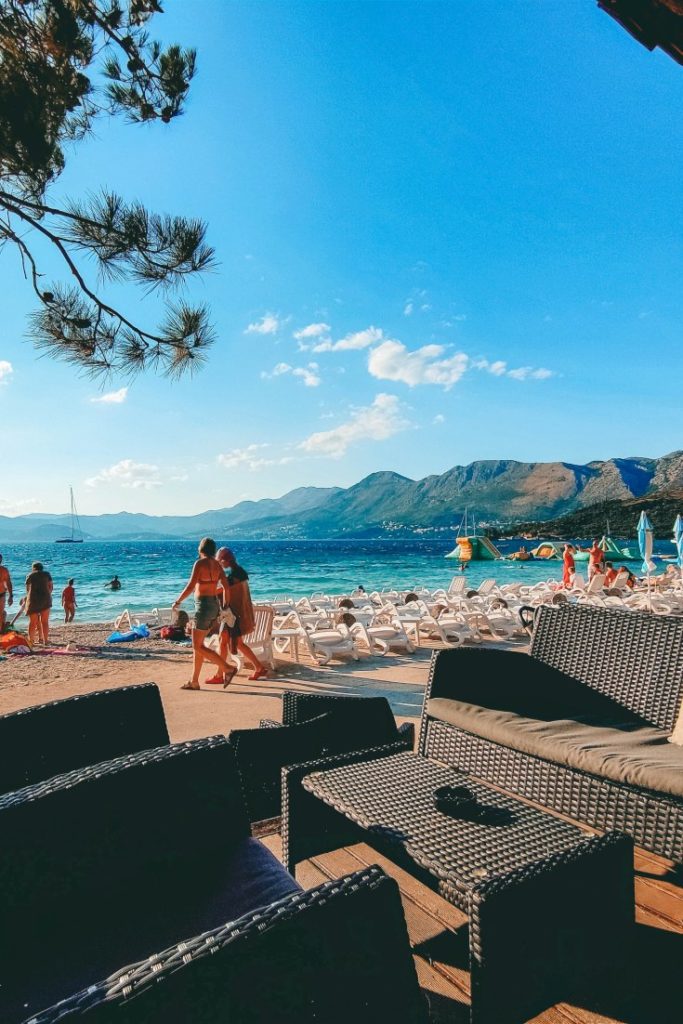 This beach is best for families with children because there is plenty of room and the sea is shallow. Žal beach profile is mostly shingle. Larger and smaller gray pebbles and cobbles make up the beach backshore. But there is also fine sand, about 1 meter, when you get into the water.
The beach face, i.e., the slope where you enter the sea, is easy for small children to use and get into. The foreshore stays shallow for a good distance.
The great thing about Žal beach is there is some natural shade available, provided by nearby cypress and pine trees. You can rent sun chairs and parasols if you don't find unoccupied space in the shade.
Tips: You might find some sea urchins further in the sea, but locals usually try to remove them from the beach swimming bounds. Otherwise, the pebbly beach is safe and warm. Still you might want to get a pair of water shoes if you don't enjoy standing barefoot on beach pebbles.
A couple of cafés and bars like Beach bar Cool and Beach club Eve are right there at the beach for you to order a cocktail while listening to some good music for the great summer atmosphere.
Žal Beach also has pedal boats, kayaks, stand-up paddle boards, parasailing, diving, banana boat, and jet skiing available for more beachgoers seeking more active vacations.
Tips: Public toilets are available for free. There are also showers but at a cost. Have some coins handy with you. Additionally, ther is an aquapark playground in the water, that is very popular with children and adults.
Rat 📍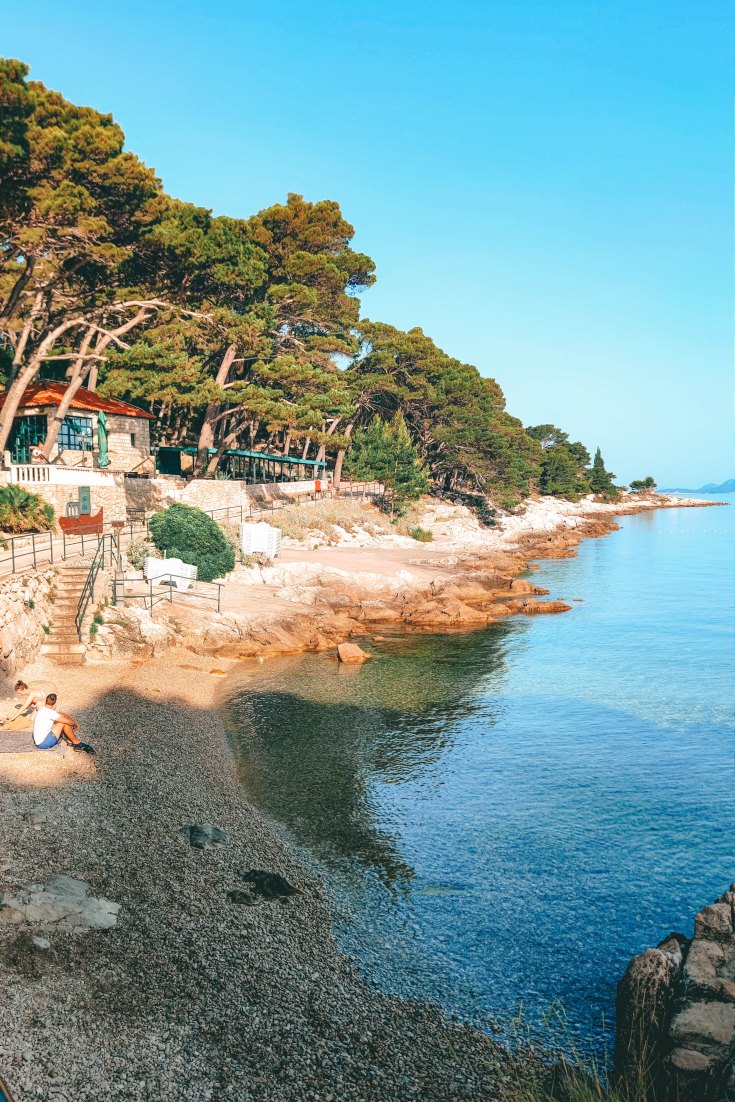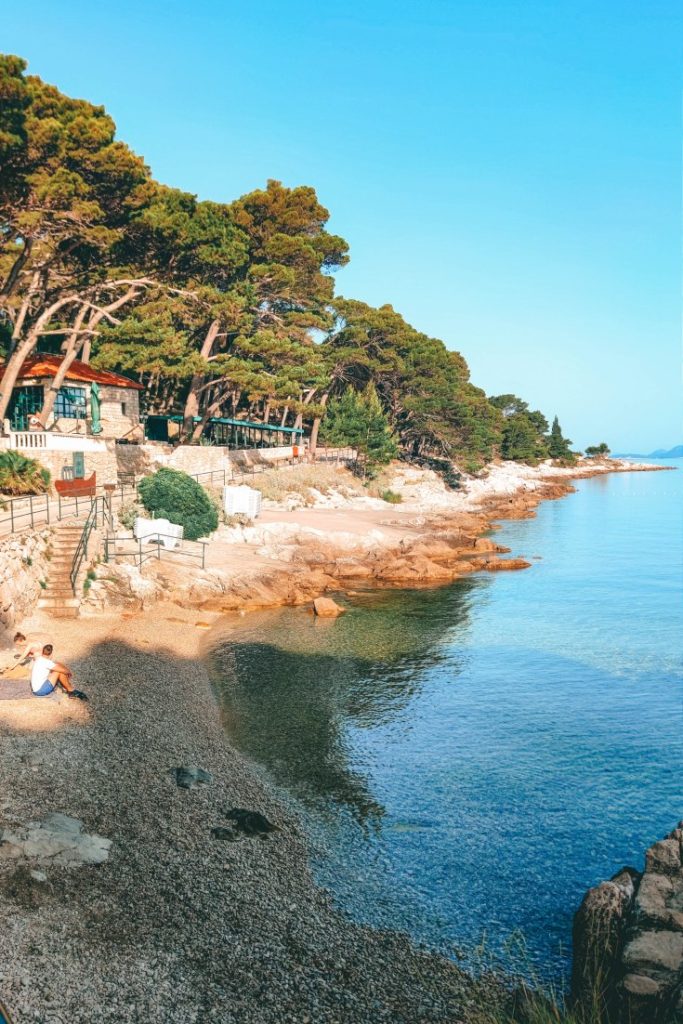 Situated midway on the Rat peninsula promenade, Rat beach has great views of the picturesque Župa bay. This shingle stones and pebble beach is a bit small but with easy access to the sea. You can walk almost ten meters into the sea before it gets deep enough to swim.
Since the beach is quite small, it can get crowded in high season, with no place to leave your towels. It's a good idea.
Tips: Since the beach is quite small, it can get crowded in high season, with no place to leave your towels. If you are set to enjoy your day on Rat beach, it's a good idea to come early.
It features concrete cover sunbathing decks. Visitors can use the beach amenities, including sun loungers, parasols, showers, and changing rooms.
This particular stretch of coast is ideal for visitors who prefer a bit cooler sea. The freshwater from the nearby Ljuta river flows towards the beach, cooling the sea. It is refreshing to dip on this beach, away from the summer heat.
Ideal for families, this quiet beach boasts a stunning backdrop of lush forest that provides natural shade and pure waters.
Tips: You will be attracted by the smells of the barbecue from Rokotin restaurant, which is right above Rat beach. You might not resist and stop by for a fish platter and a glass of red wine for lunch.
Ključice 📍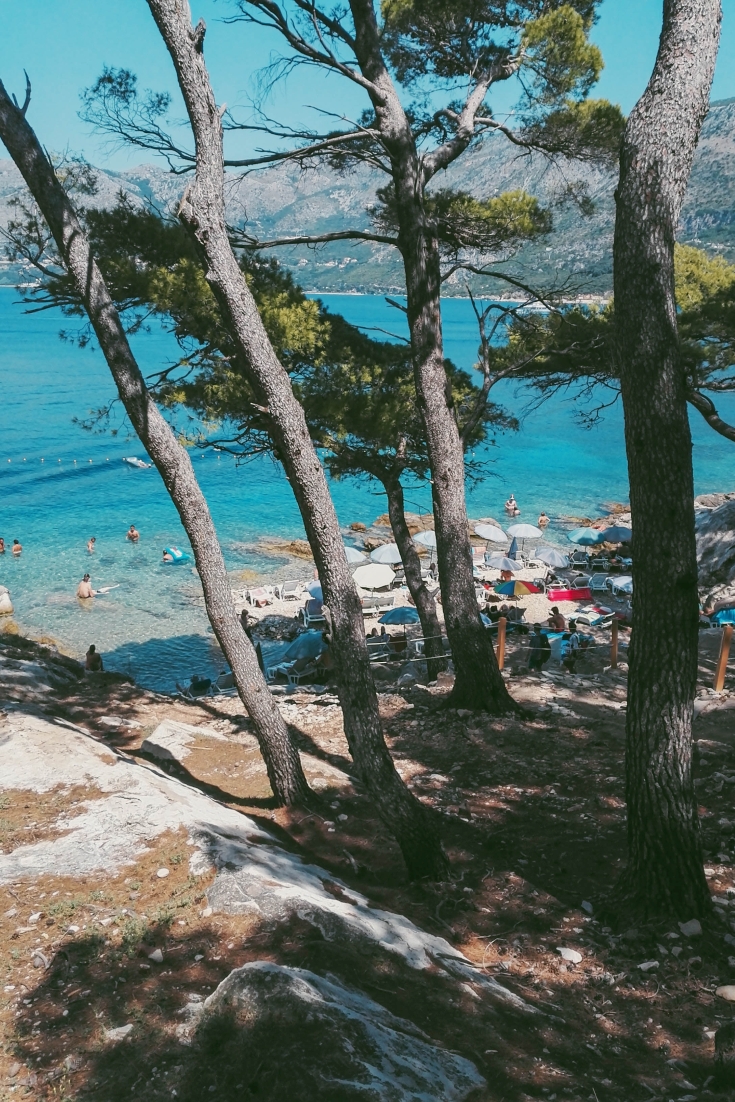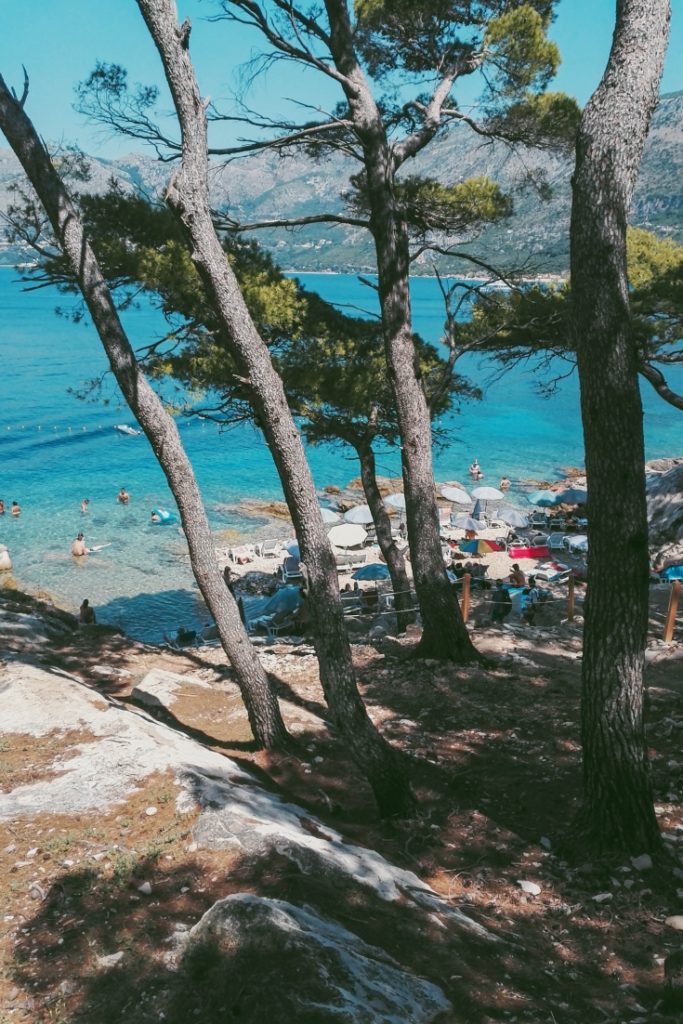 Walking a bit further down the peninsula promenade away from Rat beach is Ključice beach. You walk down a gravel path from the promenade to this tranquil beach. The pebbly beach is cut in between larger rock formations.
Tips: The beach is quite tiny, and you might find that the sunbeds take up most of the beach. But since the sunbeds are cheap at €5 per day, I recommend renting them out.
The pine trees lean over the parts of the beach and provide great shade.
Kamen Mali 📍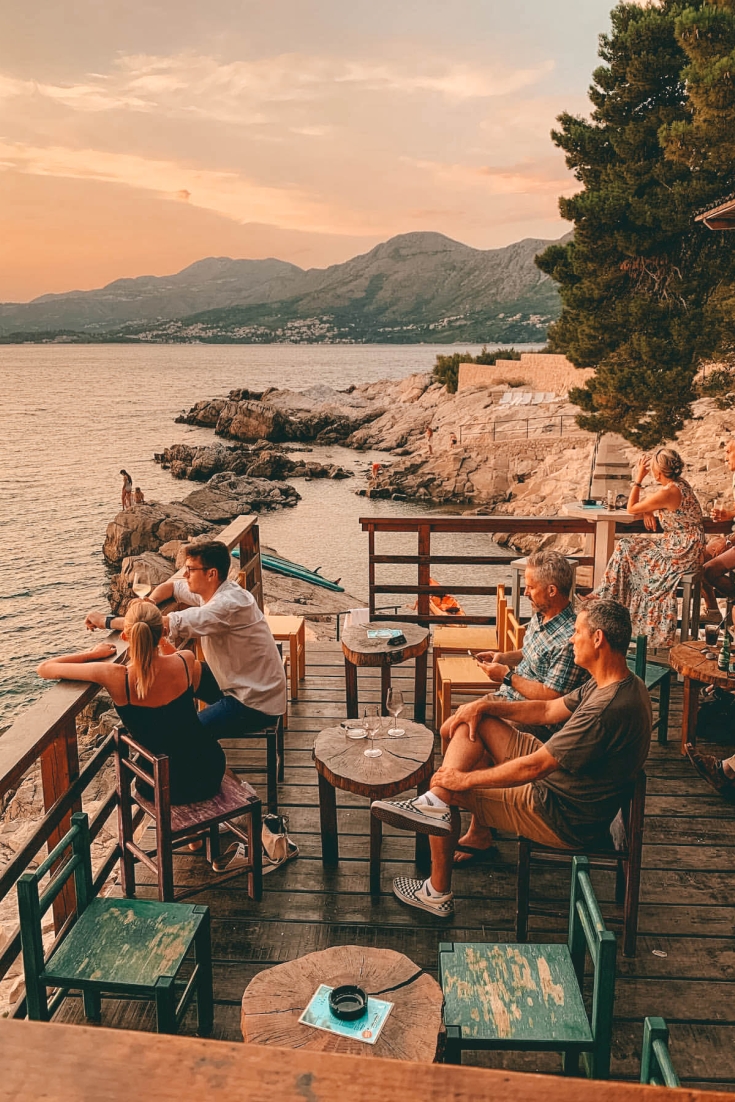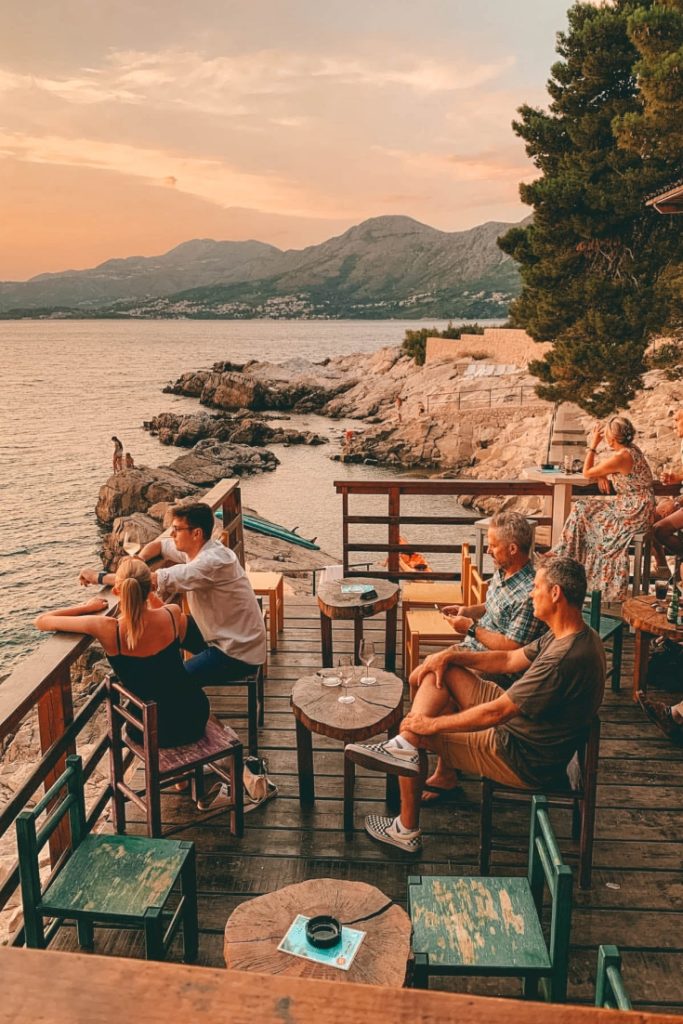 Kamen Mali is the local's favorite beach. You must reach the tip of the Rat peninsula to get to it. The beach faces the nearby islands of Supetar, Mrkan, Bobara, the open sea, and Dubrovnik in the distance.
Kamen Mali translates to Little Rock, fitting as the whole beach has naturally rugged foreshore. There is a tiny bay with about 2 meters of pebbly beach face you can use to get into the sea.
Hundreds of thousands of years of strong winds and crashing waves shaped sections of the rocks into slanted terraces. These terraces are great for laying your beach towel, sipping on your cocktail, and relaxing under the sun.
Tips: Ooh, did we mention there is a popular beach bar Little Star, built on the side of a cliff of the Kamen Mali beach? It has a great ambiance, chill music, and expensive drinks—a great sunset-watching spot.
While many visitors might be content to relax on the beach or go for a leisurely swim, locals in Cavtat take a more adventurous approach. They climb up on the rocks, carefully assessing their footing before jumping and diving into the water below.
For some, it's a way to cool off in the summer heat, while for others, it's a thrilling experience.
Sustjepan 📍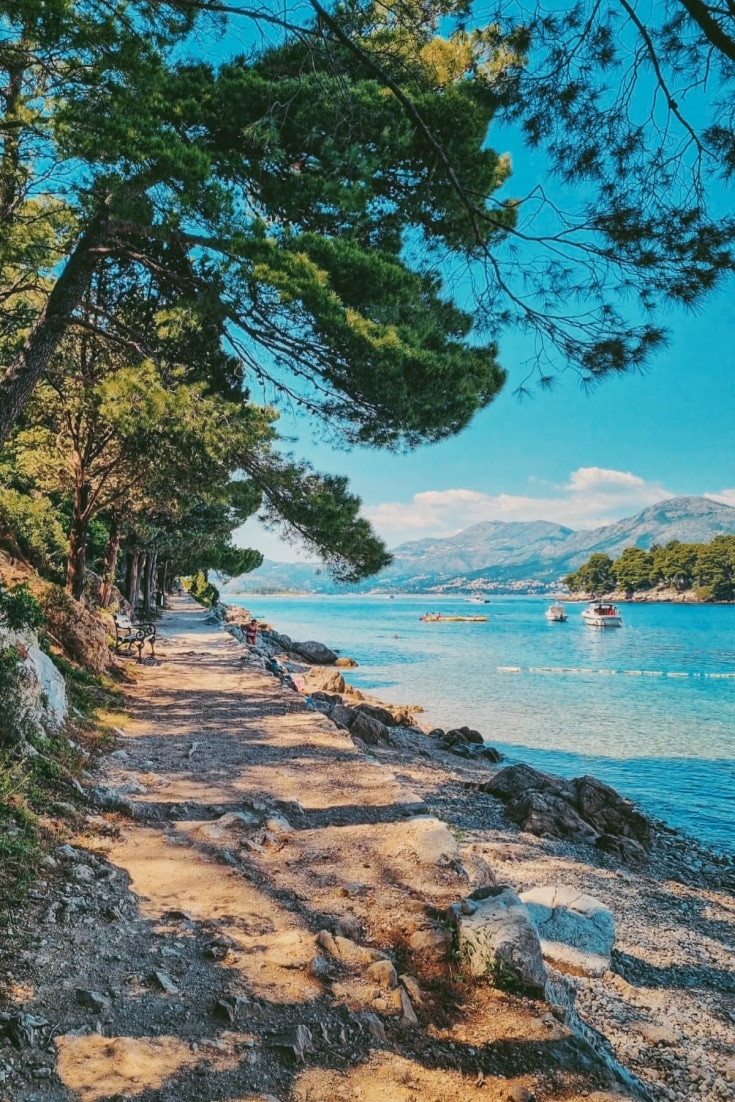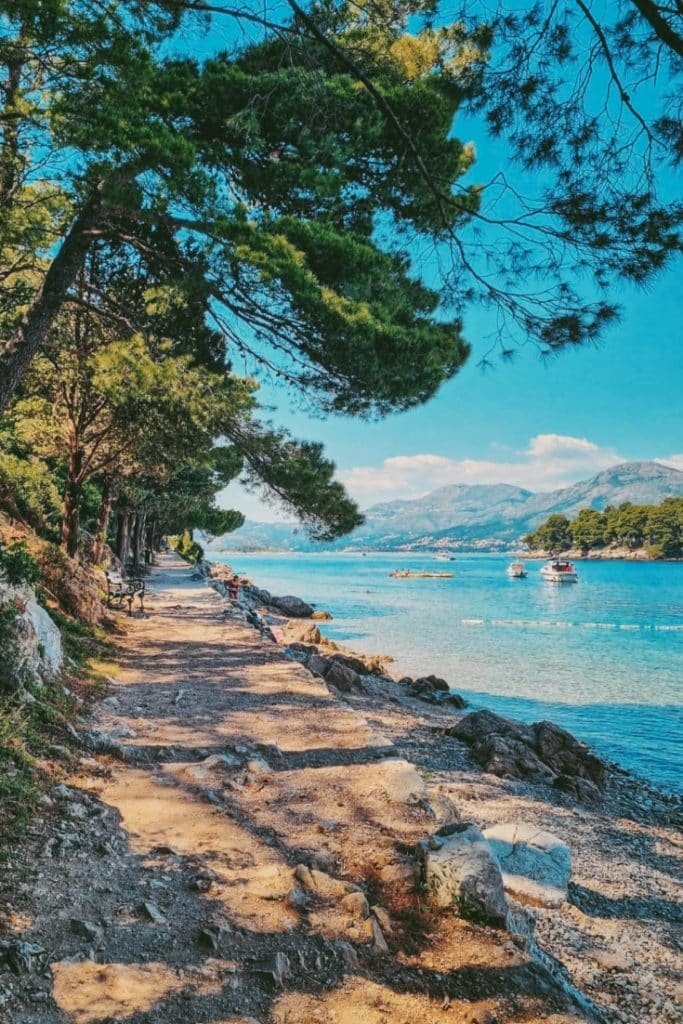 Sustjepan Beach is one of the longest beaches in Cavtat. It is located on the Sustjepan peninsula, near the harbor. The views from Sustjepan are particularly picturesque, looking at the Cavtat Old Town and the yachts anchored in the harbor.
Note: A section of the beach is a concrete platform with ladders for easy sea access. You can rent parasols and comfy beach chairs and soak up vitamin D.
If you're feeling adventurous, why not rent a kayak and paddle around the crystal-clear water? But wait, it gets even better. Right next to the beach, there's Hotel Croatia's restaurant Spinnaker, where you can grab a bite to eat and refuel for more fun in the sun.
And if you're in the mood for a refreshing drink, the beach bar is the place to be. They've got a great selection of drinks, and the view is unbeatable.
High pine trees hang over Sustjepan Beach, creating an idyllic backdrop and natural shade. The calm waters of the inner Cavtat bay make the beach a popular spot locals come to swim.
Tips: If you are looking for more privacy and solitude, Sustjepan beach stretches along the coast of the peninsula, following the hiking trail above it. Every once and a while, a small pebbly cove will appear—just enough space for two beach towels.
Banac 📍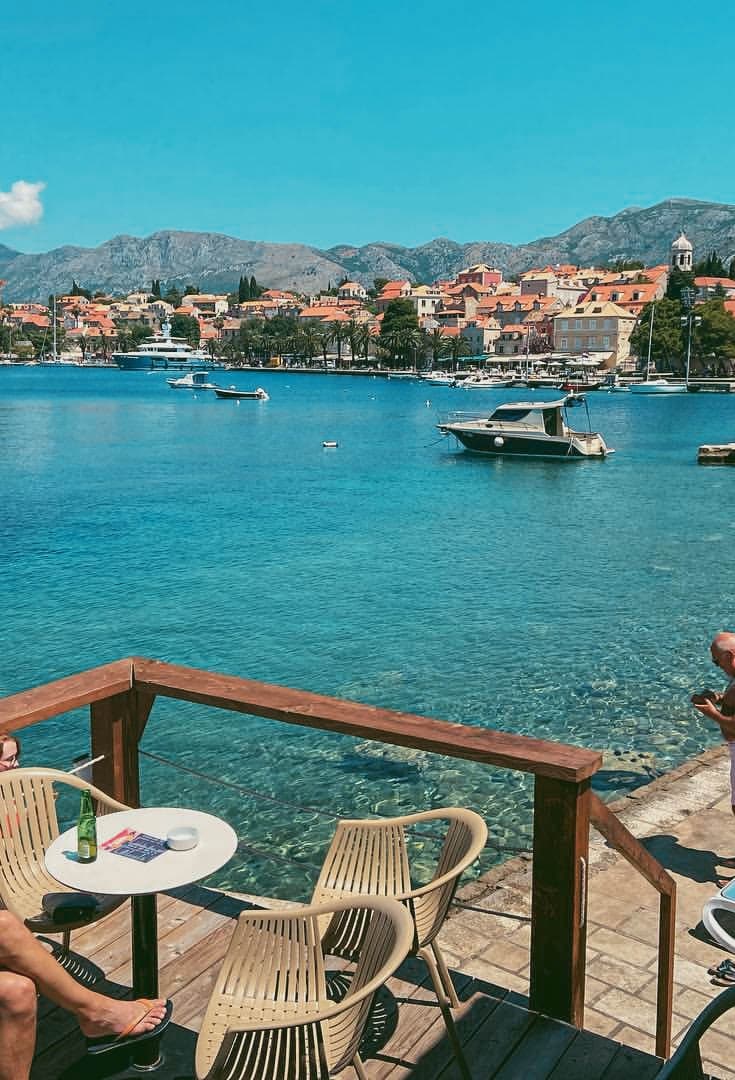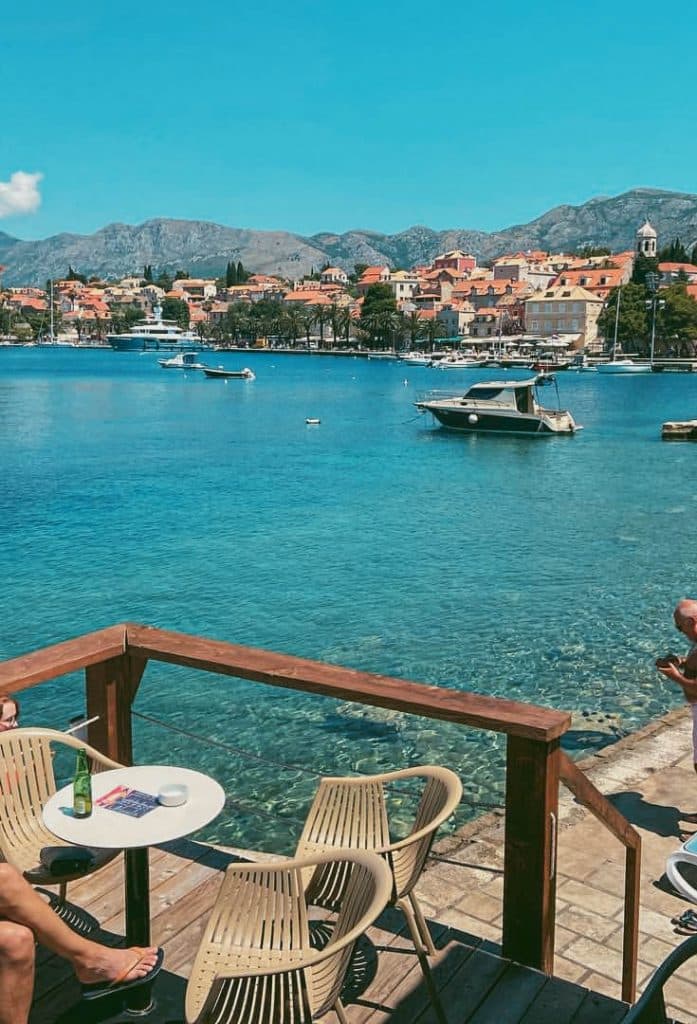 Smaller and less glamorous than neighboring beaches, Banac is a little stone pier beach with clear waters. The beach got its name from Villa Banac, an architectural curiosity built in 1928 by a wealthy shipowner Banac right on the beach.
More importantly, the beach is interesting for the beach bar Banac, built on several different levels, right on the waterfront, with a chill vibe and fab music.
Locals call it the "breeze bar" because you can feel the cool breeze in the hot summer evenings from the harbor.
Note: If you are looking for a place to get a quick dip once in a while but have most of the time sipping drinks—this might be the place for you. It's awesome that you can simply climb down the steps into the sea from the bar or do some sick dive bomb jumps to splash your friends! Plus, you won't get all sandy, and there's a little shower at the beach.
You could not ask for a nicer setting; watching the sun going down over Dubrovnik is beautiful.
Ispod Gospe 📍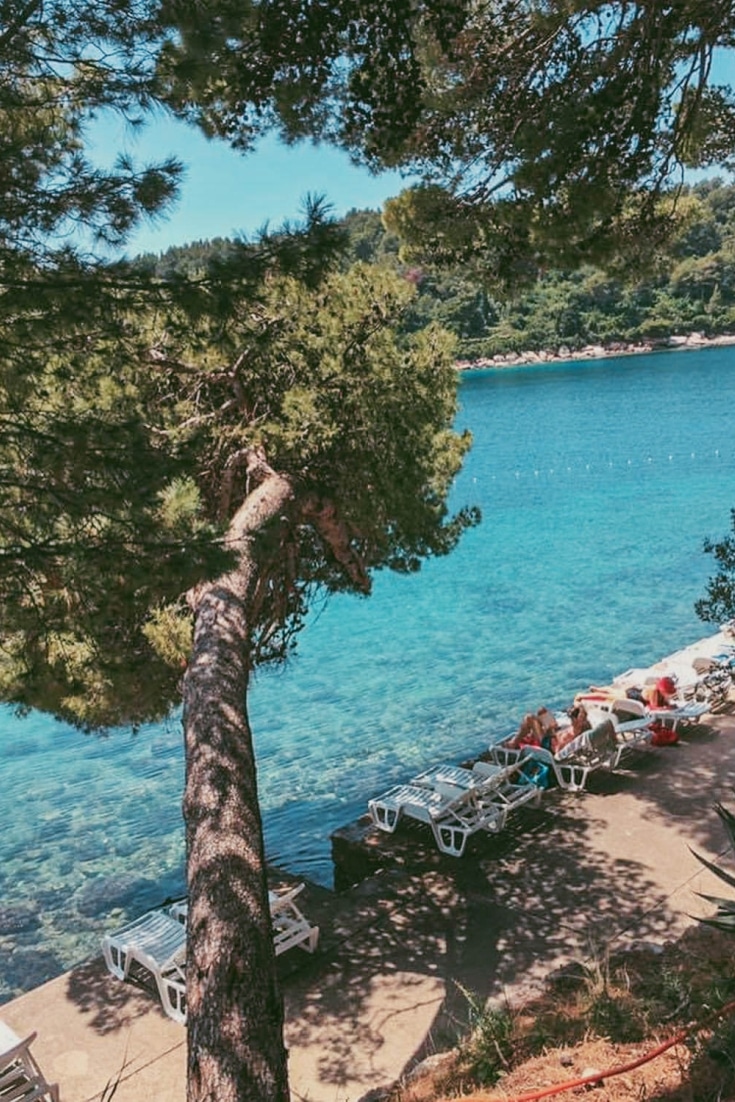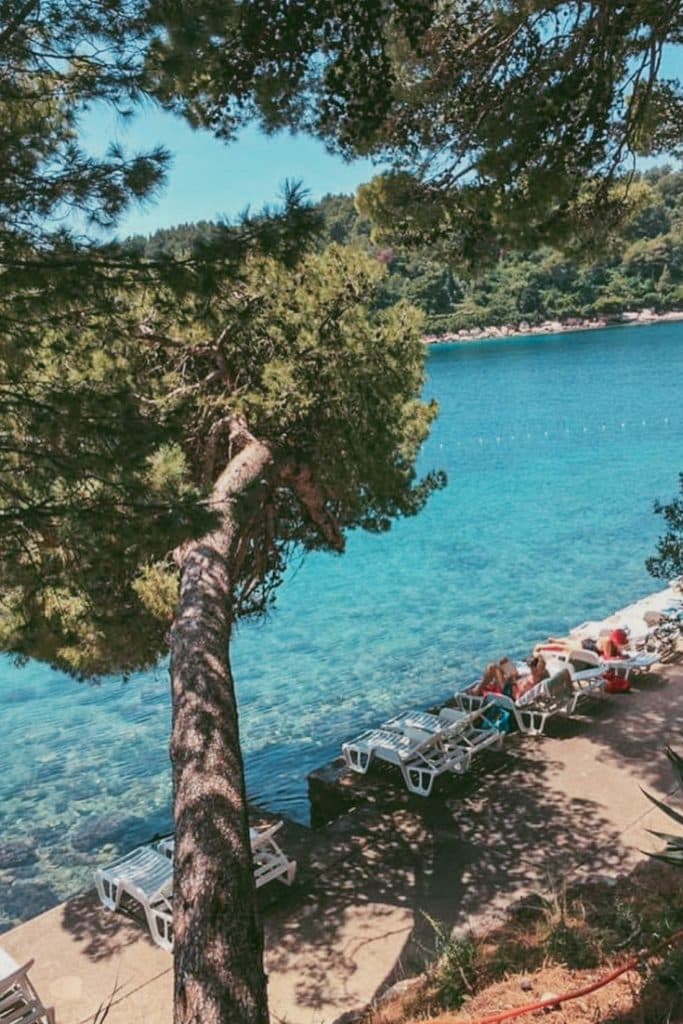 Ispod Gospe Beach is also popular with the locals because it is conveniently located. It is at the end of the marina and the town center, in front of the Monastery of Our Lady of the Snows.
Interesting: Ispod Gospe Beach was named after the monastery, literally translated Underneath the Lady from Croatian.
The pristine concrete beach is long. Inviting you to throw down your towel and jump in as soon as you arrive. For those who crave comfort, sunbeds, and sunshades are available for rent, allowing you to bask in the warm summer sun without worries.
The vibrant pine trees offer natural shade in parts of the beach, creating a serene vacation vibe. The harbor's picturesque view is simply breathtaking. The mix of loud cicadas and nearby beach bar music adds to the already Mediterranean small-town summer atmosphere.
Gradska Plaža Cavtat 📍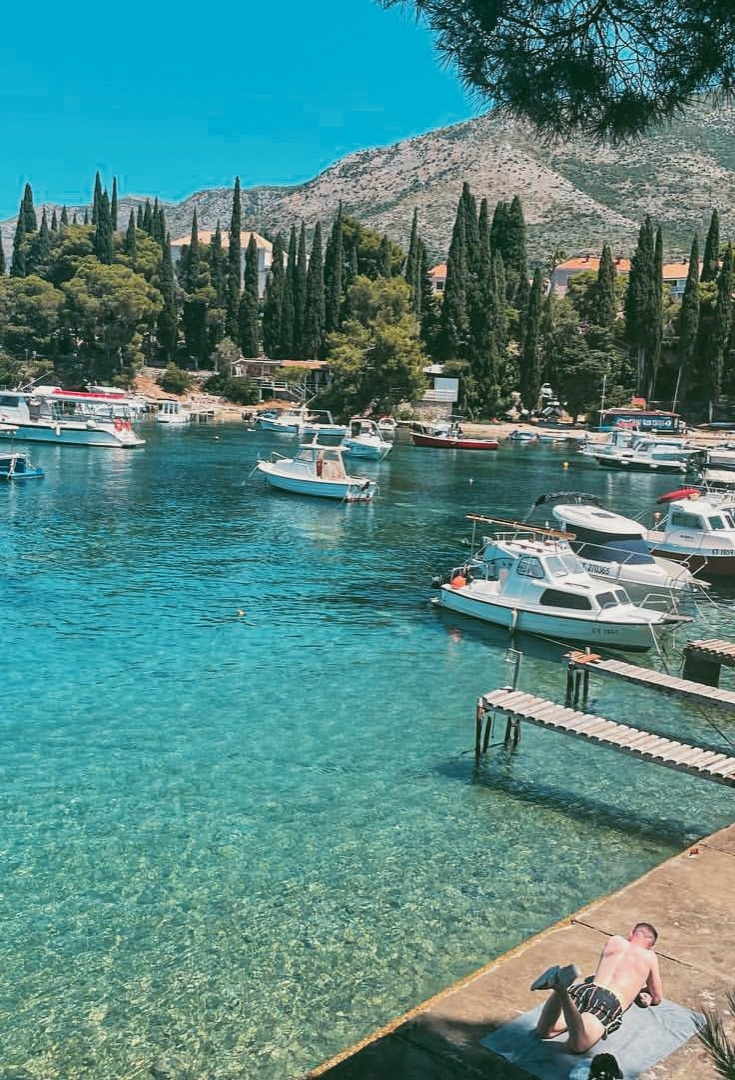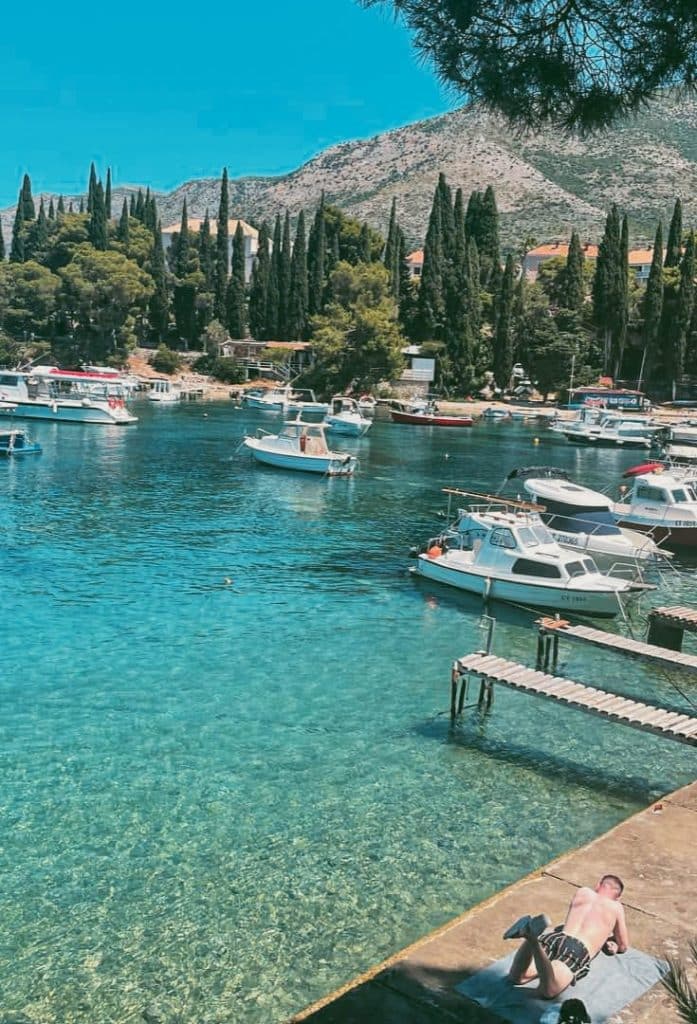 City Public Beach Cavtat, as its name suggests, says it is the town's main beach. It is located at the end of the promenade, in Tiha Bay, below Hotel Cavtat. This beach is popular among families with small children as it has all the beach amenities one might want.
Tips: All varieties of beach types are present on City Beach Cavtat. Nearly every couple of hundred meters, there are interchanging stretches of pebbles, sand, rocks, and concrete tanning decks. The great thing is that they are all have clean turquoise waters. There are some sharp rocks around there, and in some places, it can be hard to get into the water. You should bring bathing shoes if you are not used to it.
Tall pine trees give out shade for afternoon beach siesta. There are a few bars, restaurants, and cafes close by. The beach also has showers and toilets within easy reach.
Blato 📍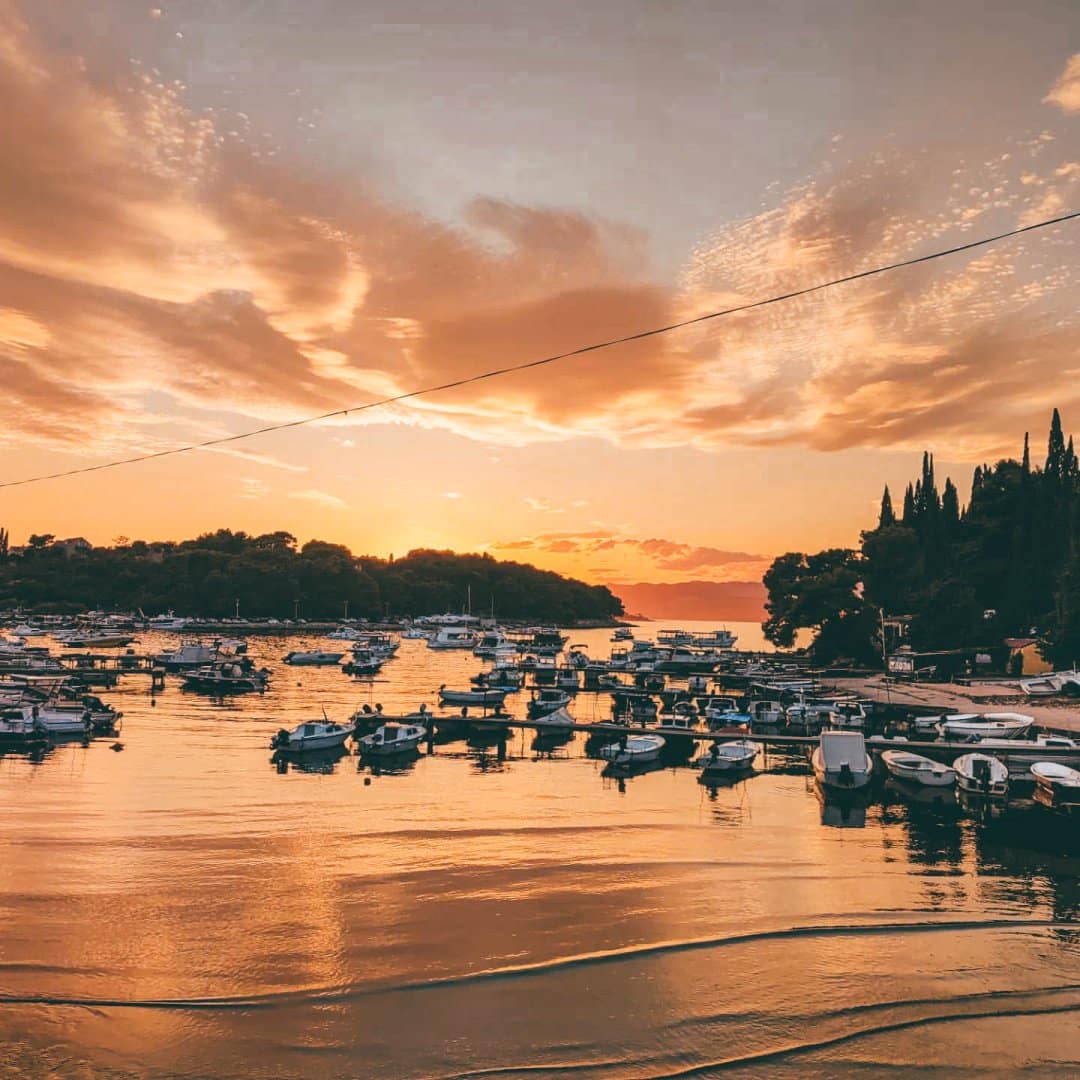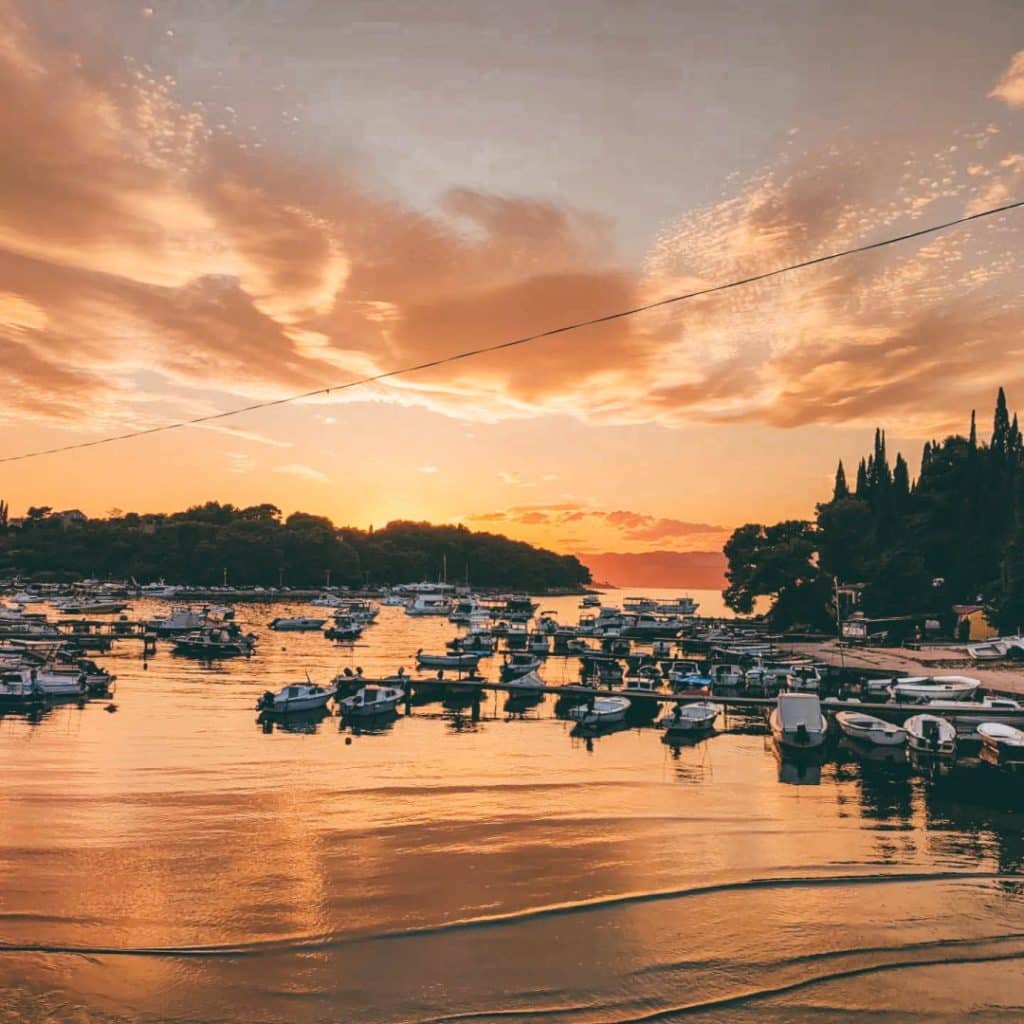 In the corner of Tiha Bay is a small inlet with the only proper sandy beach in Cavtat. The sand is not white sand but grey.
Tips: Blato beach is very shallow, so you will find local boys taking most of the beach, playing the traditional picing sport or water football.
A small boat marina surrounds the beach, so it's a bit difficult to set out for a swim in the deeper end of the bay. Blato is not the best of Cavtat beaches, but if you only enjoy lying and sunbathing in the sand, this might be your only option.
Južna 📍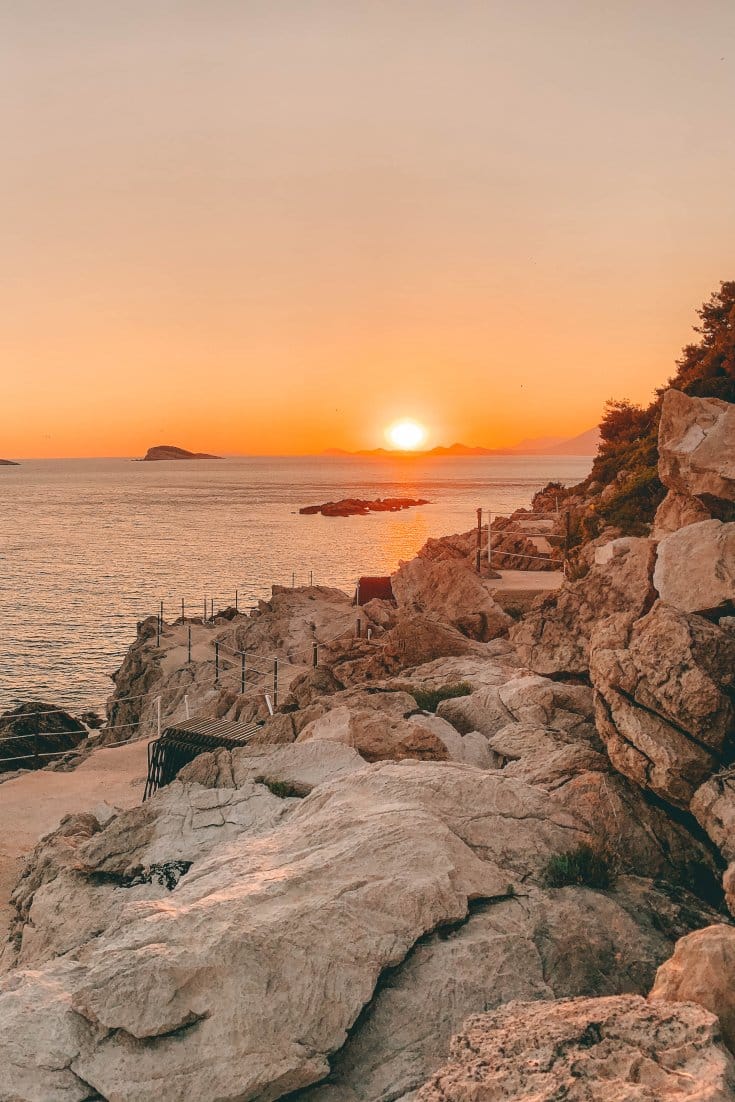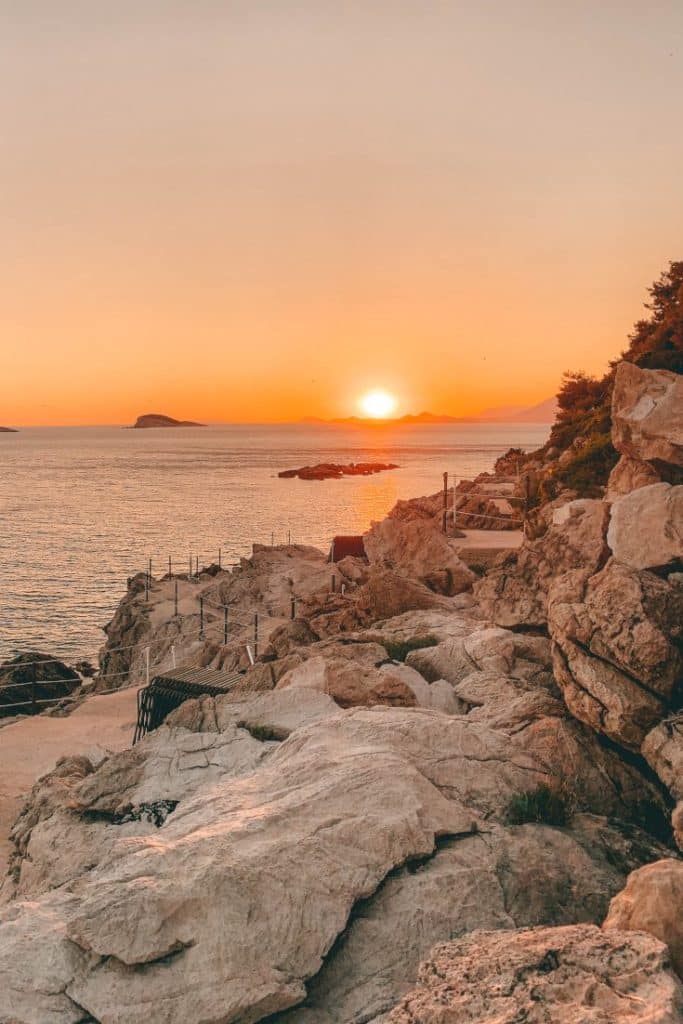 Južna meaning south, is appropriately named because it is on the south side of the Sustjepan peninsula. It is the beach beneath Hotel Croatia. This beach is completely rocky, with many concrete tanning platforms.
There is no shallow end; you jump into the deep Adriatic straightaway. Plenty of ladders are spread across the beach for easy sea access.
Tips: This beach is great for people looking to spend a lot of time sunbathing on sunbeds. The beach gets sun throughout the whole day. Keep some sunscreen with you as you soak up the sun and swim in the deep emerald blue.
Since you are right on the rocky beach at the base of the Hotel Croatia, unsurprisingly, you can enjoy the music from the hotel's Sirocco Bar. The bar is great for refreshing yourself with some cocktails or ice creams.
Južna is not the best beach for families with small children since it has steep rocks and no shallow beach face. There are better options like the Žal beach.
Bubbly (Tiha) 📍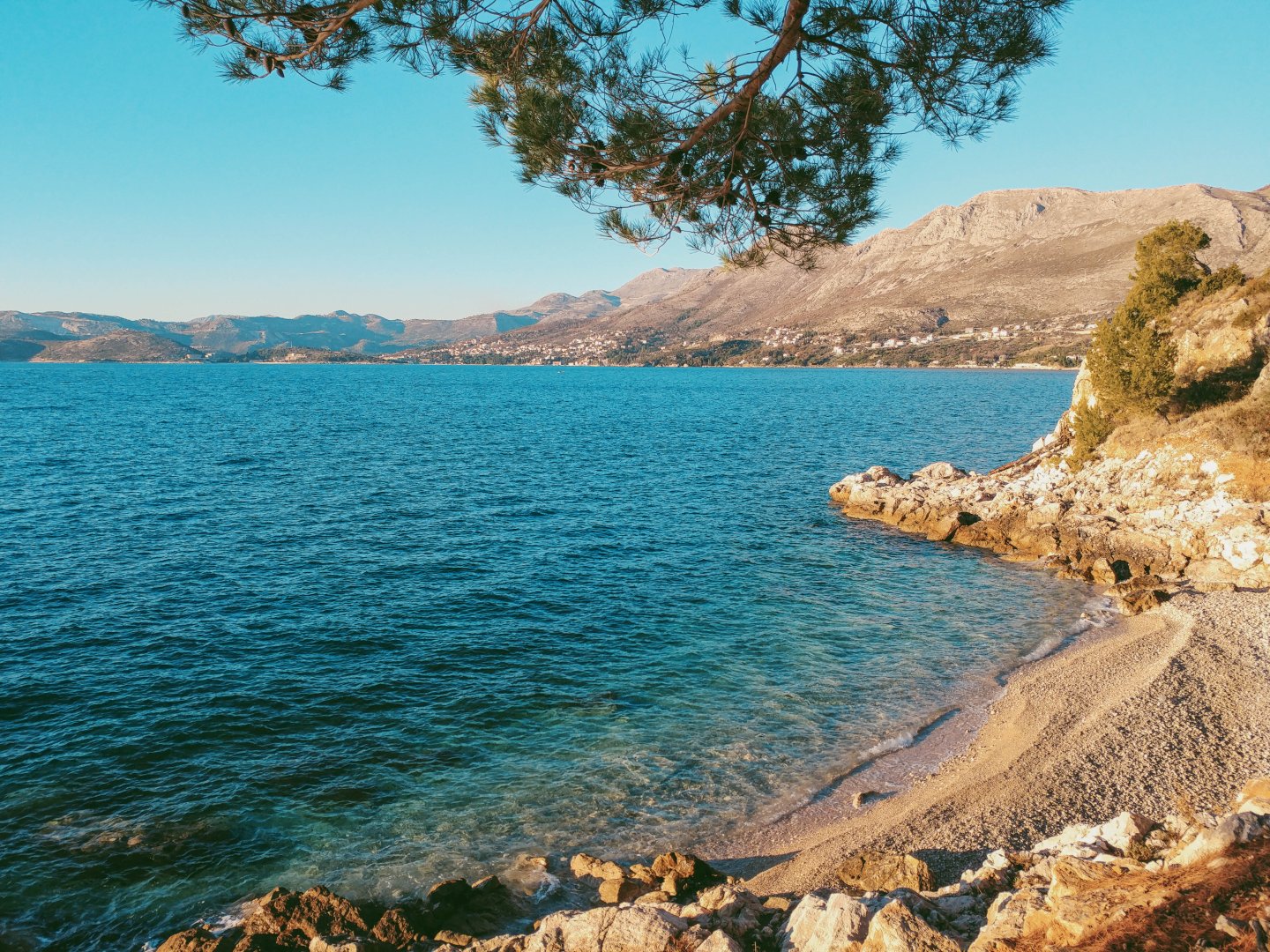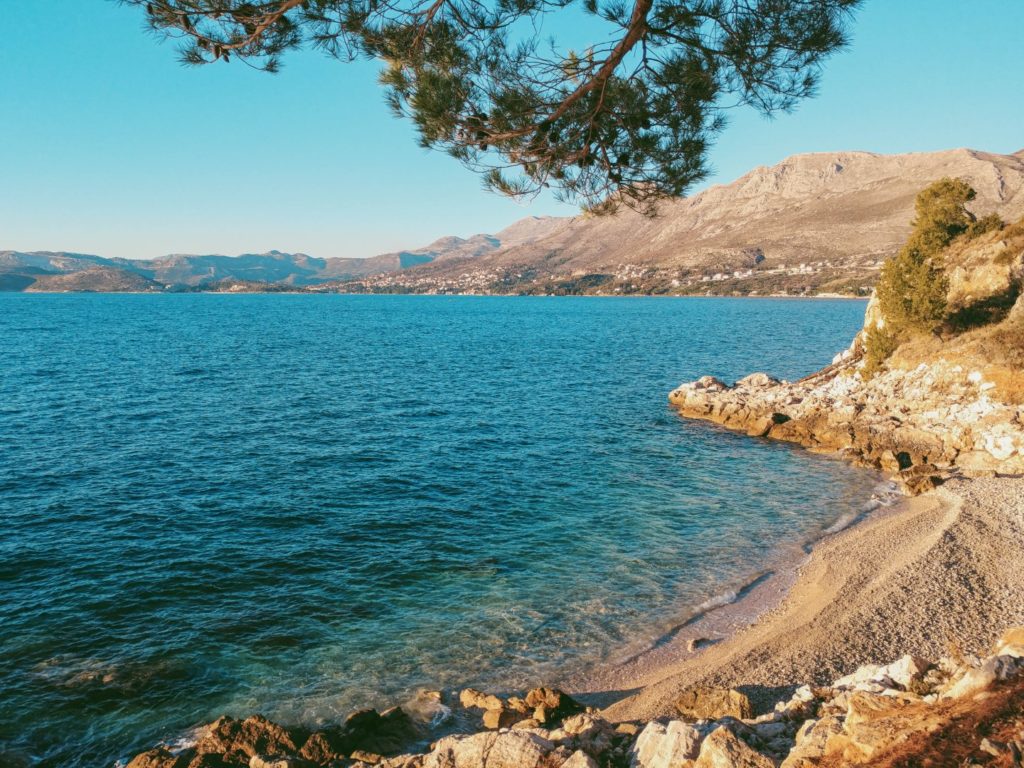 Bubbly Beach, also called Tiha, is a beautiful secluded virgin beach with relatively light pebbles.
The beach is clean; there are usually only a few people and plenty of shade. The downsides are that the water is really cold as a river streams into the sea close by. There are no amenities present on the Bubbly beach, no caffes or restaurants.
Tips: The easiest way to get there is by car. You can leave the car in the parking lot at the top and walk the trail. Then you must walk the steep path through dense bushes to reach the beach. But it is worth it; more effort getting there means it won't be crowded.
Cavtat Beaches Map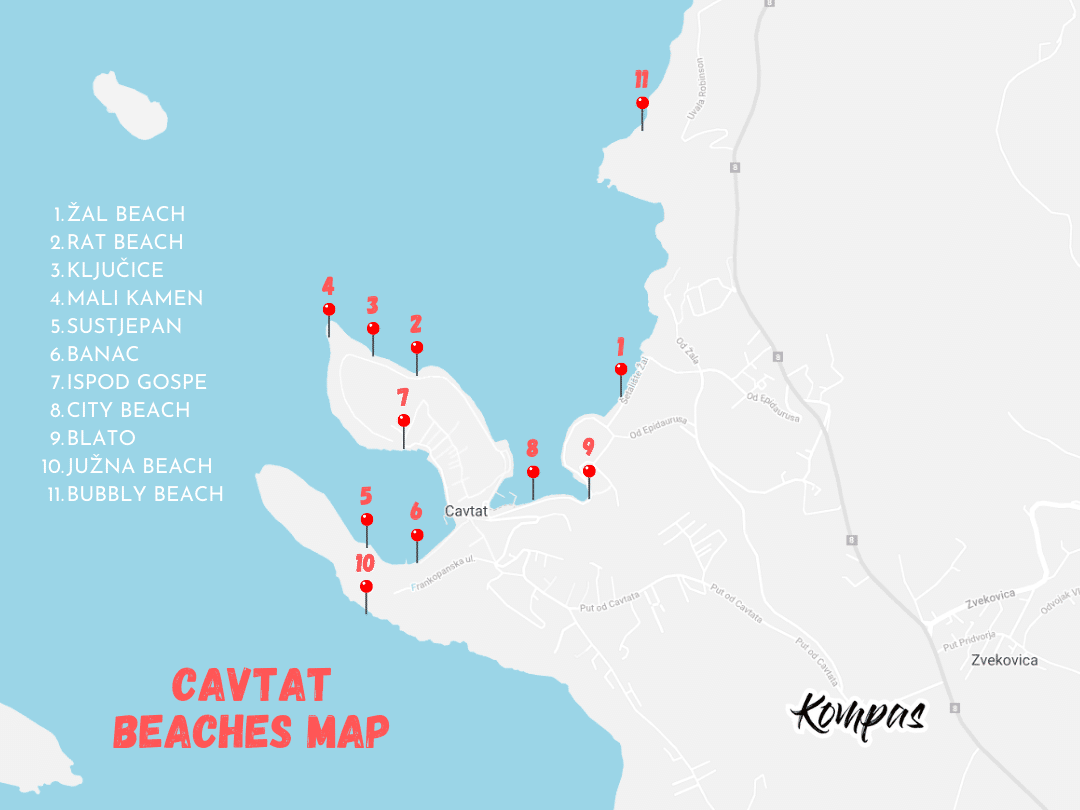 Look at a Cavtat beaches map image representing the locations of various beaches in the mentioned area. The map features a bird's eye view of the Cavtat coastline, with each beach marked by a pin and a number.
The legend on the side of the map pairs the number with beach names to help you pinpoint each beach.
Tips: If you want to learn more about Cavtat as a tourism destination, take a look at our Cavtat Travel Guide.
The information in this guide will help Cavtat visitors plan their beach days accordingly. The surrounding area is also displayed on the map, with landmarks and points of interest marked for easy reference.
What is the best beach near Cavtat?
If you want to venture out to find the best beach outside Cavtat, the only correct answer should be—Pasjača Beach. It's 12 kilometers south of Cavtat.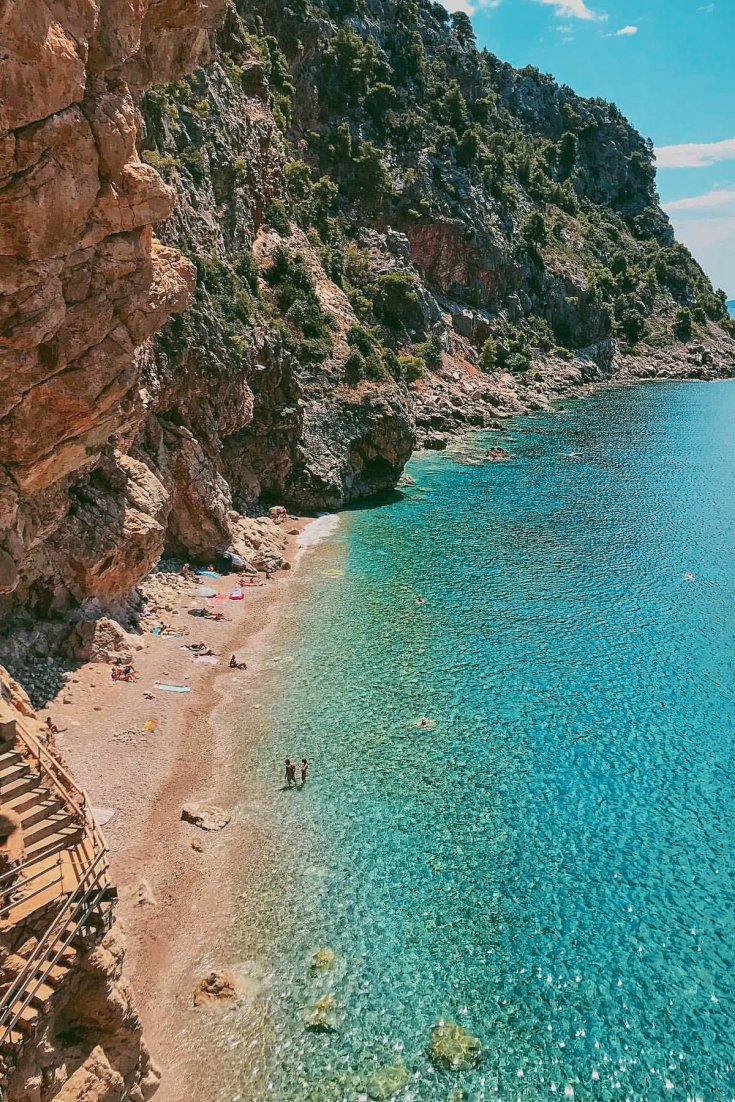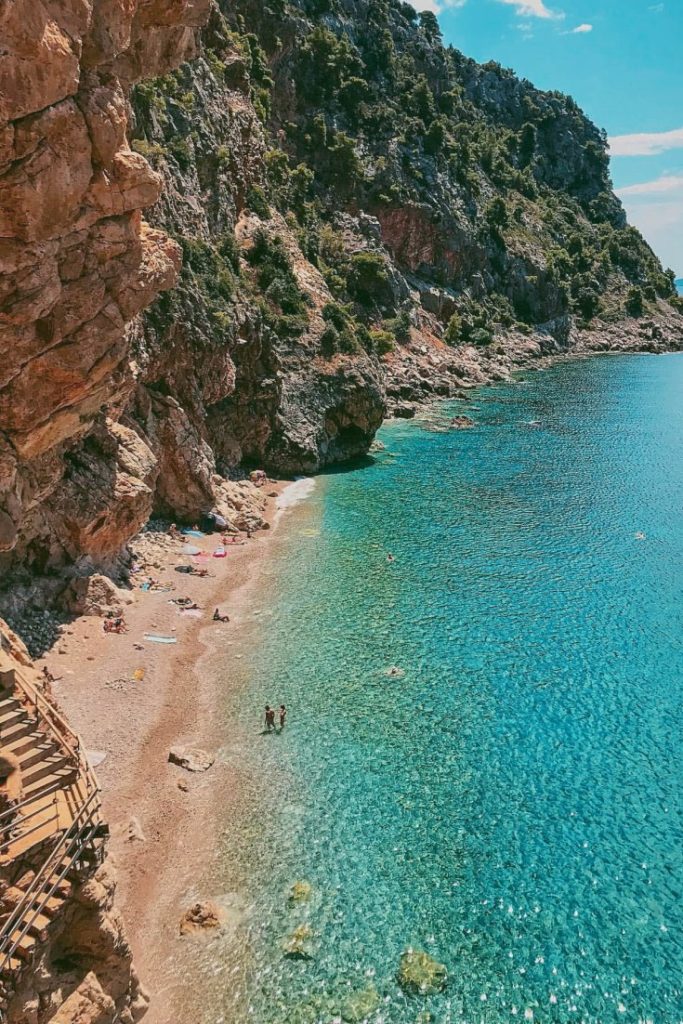 Pasjača Beach is a highly popular destination for tourists visiting Cavtat. Along with its clear blue waters, it offers a scenic view and a tranquil escape from the busy towns.
Interesting: The beach is accessed via a steep and narrow pathway cut into a cliffside that leads down to the pebbled shore. Sounds dangerous, but the path consists of concrete steps with metal fences, making it easy and safe to walk as it winds down the cliff. Along the way, visitors pass through tunnels carved into the rock.
The beach itself is primarily sandy but also features pebbled areas. It faces the open sea, which creates constant waves due to the absence of nearby islands.
Shade is limited to certain areas throughout the day, provided by vertical rocks, since there is no vegetation. The sea water is clean and has a beautiful turquoise-blue color. Pasjača is a remote beach that lacks commercial facilities like beach bars, making it perfect for travelers seeking tranquility.
Pasjača Beach has been ranked as one of the best beaches in Croatia by several travel magazines. It is a must-visit spot for any beachgoer looking to experience the beauty and serenity of the South Dalmatian coast.
GOT QUESTIONS?
Does Cavtat have a beach?
Yes, Cavtat has beaches, but they are typically small pebbly coves rather than grand sandy beaches. All Cavtat beaches, like in whole of Croatia, are public and not owned by anyone.
Are Cavtat beaches free?
One of the best things about visiting Cavtat's beaches is that they are all free to use. Whether you're a local or a visitor, you can enjoy the pristine shores and crystal-clear waters without having to pay a fee. This makes it accessible for everyone, regardless of their budget. Beach amenities such as showers are usually charged in coins, but changing rooms, and restrooms are free.
Does Cavtat have a naturist beach?
Yes, Cavtat does have a nude beach. Cavtat is a destination that caters to a variety of interests, and for those who enjoy the freedom of naturism, there are a few designated beaches in the area.
In Cavtat, the naturist beaches are tucked away from the more mainstream areas, offering a more secluded and private atmosphere. Official nude beaches are usually marked by an FKK sign at the entrance. There is a FKK nude beach near Hotel Croatia and another one near Bubbly Beach.