I have always been captivated by the idea of sea kayaking. When you see people paddling out in the sea, they always look so…
Relaxed. At peace.
Now imagine yourself in that relaxed state of mind. You can smell the salt in the air and feel the warmth of the sun on your skin.
How great would that be?
But right now, that feels like it's a whole world away, doesn't it?
You're just about to throw in the towel and settle for the nearest crowded beach. But, you don't have to:
A way to see the Old Town walls from the sea and enjoy the tranquillity of Lokrum island are only a few scrolls away.
Because in this article I'm going to show you exactly what you need to do to reach that zen with kayaking Dubrovnik to Lokrum island.
Thinking of taking a kayak to Lokrum island from Dubrovnik?
You are probably wondering is this something that can be done. Can you kayak to Lokrum?
The answer is YES.
Basically, you have 2 options:
Rent a kayak and explore Lokrum at your own pace
Join a group kayaking tour
Lokrum kayak rental
The main benefit of renting a kayak, oppose to joining a tour, is that you can leave your kayak on the beach and go out and explore Lokrum. None of the tours do that.
Renting a kayak is easy. You can find the majority of kayaking companies at Pile Gate, the western entrance to Old Town.
Tip: Speaking of Pile Gate. Croatian is so difficult, I know. The best way to pronounce Pile is 'pee-leh' and never as pile of money.

As you approach the Gate, take the steps on your right that leads you under the drawbridge out to the sea. To the Kolorina bay. This small, rocky bay amidst mighty fortifications is a popular takeoff point for kayak tours.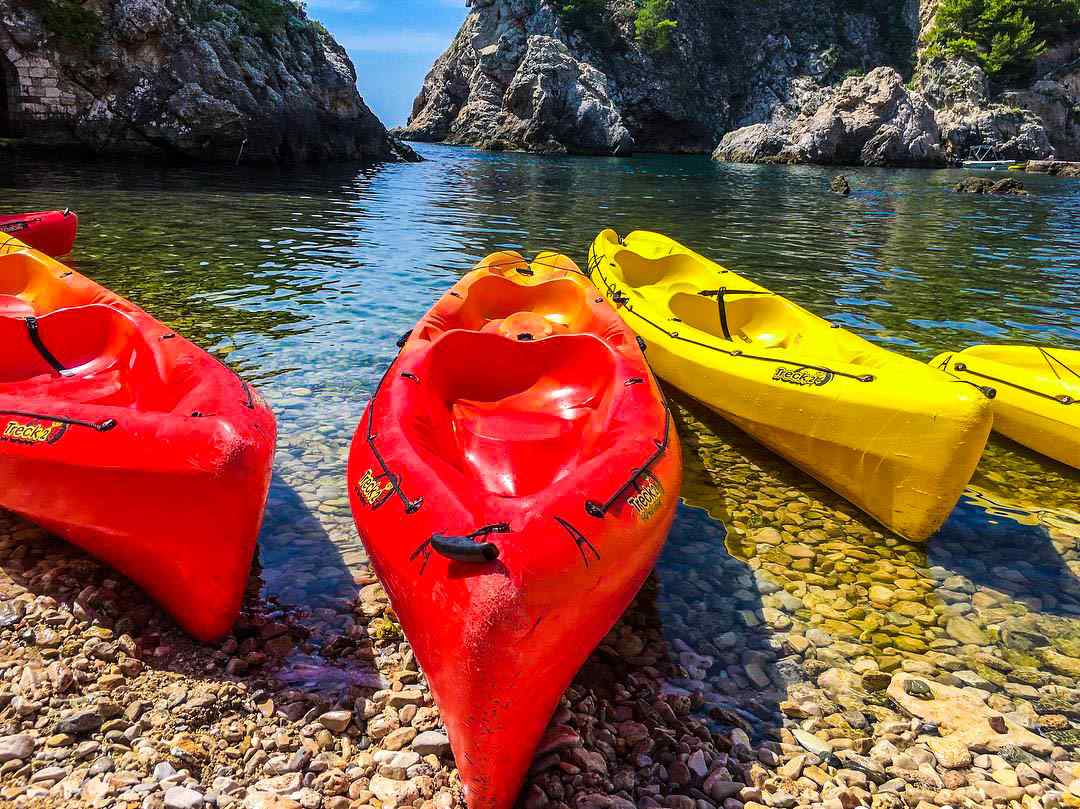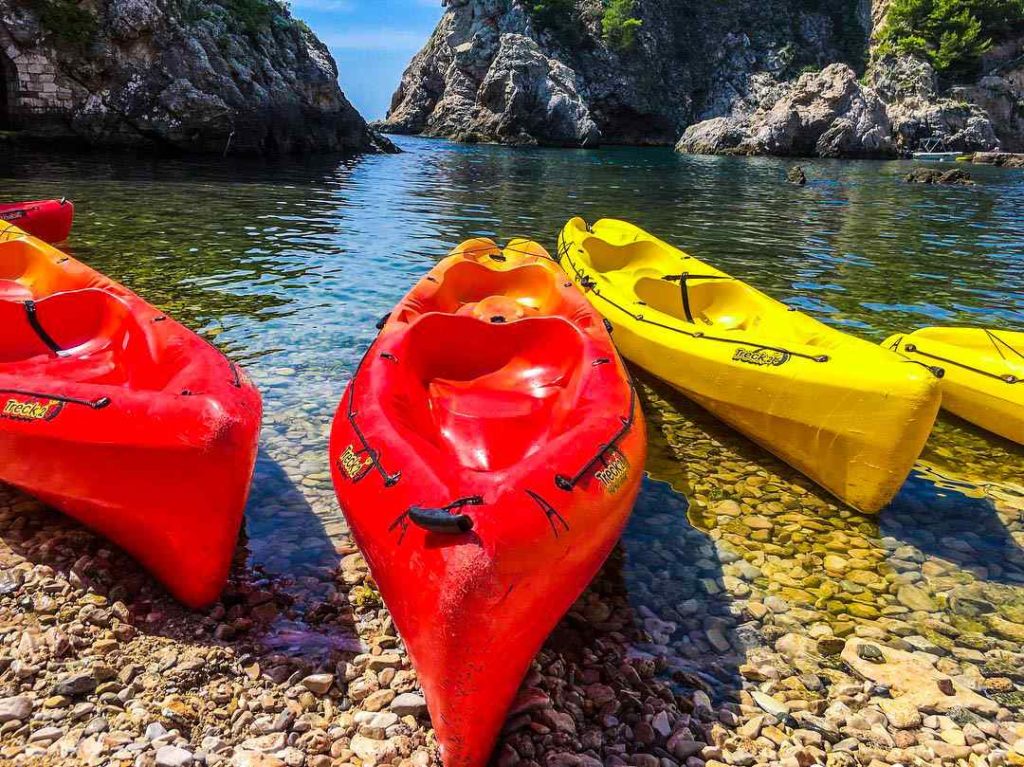 You can book a kayak rental online beforehand or do so on the spot when you reach the beach. There are several kayak companies there that offer tours and rentals, so shop around for the best prices.
Here's a quick list of the most popular kayak rental companies:
x-Adventure Dubrovnik
Adventure Dalmatia
Adriatic Kayak Tours
Adventure Dubrovnik
Fenix Adventure
World Of Kayaks Dubrovnik
Dubrovnik Walks
& many others
You will find one-person and two-person kayaks available for rent. A two-person kayak can also be made into a three-person kayak for families with young children.
The child must, however, be under a certain weight and height to use the middle seat. So, in case you were wondering, a 16-year old won't fit.
Price Tip: Half-day rental of single kayak price average around 260 kunas, or 34 Euro, while the half-day double kayak is approximately 60 Euro. Half-day rentals are 4 hours long, which isn't enough time to complete the route around the island and explore Lokrum. You might need to rent for a full day (6-8 hours). Single is 58 EUR and double kayak 104 EUR.
No matter your level of experience, all rentals start with instructions and a safety briefing.
In your mind, kayaking might sound like an activity where you hunch over with numb arms, begging for the shore.
It's all in the technique, though. The instructors will show you how you can cruise along with just a flick of the paddle.
Get to know yourself with the equipment. You receieve:
Kayaking gear
Small waterproof bag for things your camera or phone
Large waterproof barrel for stuff you don't want to get wet
Life jackets
Tip: Pay attention to the safety briefing. Depending on and time of year, the route of kayaking Dubrovnik to Lokrum island can become quite busy with boat traffic in certain areas.
You should know some companies will rent only to experienced kayakers who have the confidence and know-how to handle the hectic waters between Lokrum and Dubrovnik.
You will see small boats zipping across the bay, larger yachts anchoring in front of Lokrum, and even get up close and personal with colossal cruise ships. This can be somewhat overwhelming to panic-prone inexperienced people who go out without a tour guide.
Join a group Dubrovnik kayaking tour
Most people visiting Dubrovnik who want to experience a sea kayaking day out join a group tour. A guided kayaking experience from Dubrovnik to Lokrum Island and back follows pretty much the same itinerary across the kayaking companies.
Easiest way to join group tours is to book them on Viator or GetYourGuide. Although, be sure you will get pestered to join one by the booking agents on the streets of Old Town.
Starting from Pile Bay, at the foot of the Lovrijenac fortress, you will set out to sea towards the island of Lokrum.
There will be several stops along the way to rest your arms from paddling.
After about 5 km, you circle the island and zoom across the bay to reach the mainland coast. Here you will take a break at Betina Cave to enjoy the gorgeous beach only accessible by the sea. Usually, you get some free time (for about 30 minutes) to swim and snorkel!
If you are more comfortable with an experienced guide, I would suggest joining a tour. But do note you probably will not set foot on the island during the tour and have a chance to explore. It would be a shame to skip wandering around Lokrum. I found it so tranquil that I dubbed it my favorite place in Dubrovnik.
Before you go
Okay, you are ready, but before you set out. Let's check, do you have everything you need.
What to bring with you on your adventure kayaking Dubrovnik to Lokrum island?
Sunscreen
Swimsuit
Hat
Sunglasses
Beach towel
Camera or phone
Water
Snacks
Cash
Important: The Island of Lokrum is a nature reserve. Everyone visiting must pay the island entry fee. People coming with kayaks and boats aren't any different.
You can pay directly to the caretakers on the island in cash in Croatian kuna. Those who fail to purchase tickets to the Lokrum might face hefty fines. Admission ticket to Lokrum Reserve is 150,00 kuna (approx. 20 Eur) per person.
Check for latest prices on official Lokrum island website.
Price Tip: There is an additional discount if you show them DU-CARD tourist card. It's a usefull pass allowing entry into the top attractions of Dubrovnik and public transport.
Kayaking Dubrovnik to Lokrum island route
Starting from Pile where you rented your kayak, below the mighty Lovrjenac Fort, you will paddle your way out of the bay. Circling the Bokar fort, the steep rocks and even higher Dubrovnik city walls call out to you. You just can't resist and follow them to see how high do they go.
Passing imposing city walls that seem to sprout straight out of the mountainside, you see waves lapping gently against the stone and birds nesting on the narrow ledges high up above.
And soon enough you will find yourself next to the Buza Beach Bar. The Hole in the Wall is not just a popular unwind with a cocktail looking at a sunset location but an intriguing Dubrovnik cliff jumping spot.
Continuing on you get to Saint John Fort, Porporela pier with its cute red feral warning light, and the Old Harbour.
Now is the time to brave up and start crossing the bay with the kayak from Dubrovnik to Lokrum island.
Tip: As you can see there is a distance of only 0.35 nautical miles, or approximately 650 meters, that separates Lokrum from the Old Town. When the weather is good and the water is calm, paddling to Lokrum is very easy.
And in no time, you get to the northern rocky shores of Lokrum Island, where lush green vegetation covers the top of the rocks. From here, your best bet would be to circle the island's western coast.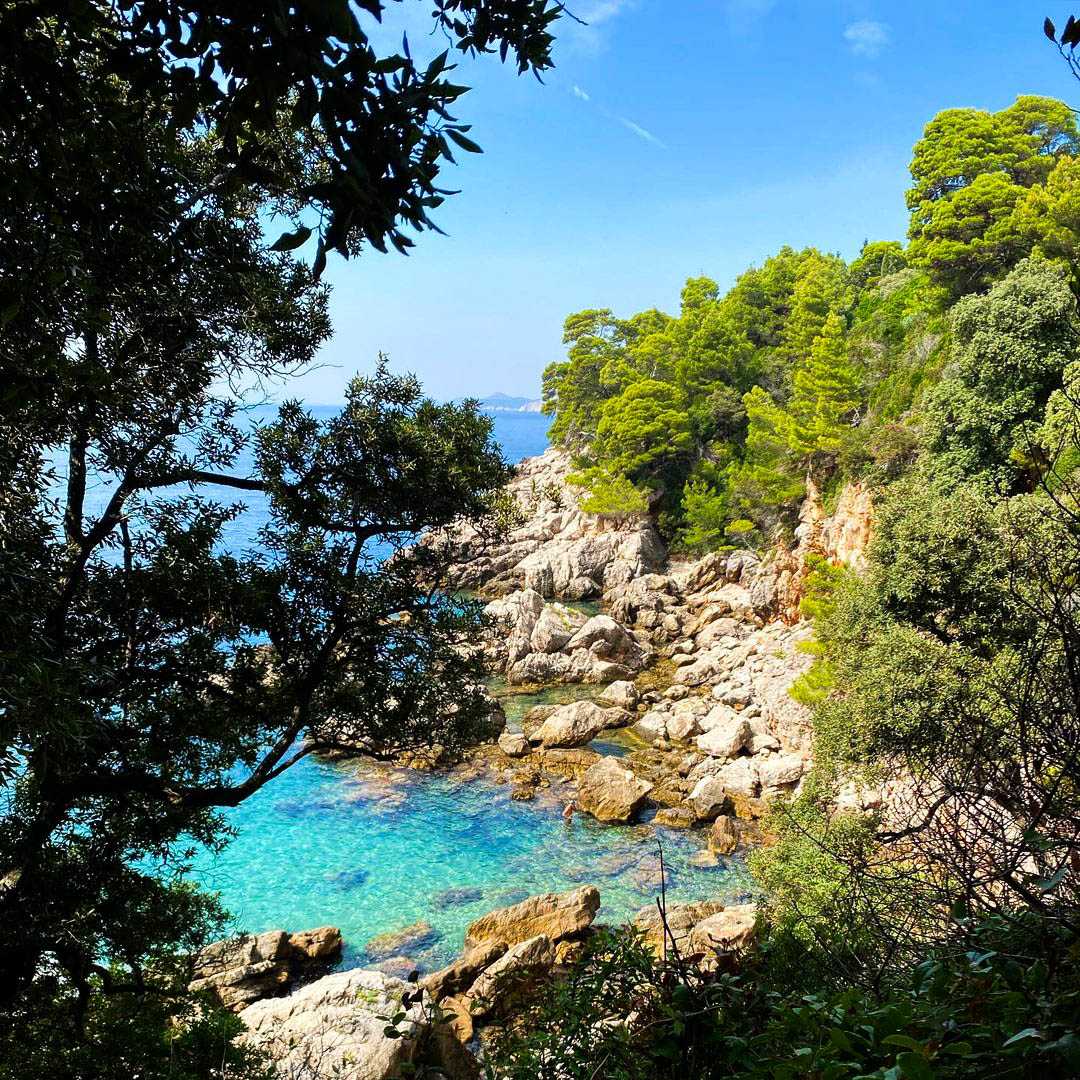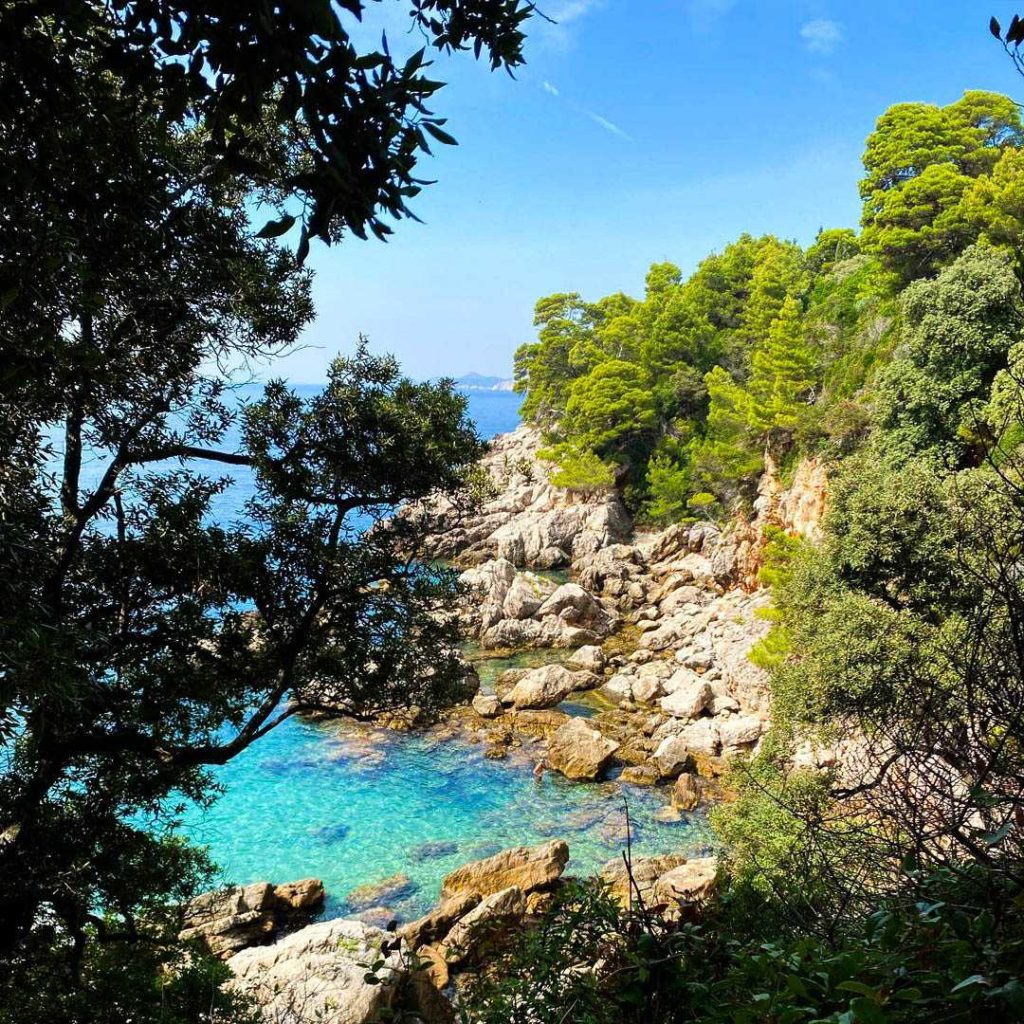 Getting to areas that are otherwise impossible to reach is one of the best things about sea kayaking. Passing through caves that were only wide enough for a single kayak, and under rock faces that plunged directly into the water.
The Pidgeon Cave is exactly like that. It's a must stop to find some shade from the relentless sun, taking your well-deserved rest.
Being able to see majestic landscapes so close alone and at our own pace feels like a privilege. But one where you have to make an effort to reach! Worth every minute, of course.
Water clarity is almost as clear as glass in sea caves because they are almost inaccessible to beachgoers. Just glance over the side of the kayak, it's as if you snorkel without leaving the comfort of your kayak.
And just as you reach the other end of the island be prepared to avert your eyes from the beauties of Lokrum. You will stumble upon the FKK Lokrum Nudist beach.
Don't say I didn't warn you.
Behind the next bend, you will find your destination; the Portoč port. This is the main location boats come and go bringing visitors to the island.
Tip: Your best bet is to leave your kayaks here. It's one of few places with a proper sandy and pebbly beach where it's easy to take your kayaks out of the water.
You can even ask at the nearby Forester's house to keep an eye on your kayaks. But there are always plenty of people around, so nobody will mess with them.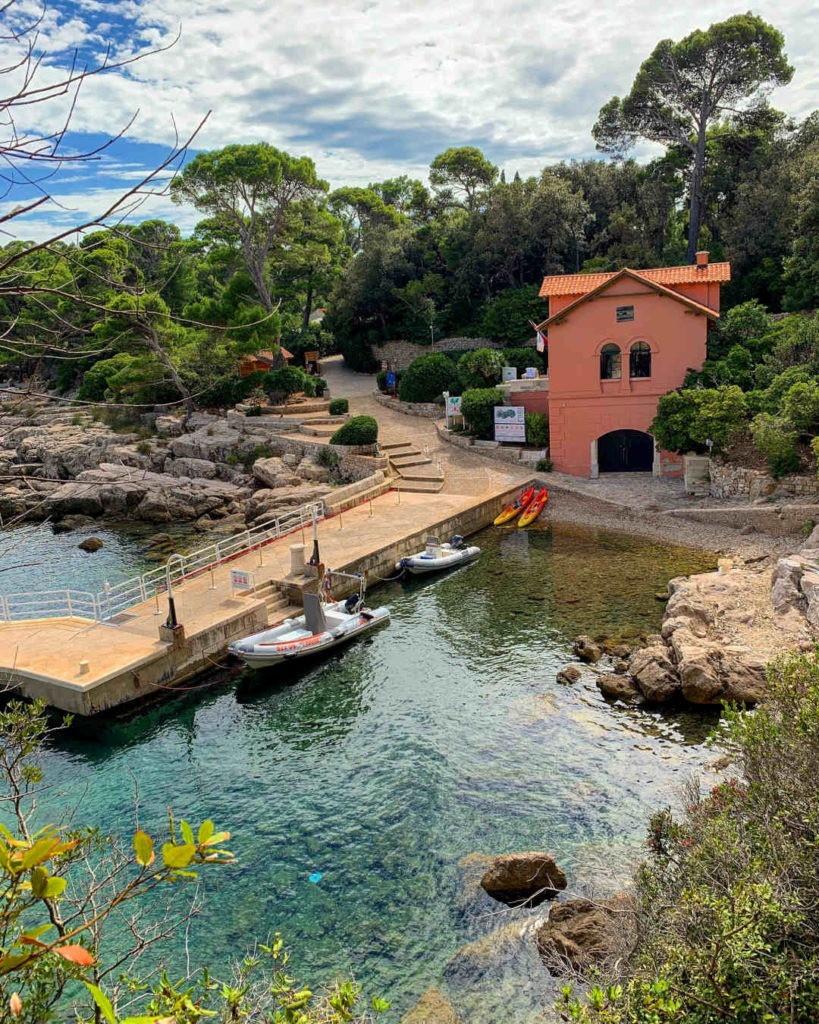 Buy your island entrance tickets there and set out exploring. There are plenty of things to see and things to do.
From cliff diving, the Dead Sea lagoon, chasing rabbits and peacocks to visiting monasteries, botanical gardens, sitting on the Game of Thrones iron throne, enjoying the panorama from Fort Royal or just swimming and sunbathing on the beach. Check out our Lokrum guide.
When you have rest your arms a bit and worked your legs walking and exploring the mysteries of the island you can:
Continue your route paddling along the coast of Lokrum and crossing the bay back towards Old Town the same way you went.
Cut across the bay towards the mainland, the Betina Cave and Banje beach, following the group kayaking routes.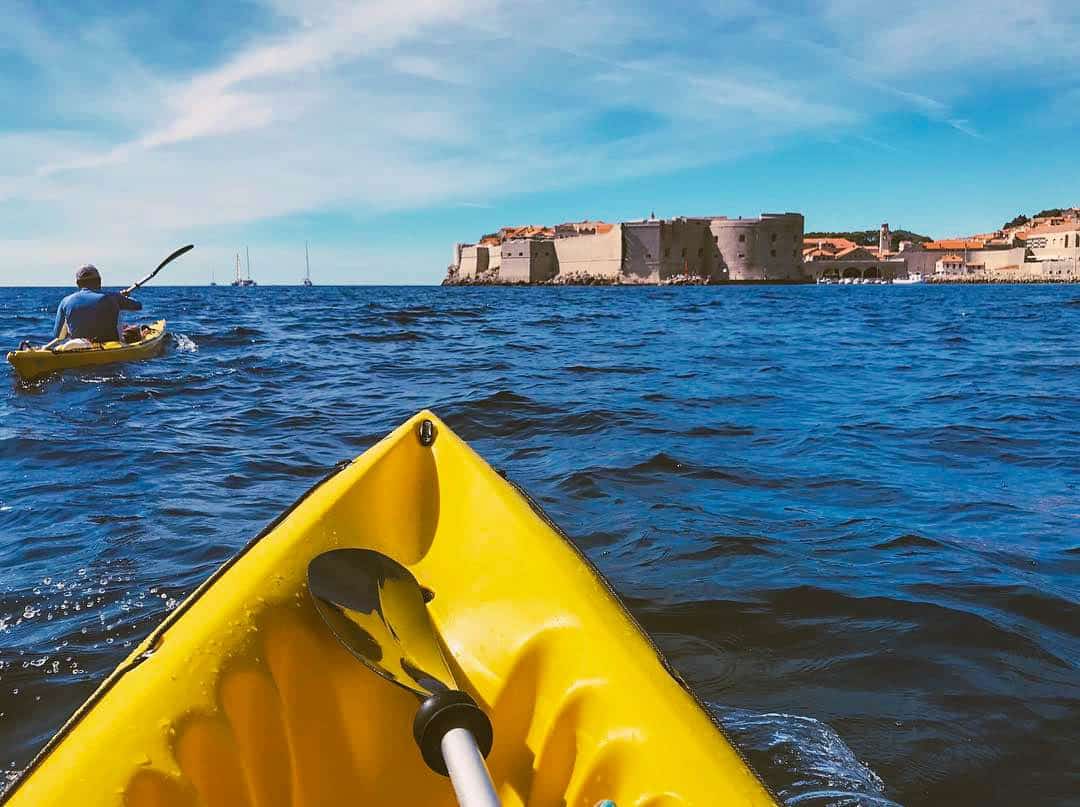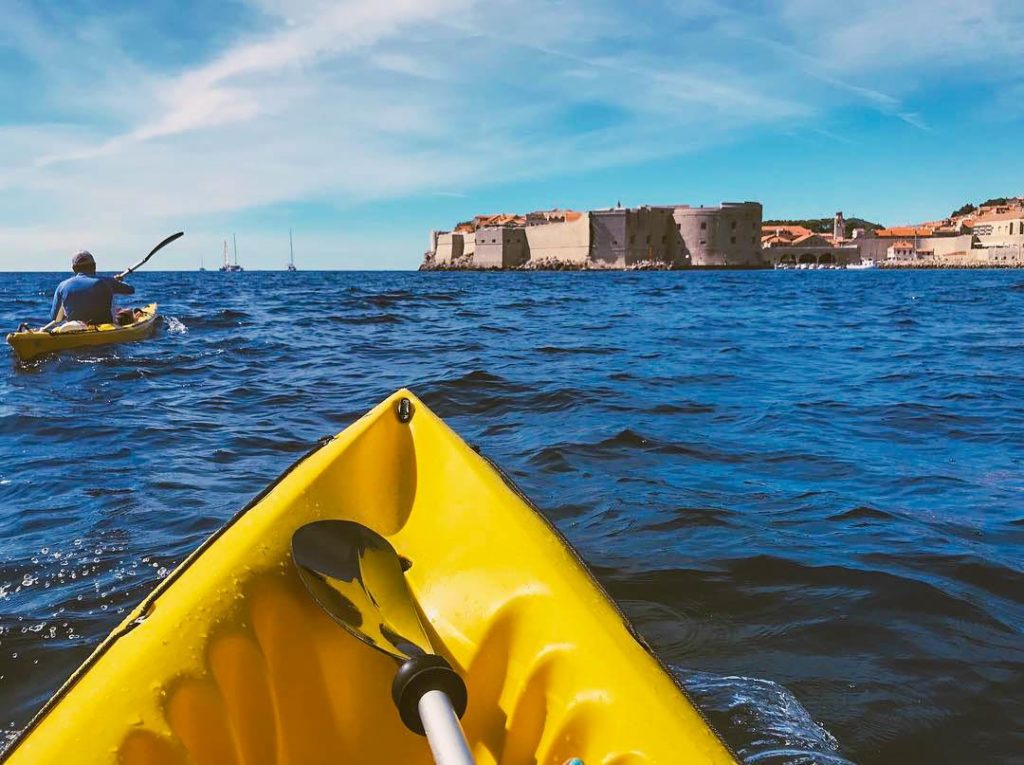 The experience
The kayaking experience from Dubrovnik to Lokrum Island and back is up to 4.3 miles (7 kilometers) long without some major detours.
The route will take about 2.5 to 3 hours, but you will want to set aside another 2 hours at least to explore the island.
Tip: Bonus points if you time your return to be late in the afternoon to watch the sunset. There are whole kayaking tours main selling point based around kayaking at this hour. It's an otherwordly thing to experience.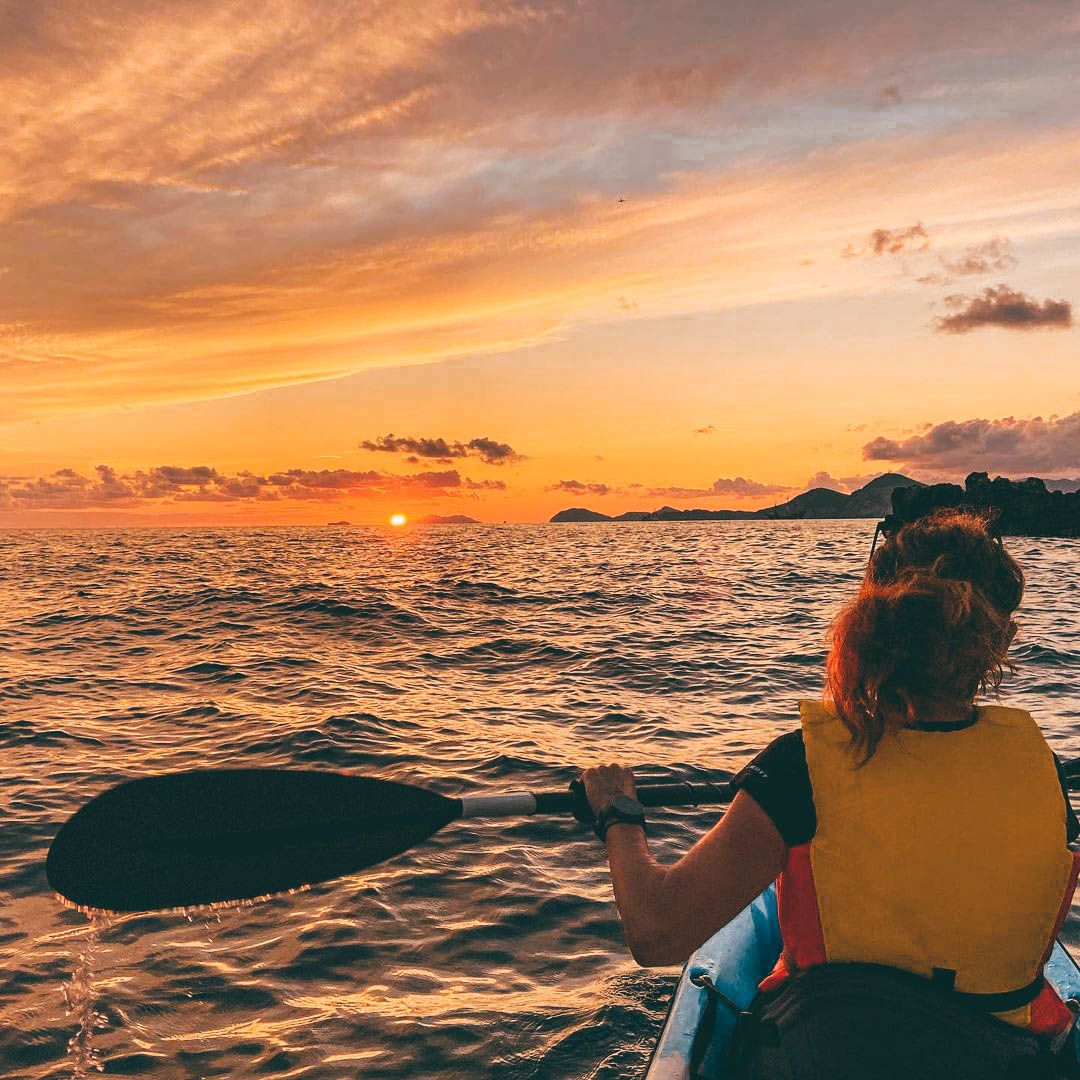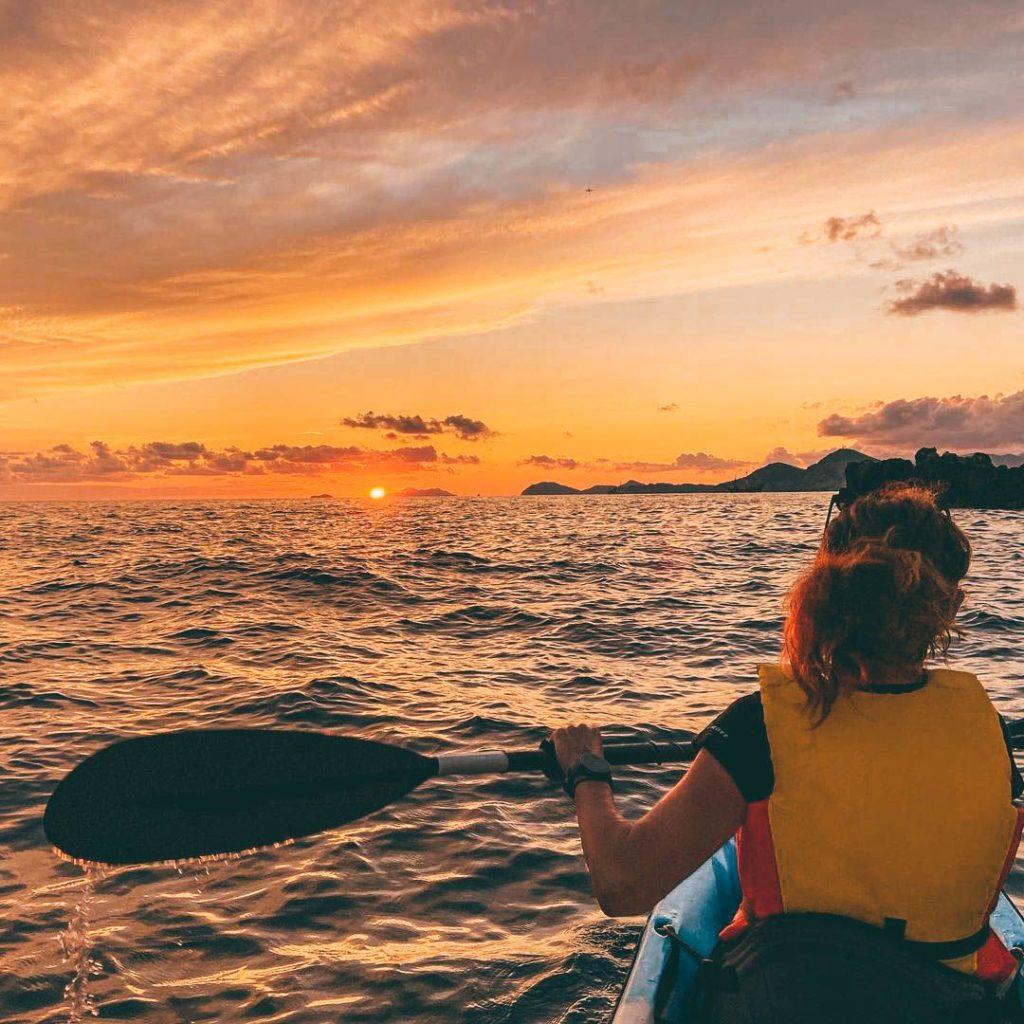 Upon return, you would assume your arms would be useless for the next couple of days, but surprisingly they aren't even sore afterward!
Whether you join a kayaking tour or want to kayak on your own, this experience is a must-do when visiting Dubrovnik. None of the other available tour types and adventures like hiking, buggy riding or parasailing embody the authentic feeling of the city and the serenity of Lokrum area.
GOT QUESTIONS?
Can you kayak to Lokrum?
Why yes, you can kayak to Lokrum independently, without a tour guide. Let your next kayaking adventure take you from the shores of Dubrovnik to the enchanting island of Lokrum.
Is sea kayaking safe?
If you're just getting started with kayaking, stay near Pile Bay's protected area. This area is less exposed to stronger currents, high winds, and choppy waves. Discover how to maneuver your kayak in every direction by using your body movements before going out to the open sea. Stick to the inner side of Lokrum, which has calmer waters and weaker current.